A year since the CPTPP came into force, trade between Viet Nam and other members of the trade deal had posted significant gains, but the potential to expand remained large, according to the Ministry of Industry and Trade.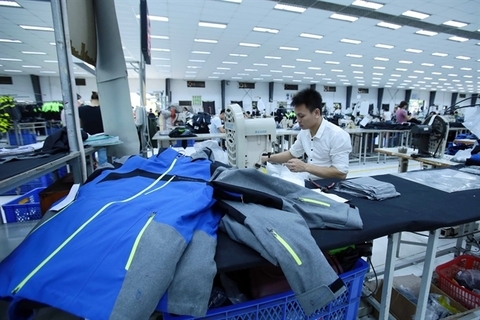 Garment products made at Kydo Ltd. in Hung Yen Province. More efforts are required to boost exports to member countries of the Comprehensive and Progressive Trans-Pacific Partnership, according to the Ministry of Industry and Trade.
Greater efforts must be made to grab the opportunities arising from the 11-country deal, which accounted for 13.5 per cent of global gross domestic product with US$10 trillion worth of total trade value, the ministry said.
In a recent report, the ministry pointed out that trade between Viet Nam and CPTPP members reached $77.4 billion last year, a year-on-year rise of 3.9 per cent. Of the figure, Viet Nam's exports accounted for 51 per cent and saw a year-on-year increase of 7.2 per cent.
The ministry said it was a positive sign that Viet Nam ran a trade surplus of $1.6 billion with CPTPP bloc in 2019, from a deficit of $900 million in 2018.
Notably, Viet Nam saw a $3.9m trade surplus with markets where the trade deal were already in force, up 135 per cent.
According to the report, exports to markets that did not have other trade deals with Viet Nam except for the CPTPP saw strong rises, including Canada (up 29.9 per cent) and Mexico (up 27.6 per cent). Viet Nam ran a trade surplus worth more than $5 billion with these two markets, more than 50 per cent of the country's total trade surplus recorded last year.
The report also showed that 27 out of 63 provinces and cities had export activities with CPTPP member markets, led by HCM City, Ha Noi, Ba Ria – Vung Tau, Bac Ninh and Khanh Hoa.
However, several key export products did not see significant increases in exports to the CPTPP bloc like garments and textiles and agricultural products.
The report also revealed significant decreases in foreign direct investment attraction from CPTPP members.
Statistics showed that CPTPP countries poured nearly $5.9 billion in Viet Nam last year, a year-on-year drop of 38.3 per cent.
Investment from Japan decreased by half, Australia by 63 per cent and Malaysia by 51 per cent.
Although investment from Canada and Mexico saw strong rises of 98 per cent and 1,100 per cent, the investments were just small sums of $178 million and $120,000, respectively.
The ministry said that exports to CPTPP could be lifted significantly if Viet Nam made more efforts to grasp the opportunities provided by the trade deal.
The ministry said most firms in Viet Nam were small and medium sized and had not actively engaged in the CPTPP.
A survey conducted by the Viet Nam Chamber of Commerce and Industry showed that 86 per cent of firms knew about the CPTPP but only 1.86 per cent had studied the trade deal seriously. This modest figure showed the majority of Vietnamese businesses did not know how to take advantage of the trade deal, according to the ministry.
Communication must be enhanced to improve the awareness of businesses about trade deals and enable them to take their opportunities, the ministry said in its report.
According to To Hoai Nam, deputy president of the Viet Nam Small and Medium-Sized Enterprises Association, SMEs should work with each other to share market information and meet the requirements of CPTPP markets.
The CPTPP is a trade agreement signed on March 8, 2018 in Chile by Australia, Brunei, Canada, Chile, Japan, Malaysia, Mexico, New Zealand, Peru, Singapore and Viet Nam.
The trade deal came in force on December 30, 2018 for six countries which approved the trade deal first, namely Mexico, Japan, Singapore, New Zealand, Canada and Australia. The CPTPP took effect in Viet Nam on January 14, 2019.
The Ministry of Planning and Investment forecasts that exports from Viet Nam to CPTPP members would rise to $80 billion in 2030, accounting for 25 per cent of the country's total exports. — VNS

The landmark Comprehensive and Progressive Agreement for Trans-Pacific Partnership has been in force for more than a year now, influencing the trade activities of member economies. 

Vietnam has been unable to gain export growth to all CPTPP member countries, according to the Ministry of Industry and Trade.