Competitive labour costs and preferential policies will continue to help Viet Nam become an ideal destination for investors in the garment and textile sector.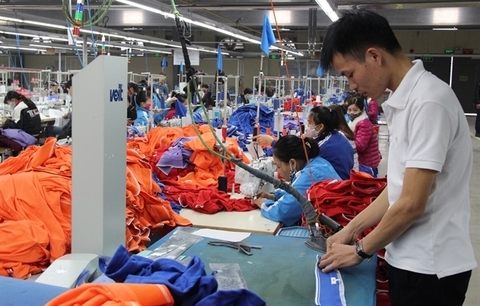 Clothing at TNG Dai Tu Factory run by TNG Investment and Trade JSC at Phu Lac Industrial Park, Thai Nguyen Province.
Viet Nam's garment and textile sector is set to expand its market share globally, taking advantage of free trade agreements (FTAs) to become "a manufacturer of the world's established brands", a trade and investment official has said.
Pham Thiet Hoa, director of the HCM City Investment and Trade Promotion Centre (ITPC), told Viet Nam News that an increasing number of international buyers were sourcing products from Viet Nam because supply chains for locally made products had improved and the country had joined more FTAs.
Competitive labour costs and preferential policies will continue to help Viet Nam become an ideal destination for investors in this sector, he said.
Participation in the Comprehensive and Progressive Agreement for Trans-Pacific Partnership (CPTPP) will benefit the country in the long term, helping the garment and textile sector expand market share in Canada, Mexico, New Zealand and Australia and many other countries.
In addition, the EU-Viet Nam Free Trade Agreement (EVFTA) is expected to have a positive impact in the medium to long term.
The legal review for EVFTA has been completed and it is undergoing its members' approval process. It is likely to be approved by Viet Nam's National Assembly in June.
The EU is the second largest export market for Viet Nam's garment and textile sector, with more than 40 per cent of tariffs applied to garment and textile products expected to be reduced to zero per cent when the EVFTA agreement takes effect.
"FTAs play an important role in helping Viet Nam move up the value chain in the garment and textile industry," he said. "FDI companies have so far invested about US$17.5 billion in the industry," he said.
Trade fair
More than 30 leading Vietnamese manufacturers of garments, textiles, handicrafts and fashion accessories displayed their goods at the Global Sources Fashion show held last week in Hong Kong.
Many of the exhibitors are members of the Viet Nam Textile and Apparel Association (VITAS), Viet Nam National Textile and Garment Group, and Handicraft and Wood Industry Association of HCM City.
Vietnamese exporters are expected to increase export orders from major buyers at the fair such as Auchan, Best Buy, Carrefour, Fossil, Hong Kong Disneyland, K-Swiss, Li & Fung, Marks & Spencer, Quiksilver, Swarovski, Target and Tesco, among others.
Livia Yip, president of Global Sources Fashion Group, said the event promotes industry development and facilitates international design exchange, providing designers with a platform for reaching buyers and suppliers.
Bui Thi My Hanh, an exhibitor which took part in the trade show, told Viet Nam News that most Vietnamese exhibitors lacked marketing skills as well as information about export markets. "To fully take advantage of the event, exhibitors should be trained by ITPC to become to be an effective exhibitor."
Hanh said that ITPC should act as a bridge connecting overseas trade officials with exporters so that local exporters can better understand export markets.
Vietnamese exhibitors also expect more orders to shift from China to Viet Nam due to the ongoing US-China trade war, she said.
Vu Duc Giang, chairman of VITAS, said Vietnamese textile enterprises this year have seen positive signs for orders, he said. "Many businesses have already received orders for the first six months of 2019 and even for the entire year."
Last year, the industry earned $36 billion from exports, up 16 per cent year-on-year, making Viet Nam one of the world's three biggest exporters of textiles and apparel.
This year, the textile and garment sector has set a target of $40 billion in exports, up 11 per cent year-on-year.
The industry has set a target of more than $60 billion worth of exports by 2025. — VNS