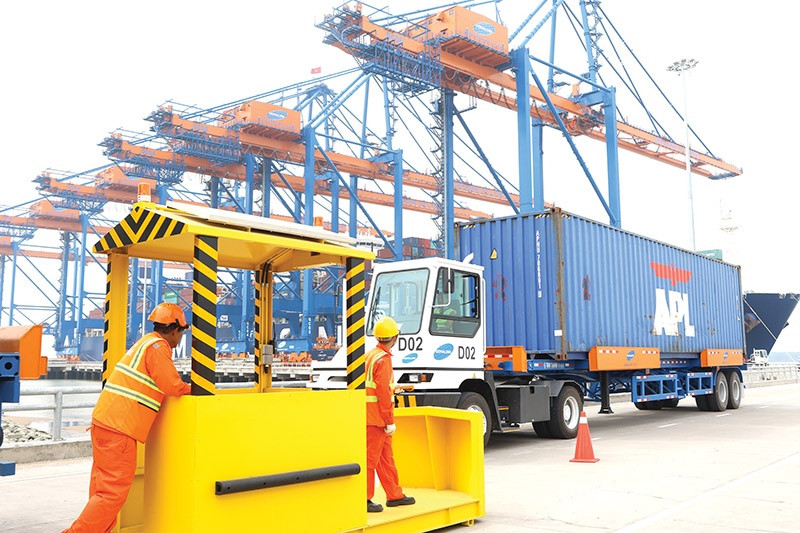 The seaport charges alone are not that high - but for businesses over time, the totals can be eye-watering, Le Toan
Ho Chi Minh City started to apply a new fee for the use of the infrastructure and public utility services at border gates and seaports in the city from April 1. According to Ho Chi Minh City Department of Transport, in the first 10 days it reported 59,000 declarations with a total collected fee volume valued at $3.86 million.
While businesses are complying with the new regulation, many have called the rates inappropriate, especially in terms of the difference between the city and neighbouring localities.
Le Viet Anh, secretary of the Vietnam Pepper Association (VPA), told VIR, "The association's members have reflected that they feel the difference in making declarations of cargo in Ho Chi Minh City and other localities is unreasonable."
According to the regulations, for imported and exported goods declared in Ho Chi Minh City, the fee is now VND250,000 ($10.85) per 20ft container and VND500,000 ($21.70) per 40ft container, while fees for liquid and bulk cargo would be VND16,000 (70 US cents) per tonne. However, the fees outside Ho Chi Minh City are all doubled in price (see box).
"This difference means businesses are flocking to Ho Chi Minh City to make a declaration to save costs, which will cause jams and overload for customs clearance at the city's seaports," Anh said. "Meanwhile, localities will lose a part of the import-export tax. More congestions and delays in customs clearance might therefore happen at seaports in Ho Chi Minh City."
On April 4, private economic development research group IV Board, established by the government's Advisory Council for Administrative Procedure Reform, reported to the prime minister various problems that have arisen during the fee collection process.
"The difference goes against the prevailing fee and customs laws, which is an act of discrimination and makes life challenging for businesses in the city's neighbouring provinces," the IV Board noted in a document.
The IV Board also proposed to halt the collection of fees for goods temporarily imported for re-export, goods deposited in bonded warehouses, and transit and transshipment goods, which currently have the highest fees.
Business associations previously asked the Vietnamese government to scrap such seaport fees due to the concern that the regulation will raise the financial burden on businesses, leading to possible competitiveness reduction.
Phan Minh Thong, chairman and general director of agricultural product exporter Phuc Sinh Corporation, told VIR, "The company exports an average of 6,000 containers of goods per year, thus it has to spend an additional $65,200 for seaport infrastructure fees, which piles pressure on exporters and importers amid the rising costs of logistics services."
According to the Vietnam Association of Seafood Exporters and Producers, there are seven toll stations from the south-central province of Khanh Hoa to Cat Lai Port in Ho Chi Minh City with a fee of $15.50 per trip. A seafood exporter and producer transporting 3,000 containers has to spend an average of $326,000 on these tolls per year.
Since the seaport fee collection policy came into effect, a medium-sized seaport enterprise is estimated to shoulder an additional $240,000 per year for this fee, while larger groups could be hit by as much as $610,000 per year.
The Vietnam Seaport Association's statistics show that in 2021, the total volume of container cargo going through seaports in Ho Chi Minh City was just under eight million TEUs, accounting for about 43 per cent of the whole country's cargo, excluding liquid and bulk goods. In addition, over 70 per cent of import-export seafood volume for the whole country goes through the city's seaport system.

Nguyen Duc Hiep - Deputy director Intimex My Phuoc SJC
Being the third-largest Vietnamese coffee exporter, Intimex My Phuoc exports an average of 5,000 20-foot containers of goods per year. Hence, the company will have to pay around $54,000 in seaport fees annually. To be honest, these rising fees are not too much, but it adds up to the company's expenditure, especially when the selling prices of gasoline, materials, and other logistics fees are escalating at the same time.
Our logistics partners are also negotiating to increase the logistics charges compared to the contracted ones but the company is still considering. In addition, the increasing costs for transporting freight by sea from Vietnam to overseas, especially to the United States and Europe – the company's major export markets – has yet to be resolved. The fees will erode our company's profit.
For example, last year, coffee prices stood around $2,100 per tonne on the international trading floor, up $600-800 per tonne on-year. However, coffee exporters, including Intimex My Phuoc, enjoyed little profit from the current prices as freight costs and others impacted their overall operations.
The difficulty for businesses is that, although the production cost escalates compared to the time when they signed the contracts with partners, they cannot negotiate to adjust the selling price of their exports. In some cases, we have to accept exporting with little profit, sometimes even with losses.
Nguyen Duy Minh - General secretary Vietnam Logistics Business Association
Despite a policy on seaport infrastructure fee collection coming into effect, logistics and transport businesses still want to have a dialogue with local authorities, including Ho Chi Minh City People's Committee, to discuss unreasonable points in this regulation.
We see that the fees are high, and it is not the right time for the collection plan. These fees cause negative impacts on the operation of businesses and the government's economic recovery and development programme.
In addition, Vietnam's logistics fees are already high compared to neighbouring countries, and collecting new fees will increase businesses' financial burdens and reduce their competitiveness.
The fee also reduces investors' trust and increases production costs, rendering it difficult for businesses to recover and compete.
Despite the submissions of many documents by business associations to Ho Chi Minh City People Committee to reflect the disadvantages of this regulation, there has been no feedback. Thus, earlier this month, the Vietnam Logistics Business Association – in collaboration with the other four associations comprising the Vietnam Ship Agents, Brokers, and Services Association, the Vietnam Shippers Council, the Vietnam Inland Waterway Transport Association, and the Vietnam Shipowners Association – submitted another document to the National Assembly to propose the removal of the fees at seaports for goods transported by inland waterways.
Source: VIR