Businessman moves up to 2nd on Vietnam's wealthiest list
Do Anh Tuan, a businessman from Thanh Hoa, has surpassed the asset value of famous billionaires, including Ho Hung Anh and Tran Dinh Long, with stock assets of VND34.318 trillion.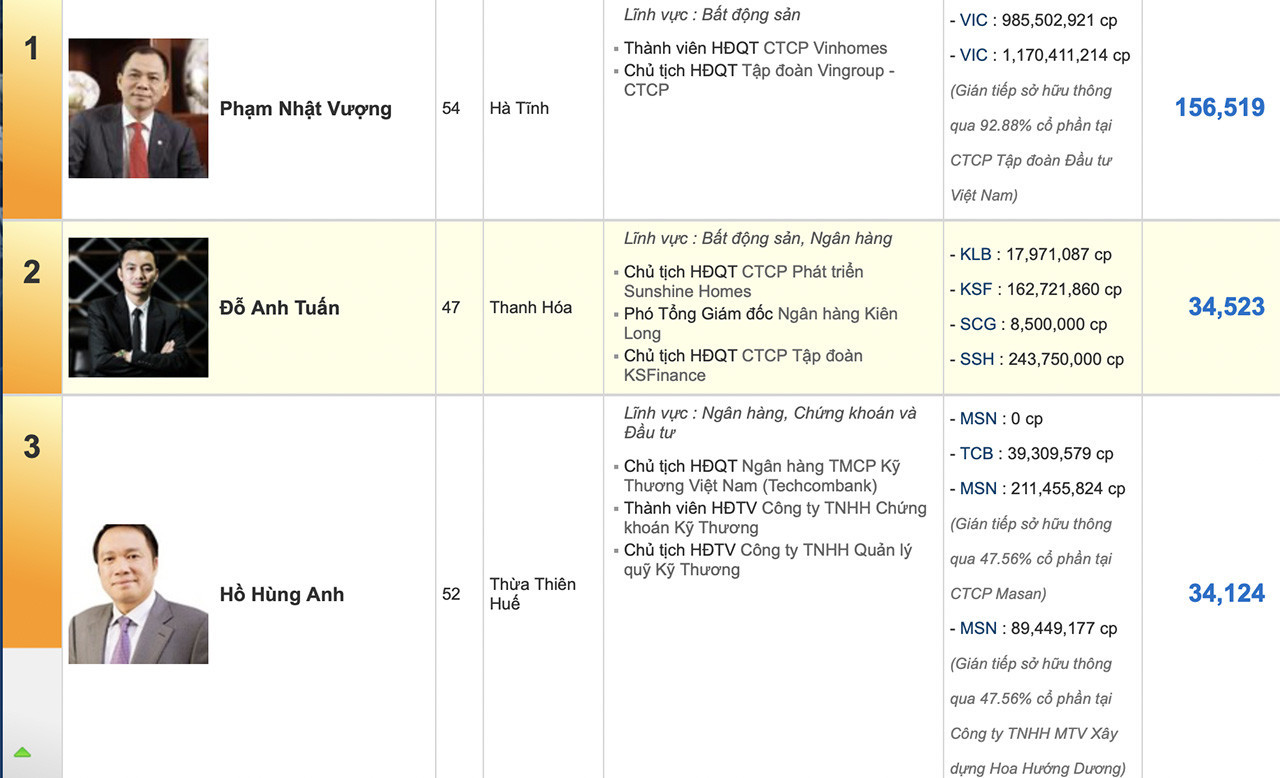 The list of the 100 richest stock billionaires as of October 4 shows that Tuan is in second position with VND34.523 trillion.
Tuan, 47, is President of Sunshine Homes (SSH), KSFinance, and Sao Anh Duong JSC, and Deputy CEO of Kien Long Bank.
Tuan owns over 243 million SSH shares (as of January 10, 2022), 17,971 million KLB shares (as of December 31, 2021), 162 KSF shares (October 1, 2021) and 8.5 million SCG shares (August 4, 2021), with a total value of VND34.318 trillion.
Tuan is now second after Pham Nhat Vuong, who has VND156.519 trillion, in the list of stock billionaires, surpassing famous billionaires such as Ho Hung Anh, Tran Dinh Long, Nguyen Dang Quang and Nguyen Thi Phuong Thao. However, Tuan has not been recognized by Forbes.
The owner of Techcombank, Ho Hung Anh, has VND34.124 trillion, followed by Hoa Phat president Tran Dinh Long, with VND33.966 trillion, and Nguyen Thi Phuong Thao from Vietjet Air with VND33.176 trillion.
On Forbes' list of USD billionaires, there are seven Vietnamese, including Vingroup President Pham Nhat Vuong; CEO of Vietjet Air Nguyen Thi Phuong Thao; President of Hoa Phat Group Tran Dinh Long; Techcombank President Ho Hung Anh; Thaco President Tran Ba Duong; Masan President Nguyen Dang Quang and Nova Group President Bui Thanh Nhon.
Among emerging billionaires, Ho Xuan Nang, President of Vicostone (VCS), directly owns 5.9 million VCS shares and indirectly owns 121 million shares of Phuong Hoang Xanh A&A Group (90 percent).
Nang also holds a series of other businesses, including Phenikaa Smart Device Development JSC, Phenikaa Institute of Research & Technology and Phenikaa University.
The other name is Dao Huu Huyen, born 1956, president of Duc Giang Chemicals, who is in the 13th position. His assets include 68 million DGC and 1.9 million PAT, totaling VND5.279 trillion.
Nguyen Van Tuan, born in 1984, among the top 30 stock billionaires, is well known for the successful takeover deal at GEX and Viglacera (VGC). His total assets are estimated at VND4.795 trillion. He is chair of VCG, and a member of the board of directors and CEO of Gelex and chair of Cadivi.
Duy Anh