Ca Mau needs $27m to resettle people living in erosion-hit areas

Ca Mau Province authorities has asked the Government for more than VND622 billion (US$27 million) to finance 12 projects for relocating people from areas eroded by the sea and rivers.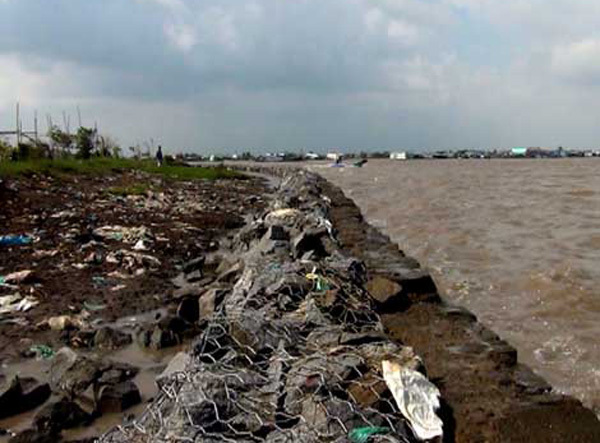 Embankment to prevent erosion are under construction on Ca Mau Province's west coast. — VNA/VNS Photo Kim Ha
At a meeting with Deputy Prime Minister Truong Hoa Binh on Tuesday, they also sought VND648 billion in emergency assistance to strengthen and upgrade the 23.5km sea dyke section between the Doc River and Cai Doi Vam Town.
According to province data, it has lost nearly 8,870 hectares of lands including forests to erosion, and there is also a high risk of the sea destroying the dyke in the west.
Erosion has destroyed many infrastructure works near rivers and the sea, affecting the lives of local people and production.
The province roadmap envisages resettling nearly 4,800 households in new residential areas by 2025.
It has been fighting erosion with its own funds, which have proven inadequate.
So it has asked the Government to provide funds from official development assistance for projects to prevent natural calamities and adapt to climate change.
Binh said the province is surrounded by the sea on three sides, which confers many advantages but also challenges, especially destruction due to climate change.
The province should adopt multiple solutions against climate change and research into new methods, he added.
People's Committee Vice Chairman Lam Van Bi also reported about other economic and social issues to the Deputy Prime Minister.
The province's income per capita has reached VND47 million. Its poverty rate fell by 1.74 per cent against a target of 1.3 per cent.
The Ministry of Agriculture and Rural Development has begun inspections of erosion sites on riverbanks and coastal sites in Ca Mau Province.

The southernmost province of Ca Mau has declared a status of emergency in the face of serious erosion along its eastern coast and riverbanks.  

A section of a sea dyke on the western coast of the southernmost province of Ca Mau is at high risk of breaching due to raging waves over a couple of days.
VNS