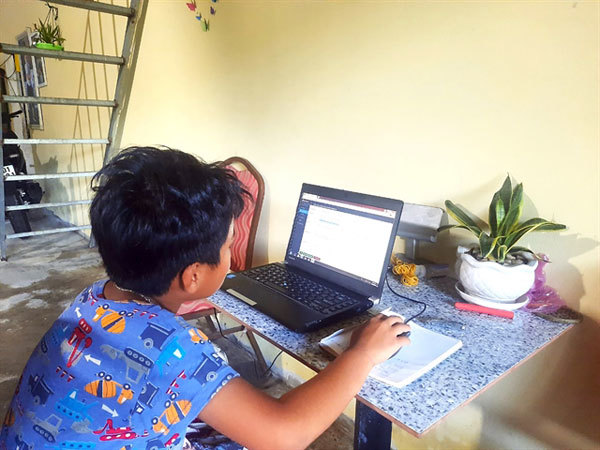 The local authorities instructed educational institutions in the locality to carefully evaluate the actual situation, students' attendance, and online learning quality before coming to the decision to halt online classes. — Photo danviet.vn
Two weeks into the 2021-22 school year, Ca Mau Province took the initiative in contrast to other areas. Initially holding online classes for primary schoolchildren, Ca Mau Department of Education and Training (DoET) evaluated the data collected over two weeks of online learning and came to the decision of cancelling online learning at the primary level.
Local statistics reveal that the attendance rate in the second week of online learning reached 88.21 per cent on average, with primary students was 84.75 per cent. Among these, approximately 60 per cent of the students were studying effectively. This number is lower for younger ages.
Online learning is ineffective for a number of reasons, the assessment found, one being first-year primary students have trouble accessing the online classes without direct instruction. In addition to this limitation, teachers also encounter difficulties in contacting their parents.
Speaking to Dân Việt (Vietnamese People) newspaper, Nguyen Minh Luan, Head of Ca Mau DoET, said the province had been proactive in building different teaching plans amid the complicated COVID-19 developments in the country as the school year started. As this is the first time Ca Mau started a school year online, Ca Mau's DoET had to admit to its shortcomings in implementation despite the resources mobilised for remote teaching.
According to Luan, the local authorities had instructed educational institutions in the locality to carefully evaluate the actual situation, students' attendance, and online learning quality before coming to the decision to halt online classes.
"The only thing that drove Ca Mau's education sector to advise the provincial People's Committee to stop online classes at the primary level is for the sake of education quality," said Luan.
Residing in a rural area of Cai Nuoc District in Ca Mau Province, Nguyen Kieu Tien's daughter still faced difficulties although she is in Grade 4. In the rural area, internet connections are not common and children do not have access to smartphones, which proves to be an obstacle in interaction in online classes, Tien explained.
"My husband and I spent over VND5 million buying a smartphone and signing up for 3G network for my daughter to study, but to be honest, it took us a whole week to understand all the steps to get into online classes and help my child to study," said Tien.
Meanwhile, parents whose children are entering Grade 1 this year collectively complained over online learning. Nguyen Van Sin, in Hoa Thanh Commune, Ca Mau Province, has a son who is entering Grade 1 this year. It has been a headache for the family as they don't know how to teach their child the same way as a teacher. "It was only a few minutes until he starts crying as we made him sit and focus on studying," said Sin.
Parents are overjoyed at Ca Mau's decision to halt online learning for primary pupils. In their opinion, online classes are not suitable for the actual situation, take a lot of time and effort from parents and teachers while not producing the expected results in children's learning.
With years of experience in teaching, Nguyen Trung Hau, a primary school teacher at Tan Hung Dong Primary – Secondary School in Cai Nuoc Commune, Ca Mau Province, agreed that online learning has posed numerous difficulties for teachers, students, and parents.
"With the complicated developments of the pandemic, online learning is appropriate but does not return high efficiency, while posing multiple challenges along the way," said Hau. He also agrees with the province's decision.  
"Each family owns only one or two smartphones, and parents take it with them when they go to work. The only free time for parents is also usually after 7pm, which is not convenient for the teachers to hold classes at that time," said Nguyen Minh Phung, Head of the Education and Training Division in Cai Nuoc, Ca Mau.
The division also stated the online curriculum offers very limited effectiveness for children in Grade 1, 2, and 3, thus considering the provincial DoET's decision the right and appropriate measure in the local context.
Source: Vietnam News

The use of different teaching modes, including online teaching and teaching via TV, is putting pressure on teachers. Parents also have concerns about teaching quality and their children's health.

After one year of teaching online, Vietnamese schools and teachers have become familiar with the new teaching mode.