CAAV asks airlines to stop selling more tickets than seating capacity
The Civil Aviation Authority of Vietnam (CAAV) has ordered Vietnam Airlines, VietJet Air and Bamboo Airways to ensure that the number of air tickets being sold does not outnumber the confirmed take-off and landing slots.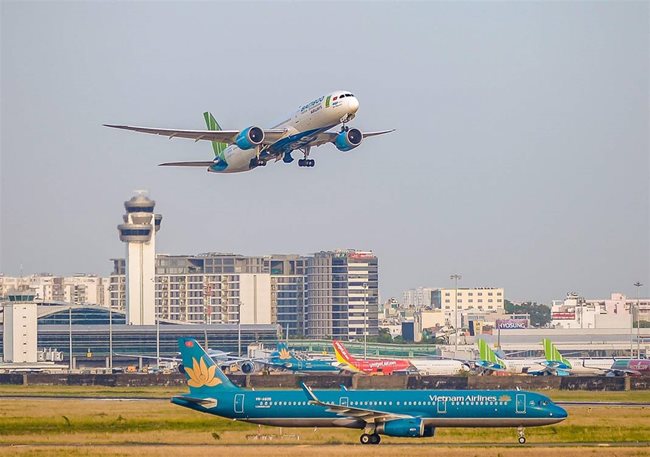 A view of a local airport. CAAV has asked local airlines to stop selling an excessive number of tickets – PHOTO: VNA
On checking and monitoring the ticket sale activities of local airlines, the authority found some of them were selling tickets that exceeded the number of confirmed slots, VietnamPlus news site reported.
CAAV will not issue a license for aviation transport if these airlines continue selling an excessive number of air tickets.
Statistics from the authority indicated that between January 27 and February 26, local airlines will focus on operating domestic air routes.
Over 1,000 domestic flights will be launched each day on average during the upcoming Lunar New Year holiday, or Tet, up 28% year-on-year, with up to 1,200 daily flights on peak days.
Vietnam Airlines and the Vietnam Air Services Company will operate 379 daily flights and 504 flights on peak days, up 35.5% and 31%, respectively, compared to the previous Tet.
Low-cost carrier Vietjet will launch 371 flights per day on average and 375 flights on peak days, while Bamboo Airways will operate 180 daily flights and 190 flights on peak days.
Pacific Airlines is set to operate 124 flights per day and 130 flights on peak days, 25% and 28%, respectively, against last Tet, while newcomer Vietravel Airlines will operate 16 daily flights.
Besides day flights, the local airlines will also increase the number of night flights to 140-150 per day.
CAAV advised passengers to purchase air tickets through the local airlines' websites or authorized outlets to avoid buying fake tickets.
Passengers should arrive at airports wearing face masks two hours before the departure of flights to complete check-in procedures and make medical declarations. SGT

2020 was a disastrous year for the aviation and tourism industries, which were hit hard by the Covid-19 pandemic.

Despite a recovery in the final months of this year, the aviation industry is forecast to face further difficulties in 2021.