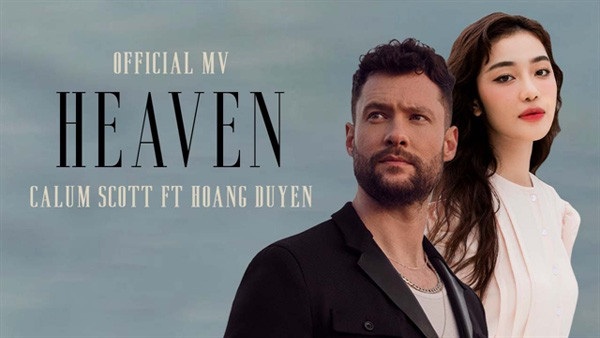 The video was released on June 9 by DreamS Entertainment on their YouTube channel and has already gained over 200,000 views.
The collaboration, organised by Universal Music Vietnam, is a revamped version of Scott's single Heaven, released on April 30 in lyric video format on YouTube.
Besides Duyen, Scott also made different versions of his song with other famous Southeast Asia singers, including the Philippines' Darren Espanto, one of the most successful pop artists of the past decade in the country; Diana Danielle, a Malaysian singer with more than 6 million followers on social media; and Lyodra from Indonesia who won Indonesian Idol in 2020.
During his time working with Duyen, Scott was impressed by the talent of the 23-year-old, saying that her vocal had blown new wind into the hit.
"Duyen was the perfect choice for this song," said the 33-year-old British singer-songwriter.
"I am so excited to be working with these incredible artists from Malaysia, Indonesia, the Philippines and Vietnam.
"I have always had a special place in my heart for Asia, so to sing with local talent from across the region is a real honour. Each of these artists has brought something new to our collaboration, and I can't wait for everyone to hear them."
For Duyen, the project with a world-famous singer is a once–in–a–lifetime experience that she described as "going to heaven".
"At first, I was super surprised with the project that started with an invitation from Universal Music Vietnam," Duyen said.
"I loved the demo right after the first listen. I also love Calum's songs and his inspirational story at Britain's Got Talent and accepted the offer without hesitation."
Heaven is the fourth single from Scott's sophomore album Bridges, which will be released on June 17.
Scott, who finished sixth on Britain's Got Talent 2015, has produced hits and covers that topped the worldwide music charts, including You Are The Reason and Dancing On My Own, which have collected more than 858 million and 473 million views on YouTube, respectively.
Becoming famous after collaborating with Hua Kim Tuyen on the song Sài Gòn Đau Lòng Quá (Saigon, It Hurts) in 2021, which has had more than 51 million views on YouTube, Duyen is one of the most promising singers in Vietnam.
Source: Vietnam News