Prosecutors in Cambodia have charged 10 foreigners, including five Britons, with producing pornographic images.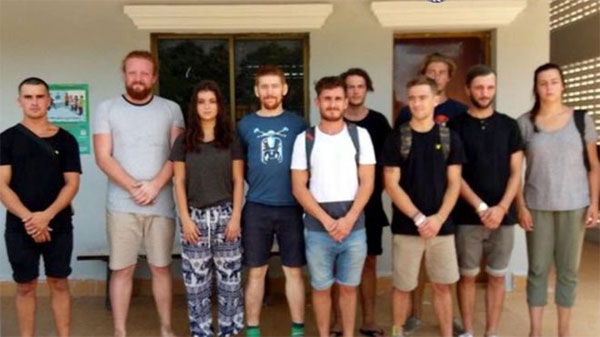 Cambodian police have published a group shot of the 10 arrested foreigners -- Photo: PA
They were arrested on Thursday after images emerged of people appearing to imitate sex acts at a party in a villa in Siem Reap in the north-west.
If convicted, they could face up to a year in prison.
Also among those arrested are citizens of Canada, New Zealand, the Netherlands and Norway, reports say.
However several people in the pictures from the party do not appear among those held, reports say.
Britain's Foreign Office said it was providing assistance to the arrested UK nationals.
Police said the private villa was a stop on an organised pub crawl, the Press Association reported.
Images posted on an expat-run website showed several clothed couples on the floor of the villa, apparently acting out sexual positions.
One member of the group told PA from prison that about 30 police officers had entered the villa in a "confusing" raid.
"They raided, rounded us up, there was about 80 to 100 people at this party, some of them were tourists."
The mother of one member of the group told PA the detainees had had to sign papers written in Khmer "not knowing what they are".
Siem Reap is popular with tourists because it is close to the famous ancient ruins of Angkor Wat, Cambodia's biggest tourist site.
Its nightlife scene has rapidly grown over the past few years as it has become more accessible to backpackers and budget travellers.
This has sometimes placed tourists at odds with Cambodia's socially conservative culture.
Duong Thavry, chief of the Anti-Human Trafficking and Juvenile Protection Department in Siem Reap, told AFP the group were arrested "because they committed activities that are against our culture".
Source: BBC