Government officials, enterprises from Cambodia, Laos, Myanmar, Vietnam and Thailand gathered in Bangkok on June 16 for the first ever forum to discuss ways to form a seamless Mekong Delta region or a Single Destination.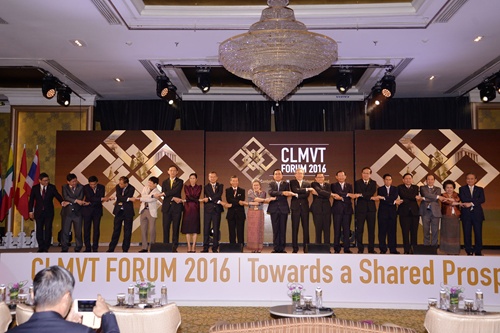 Government officials and enterprises from Cambodia, Laos, Myanmar, Vietnam and Thailand gather for a photo when attending the first ever forum to discuss ways to form a seamless Mekong Delta region or a Single Destination.
The three-day "CLMVT Forum 2016" hosted by Thailand's Ministry of Commerce brought together some 1,000 participants from the countries involved, as well as experts from Japan and the US.
Thai Prime Minister Gen Prayut Chan-o-cha said the power of shared opportunities and the expansion of intra-regional business networks for the development of trade, investment and tourism would make the Mekong countries visible to the world.
Viet Nam's deputy Minister of Industry and Trade, Nguyen Cam Tu, said that to make such a seamless region, the countries involved should choose specific fields on which to focus their cooperation, such as food processing or automobile industries.
According to the forum, after decades of developing both a large manufacturing base and large sales in Thailand, Japanese companies are now increasing their investment in Cambodia, Laos, Myanmar and Vietnam to take advantage of low labour costs, plentiful natural resources, and new and fast growing markets.
Thus, enhanced Japanese investment in this industry in all member states would benefit both sides.
The forum also said that agriculture was a backbone of the CLMVT countries but is not yet a strongest contributor to the regional economy due to low productivity. According to the forum, CLMVT's agriculture sector employed between 32 per cent and 70 per cent of the workforce but contributed only between 11 per cent and 30 per cent of the region's GDP due to lack of modern agricultural technologies.
Tan Monivann, Vice President of Cambodia's Mong Reththy Group, suggested the group should work on ways to boost the value chain, marketing the products and transferring post harvesting technology.
Doan Duy Khuong, Vice President of the Vietnam Chamber of Commerce and Industry, said that as the first and second rice exporters in the world, Thailand and Viet Nam should boost their co-operation to boost the productivity and quality of their products and gain a better market.
Somchith Inthamith, Deputy Minister of Industry and Commerce of Laos, added that the two leading rice exporters should also help the other three countries with their experience.
In addition, CLMVT governments need to simplify cross-border procedures while upgrading local infrastructure and agro-logistic services in order to provide better storage and delivery of perishable goods throughout the region to destination markets.
A free border mechanism would also boost tourism, one of the most lucrative areas in the group.
While sustainable tourism development could yield significant profits for the industry and the economy in general, complicated visa procedures were keeping away many potential visitors. Participants discussed having one visa for visitors to CLMVT countries, instead of five.
Deputy Minister of Culture, Sport and Tourism Vuong Duy Bien hailed the idea, saying that complicated visa procedures for Viet Nam were one of the reasons that visitors to the area don't include Viet Nam in their destinations.
Tran Doan The Duy, deputy director of Viet Travel said the one-visa idea would be perfect for many Westerners who have time for a long holiday but avoid Vietnam due to visa fees and procedures.
The forum also discussed digital connection and e-tourism for small and medium sized enterprises, which account for 96 per cent of the enterprises in the CLMVT group.
Cambodia, Laos, Myanmar, Viet Nam and Thailand have a combined population of 235 million, of which more than half are in the workforce. The group thus has immense purchasing power, said the forum.
VNS