VietNamNet Bridge – The struggle to protect Mekong River has been a prolonged and difficult one, and much more needs to be done, according to Tran Huu Hiep, head of the Economics Department under the Steering Committee on Southwest Development.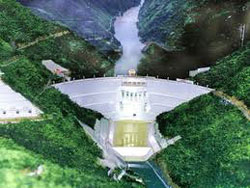 Hiep recently spoke about Cambodia's latest decision to delay construction of the Cheay Areng dam funded by China.
Analysts described the decision as "necessary and positive", noting that China, the project supporter, is now the biggest investor in Cambodia.
However, Hiep said this was not a surprise, considering the struggle against the dam construction lasting over the last five years.
Laos, when deciding to build Xayaburi dam, faced opposition from 263 non-government organizations from 51 countries.
It also had to extend the deadline for consulting with neighboring countries and relevant parties on the construction of Don Sahong dam.
Prior to that, the World Bank and the Asian Development Bank officially announced that they would not give financial support to the project.
Large international organizations, including IUCN, WWF and WCD, all have supported the delay of construction of 12 planned dams, saying that it is necessary to conduct thorough research before making a decision.
The then US Secretary of State Hillary Clinton proposed in 2010 to suspend the construction of dams until clear conclusions were made, while promising to fund the research works.
Hiep said he does not think the Cambodian government and people will benefit from the two dams Stung Cheay Areng and Sambor. It will be the investors who will receive the biggest benefits.
It is estimated that 12 hydropower dams on the Mekong main stream would provide six to eight percent of the electricity demand in Laos, Thailand, Cambodia and Vietnam in 2015.
Of the total expected revenue of $3-3.7 billion from the 12 dams, Cambodia expects to get 30 percent, or $1.2 billion a year. Of the amount, the Cambodian government would get 26-31 percent in the first 25 years of the dam operation under the BOT mode (build, operation, transfer), i.e., $312-372 million only.
Meanwhile, the cultural life of Cambodia would be seriously affected because the country heavily depends on the Mekong River.
Cambodia would face a serious social problems as 1.6 million people earn their living from fishing on the Mekong River.
If Cambodia builds the two dams, it would be more difficult to ask China to stop the construction of the eight dams in the upper course of the Mekong. In addition, Laos would also insist on fulfilling its plan to build its dams. If so, the entire Mekong River will change.
Thien Nhien