Canadian wins Vietnam's first terrain cycling tournament
Binh Dien Long An beat Thanh Hoa; PVF beat Ha Noi T&T, win national U-19 football title; HCM City beat Thai Nguyen 2-0 in national women's football champs
Canadian wins Vietnam's first terrain cycling tournament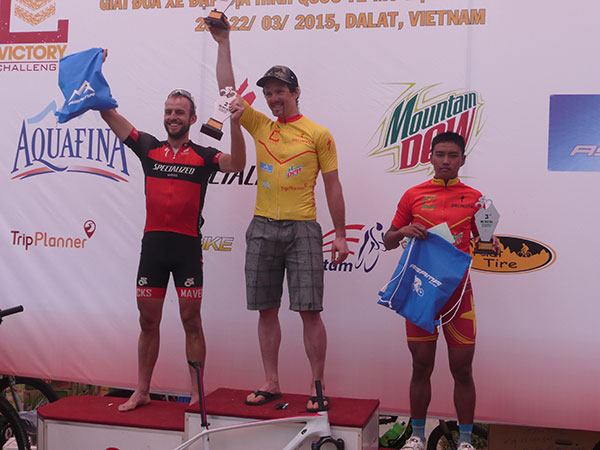 Canadian Cory Wallace won a gold medal at the first international terrain cycling tournament on Sunday.
Titled Viet Nam Victory Challenge, he completed the men's professional category in a time of 6.06hr over 150km.
German Bastian Dohling and Vietnamese Phung Van Loc came second and third.
American Sarah Kaufmann triumphed in the women's side, clocking 8:03hr.
Dang Thi Ngoc and Tran Thi Kim Anh of Viet Nam took a silver and a bronze.
More than 100 athletes took part in the tournament organised in Da Lat in Lam Dong Province from March 20-22.
Both Vietnamese and foreign cyclists representing 40 teams competed in men's and women's individual categories for amateurs and professionals.
Binh Dien Long An beat Thanh Hoa
VTV-Binh Dien Long An defeated Tien Nong Thanh Hoa 3-0 in Group A of the 2015 VTV-Binh Dien International Women's Volleyball Championship in Quang Tri Province on March 22.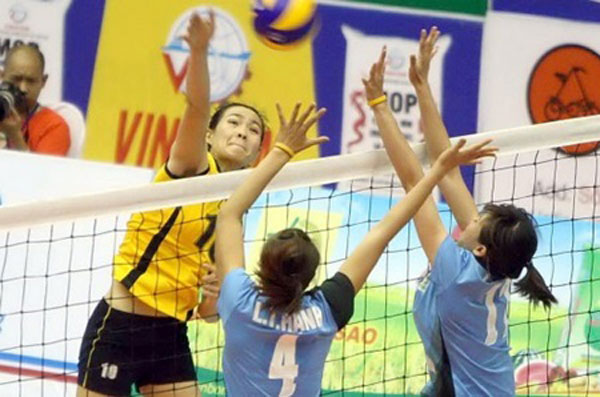 VTV-Binh Dien Long An and Tien Nong Thanh Hoa's players competing in the 2015 VTV-Binh Dien International Women's Volleyball Championship in Quang Tri Province on March 22. — Photo tuoitre.vn
Long An, which own outstanding players, such as Nguyen Thi Ngoc Hoa, Nguyen Thi Kim Lien and Ha Ngoc Diem, dominated the match and scored points through diverse tactics to best their rival 25-10, 25-17 and 25-22.
Earlier, Long An crushed Japan's Tenri University 21-25, 14-25 and 19-25.
In other match of Group B, Kazakhstan's Astana Club won China's Fujian 3-0 (25-22, 25-20, 25-17). Lienvietpost Bank beat Vietinbank 3-0 (25-18, 29-27, 25-17).
Today, Malaysia will meet Tenri, Thanh Hoa will face Club 4.25 of North Korea and Lienvietpost Bank will play against Fujian.
Viet Nam's most prestigious women's volleyball event, which attracted four local and nine foreign clubs, see these teams competing in two groups and will end on Sunday.
The event's prizes total more than US$43,000, with the winners taking home $15,000, not to mention individual prizes.
All matches are being broadcast live on national television channels.
PVF beat Ha Noi T&T, win national U-19 football title
The PVF team won the National U-19 Football Championship after beating Ha Noi T&T 4-3 during a penalty shootout over the weekend.
The final match saw the two top youth football training centres of the country competing with each other.
It was the PVF's first national U-19 title during the team's history, which showed the maturity of PVF's young players and cemented their leading position in youth football training.
The third position was bagged by Viettel and Long An, while the fair play award was given to the PVF team.
The event saw the participation of 20 teams nationwide, divided into four groups. They competed in a double round robin format to decide the top eight teams that will enter the final round.
HCM City beat Thai Nguyen 2-0 in national women's football champs
HCM City leveled the gap with leader Ha Noi 1 after their win yesterday (March 23) during the sixth-round match of the National Women's Football Championship at Thong Nhat Stadium.
HCM City, the hosts, defeated Thai Nguyen 2-0 with goals going to Huynh Nhu at the 27th minute and Tran Thi Kim Hong near the end of the first half.
With the win HCM City have 13 points, as many as Ha Noi 1, but rank second because of goal difference.
Thai Nguyen are at sixth place with four points.
The last round of the tournament's first leg will be tomorrow, with Ha Noi 1 facing Tao Dan, Viet Nam Coal and Minerals meeting Ha Noi 2, and Phong Phu Ha Nam playing HCM City.
VNS