Capital flows into real estate sector despite VN central bank's measures to tighten lending

Outstanding loans to the real estate sector have been increasing steadily although Vietnam has been keeping tight control over lending.
Hoang Quoc Thuong, a National Assembly Deputy from Hai Duong province, on October 22 expressed concern about the rapid increase in the outstanding loans to the real estate sector, which has reached VND1,500 trillion. This could lead to uncertainties and high risks for the national economy.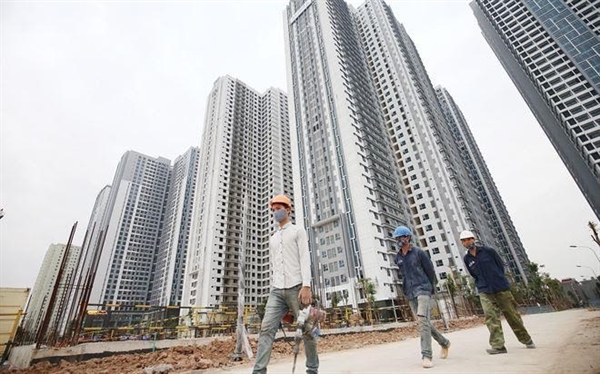 Deputy Prime Minister Vuong Dinh Hue confirmed that the credit provided to the real estate sector is still on the rise, but Vietnam is keeping tight control over lending. However, it cannot prevent capital flowing into the sector. Real estate projects also help other sectors, such as building materials and interior decor.

However, Hue said there have been big changes in relations between economic growth and credit growth. In the past, credit sometimes grew by 33 percent, while GDP grew by 5-6 percent. Now, credit is growing by 14 percent only, while economic growth is higher.

Outstanding loans to the real estate sector have been increasing steadily although Vietnam has been keeping tight control over lending.
When restructuring the economy, the government tightly controlled the credit policy, especially credit to the real estate sector.
It only encouraged lending to manufacturing and business sectors. Real estate credit is considered risky and is under strict control.

Also according to Hue, outstanding real estate loans soared in the first months of the year because the government changed the calculation method.

In previous years, loans provided to fund house purchases and repairs were counted separately from consumer credit. However, in 2018, the government decided that these loans are part of consumer credit.

By September 30, 2019, credit had increased by 9.4 percent compared with the end of 2018. Of this, real estate credit accounted for 19.14 percent of total outstanding loans, an increase of 14.58 percent. The loans provided to fund real estate business accounted for 32.7 percent of real estate credit, up by 5.5 percent.

Consumer credit accounted for 20.68 percent of total outstanding loans of the national economy, up by 13.92 percent. Of this, loans related to real estate (buying, leasing and repairing houses) accounted for 59.4 percent of total consumer outstanding loans, up by 19.51 percent.

Considering the credit growth rate of 13.89 percent in 2018 compared with one year before and the targeted inflation rate in 2019, the State Bank decided that the credit growth rate in 2019 would be 14 percent.

Hue said in order to tighten cash flow into the real estate sector, the government has tightly controlled lending to large-scale real estate projects and high-end projects (villas and resorts). The Governor of the State Bank has to report to the government when funding projects with outstanding loans of VND5 trillion or higher. 
Central Bank reports US$64.82 billion poured into real estate
Credit poured into real estate sector reached VND1,500 quadrillion (US$64.82 billion) during the first eight months of 2019, increasing nearly 14.6 percent compared to the number at the end of 2018 and accounting for 19 percent outstanding loans of the economy, reported the State Bank of Vietnam (SBV).
Credit growth of the economy was 8.5 percent, lower that in the real estate sector. Therefore, SBV will continue tightening credit in potential risk areas such as real estate and securities.
In HCMC, reports by the city branch of SBV show that in the first nine months of the year, credit growth reached 10.2 percent compared to last year end to hit VND2,236 quadrillion ($96.68 billion). Of these, credit into real estate was trending down. However it still increased 3.41 percent over the end of 2018 to touch VND269 trillion making up 12.3 percent of total outstanding loans.
Meantime, outstanding loans for house building, repair and purchase in the city approximated VND128 trillion ($5.53 billion) accounting for 40 percent of total consumer loans. A large number of this might be invested in real estate.
Mai Lan  

The Government will continue to tighten credit in the real estate industry.  

Vietnam has made considerable progress in terms of providing access to credit to become one of the top 25 global performers, according to the newly-released Doing Business Report 2020 produced by the World Bank.