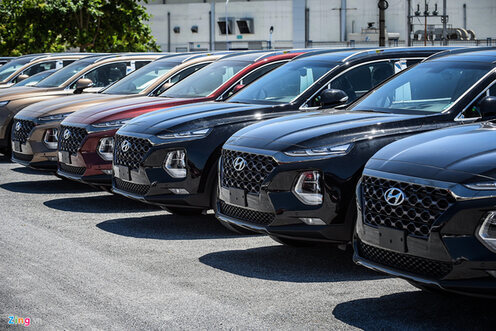 The Vietnam Auto Manufacturers' Association reported that its members sold 25,585 products in May, including 17,581 passenger cars, and 7,482 commercial and 522 specialized vehicles, which represented a 14 percent, 16 percent and 33 percent decrease, respectively, from the previous month.
The number of domestically assembled cars sold was 13,825, down 20 percent, while the number of imports sold was 11,760, down 7 percent.
Meanwhile, TC Motor reported that it sold 6,053 cars in the month, which was lower than the 6.538 in April. VinFast sold 2,855 cars, a slight increase compared with April (2,717).
Most of the bestsellers saw a sales decrease compared with April. About 1,789 Toyota Vios were sold in May (the figure was 1,950 in April), while the figures were 1,620 for Hyundai Accent (2,150), 953 for Hyundai Grand i10s (1,212), and 584 for Honda City (749).
Analysts say the sales in May were the lowest so far this year, if not counting February when there was the long Tet holiday. The Covid-19 recurrence has had a clear impact on the automobile market.
Manufacturers have recently launched many new models into the market, such as Mazda CX-3 and CX-30, and Hyundai Santa Fe 2021. Hyundai Santa Fe was the only model which saw increasing sales, by 400 in May compared with the previous month. Meanwhile, the figures were low for Mazda CX-30 and CX-3, 135 and 426, respectively.
Analysts predict that sales of cars will continue sliding in June because of the complicated developments of the pandemic, which has caused production and business to become stagnant and people's incomes to decrease.
Since early June, manufacturers and sale agents have slashed the prices of many models to stimulate demand.
TC Motor has cut prices by VND15-20 million for Hyundai Elantra and VND40 million for Hyundai Kona. Toyota offers financial support of VND30 million for vehicle registration tax for its Vios model, and offers gifts to Wigo buyers. Meanwhile, at sale agents, buyers of Altis can enjoy a price discount of VND40 million.
At sale agents, the price reduction is applied to Suzuki Ciaz, which includes VND50 million in cash and VND20 million worth of car parts, and VND60 million for Ertiga.
As for Kia brand, Cerato buyers can enjoy a price reduction of VND45-65 million in June. The selling prices of Mazda 3 have also decreased by VND40-60 million, while price reductions of VND15-25 million have been reported for Honda City, and VND40-65 million for Honda CR-V and HR-V. 
Tran Thuy

Automobile sales in Vietnam are forecast to reach 1 million units a year by 2025, opening up substantial opportunities for businesses to develop a supporting industry for the sector.

Vietnam's rising income per capita would soon move cars from a luxury product with a passenger vehicle density of 34 per 1,000 to a more ordinary one with a density level comparable to countries in the region.