Car makers at the crossroads
More than 17,920 cars were sold in Viet Nam in May, which were fewer than the month before, but still higher than the same period last year.
More than 17,920 cars were sold in Viet Nam in May, which were fewer than the month before, but still higher than the same period last year.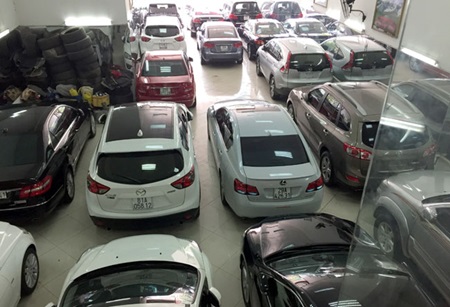 In a press release on June 11, the Viet Nam Automobile Manufacturers Association (VAMA) said that passenger buses took the lead in sales, with 8,946 units. That was followed by commercial vehicles and special-use vehicles, with 7,796 and 1,179 units, respectively.

Although the passenger bus was leading in sales, its revenues were reportedly 5.1 per cent lower than in April, while revenues from commercial vehicles increased by 5 per cent and special-use vehicles fell by 10 per cent.

Truong Hai Automobile JSC (Thaco), Toyota Motor Vietnam and Ford Vietnam continued to hold their top three positions in the market, with sales of 6,603 units, 3,880 units and 1,747 units, respectively.

Domestic vehicle manufacturers in May assembled 14,032 vehicles, 0.4 per cent higher than the previous month, while importing 3,889 complete built-up units (CBUs), decreasing by 7 per cent compared with April.

With a population of more than 90 million people, the Vietnamese market holds great potential for auto manufacturers. Though the country's automobile industry has not developed, many car manufacturers are standing at a crossroads, wondering whether to continue domestic production or move to import cars from other countries in ASEAN.

To develop domestic production, the car makers will need further support from the Vietnamese Government, but there has been no concrete policy set for them.

By 2018, when import taxes on cars from ASEAN countries will be zero per cent, cars will become much cheaper. However, imports will not be easy, as they will depend on many factors, said Deputy Head of the Finance Ministry's International Co-operation Department, Ha Duy Tung.

Tung explained this issue to Dau Tu (Investment) newspaper, noting that to enjoy zero per cent import taxes, cars from ASEAN would be required to meet many standards, including their origin and the rate of spare parts made in ASEAN countries.

"In the coming time, the use of zero per cent import taxes to export CBUs to Viet Nam will also depend on whether investors pour more money into production to meet the standards as regulated," said Tung.

"While the volume of import cars will be increased, it will not grow massively," he added.

At present, the imports of CBUs from Thailand to Viet Nam have been carried out by subsidiary companies of giant groups, such as Toyota, Honda, Ford and Nissan. Therefore, imports will have to follow the parent companies' regulations in importing models, as well as prices, for the Vietnamese market.

Additionally, importing cars from Thailand, where there has been large investment in automobile production, to Viet Nam, is impossible by commercial companies because Thailand cars' have their steering wheels on the opposite side to what is needed in Viet Nam.

Apart from the import tax of vehicles with nine seats being lowered from ASEAN to zero per cent by 2018, other free trade agreements (FTA) have not committed to lower import taxes on cars to zero per cent.

Along with Viet Nam – South Korea FTAs, which will come into effect on January 1, 2016, Tng said there would be two kinds of cars enjoying reduced import taxes, but both would have zero per cent import taxes by 2025.

As for China, according to the ASEAN – China FTA, import taxes for passenger carriers will be cut by 50 per cent by 2018, said Tung.
VNS