A global market-based measure to curb aviation emissions would cost the airline industry up to $6.2 billion in the year 2025, but carriers could face higher charges if governments fail to reach a deal by October, the International Air Transport Association said.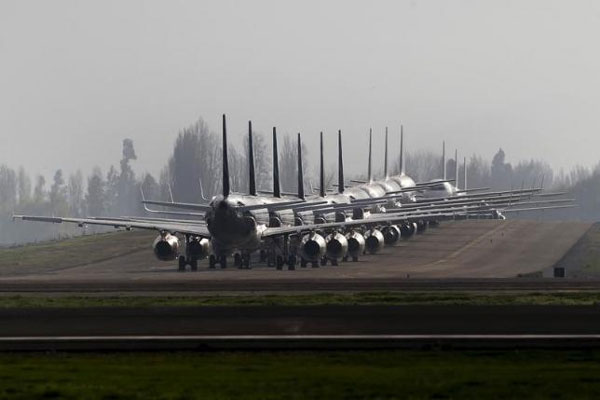 Planes are parked next to a landing track at the international airport of Santiago city, Chile, September 15, 2015.
Government representatives are gathering Wednesday at the United Nations's civil aviation agency to negotiate a draft deal on carbon-neutral growth from 2020 which is to be voted on at a fall assembly.
"That of course is the result the industry is counting on," IATA Chief Executive Tony Tyler told participants at a global sustainable aviation forum in Montreal on Tuesday, in reference to a draft deal in the fall.
By 2035, the deal would cost airlines up to an estimated $24 billion, as air traffic grows, according to figures from the Montreal-based International Civil Aviation Organization, or ICAO.
The cost projections are for sample years after the deal would become active in 2021.
Airlines are nevertheless urging ICAO's 191-member states to reach a global agreement in the fall because the cost of a patchwork of national and regional agreements could be even higher.
"A market-based cost will be much more efficient, and much fairer than the alternative which is a patchwork of inefficient and ineffective charges and taxes which are cooked up primarily just to raise cash rather than to tackle climate change," Tyler said. "We expect that the cost will be not insignificant, but it will be manageable."
According to ICAO data cited in an IATA position paper, the estimated cost of offsetting a flight carrying 267 passengers from Moscow to New York on a B777 would cost up to $804 in offsets.
Aviation was not included in the global climate deal reached at a U.N. conference in Paris in December, and ICAO is tasked with nailing down a strategy to limit emissions after six years of talks.
The plan would allow airlines to offset their emissions by buying carbon credits from designated environmental projects around the globe, but countries remain divided on how offset obligations are shared between developing and developed states.
ICAO's proposed Carbon Offsetting Scheme for International Aviation recommends bringing in the carbon offsets agreement in phases to accommodate developing nations and exempting the world's least-developed countries. But in a recent position paper, China raised concerns that the deal would "impose inappropriate economic burden on developing countries, where the international aviation market is still maturing."
Source: Reuters