Carer for cemetery devotes daily life to martyrs
For the last 40 years, she comes to clear grass, burn incense, and sit and talk at the martyrs' graves at the cemetery every day.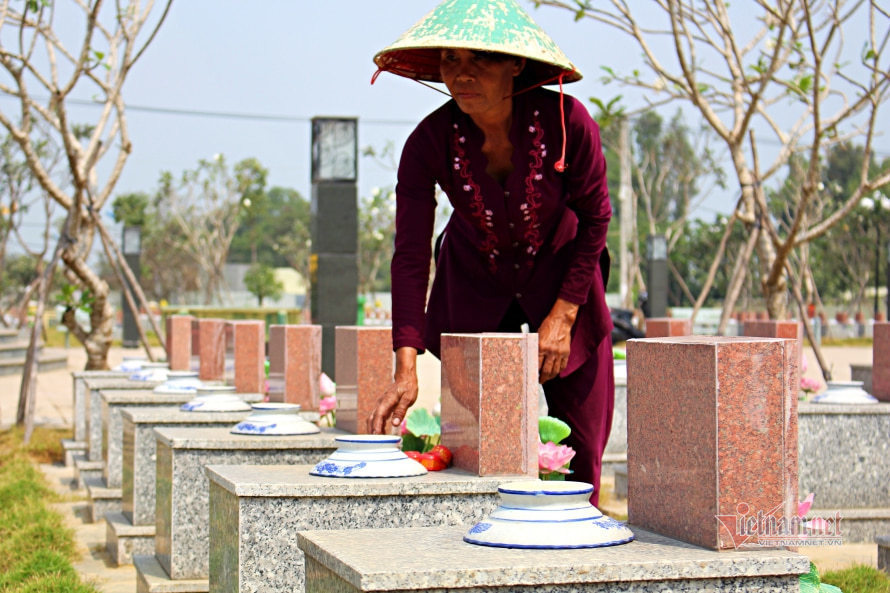 It was a blazing hot day in mid-January in HCM City. The moisture from the water pipes could not help Nguyen Thi Ngoc Hiep, 68, a worker at the martyrs' cemetery in Hoc Mon district in HCM City, feel better.
Hiep told reporters that she began working there last year. Before that, she had worked at Tan Xuan Martyrs' Cemetery for 40 years. She voluntarily takes care of the graves and talks with the deceased.
"In 1980s, the dead uncle martyrs were brought to Tan Xuan Cemetery to rest in peace. At that moment, these were just earthern graves, while the steles were made from simple wood planks." Hiep recalled.
Under the sun and rain, many graves flattened, the wooden steles rotted, and wild weeds over grew the place. Hiep, who lived near the cemetery, felt 'unbearably tormented' about this.
So, she decided to come to the cemetery to repair the graves, clear grass and install steles.
"I used students' boards as steles and used color pens or paints to rewrite information," she said. Later, she came to the cemetery every day, burned incense and spent time talking with the martyrs.
Local authorities, recognizing her kindness, signed a contract with Hiep and created favorable conditions for her to take care of martyrs' graves. Hiep said she 'wept tears of joy' when hearing the news, because she could have better conditions to take care of the graves of the heroes.
In 1987, the cemetery was restored and martyrs' graves were rebuilt with granite. So Hiep's work became less hard.
Not having to come to clear grass regularly, Hiep still has kept the habit of burning incense and talking with the martyrs. She sometimes embraces the unnamed graves and cries.
She said she feels pity for those under the graves because they have not been found by relatives and families.
"I often asked them: Uncles, do your family members and relatives know you are lying here? Do you remember the way home? Please, remember to let your family members know that you are lying here, so that they can come and pick you up for reunion," she said.
"I will stay with the uncles once I am still alive"

In 2020, the graves at Tan Xuan Cemetery were moved to Hoc Mon district Martyrs' Cemetery. And Hiep has moved there to continue her work.
As the cemetery is far from her home, she decided to stay at the cemetery. Every day, after watering plants and flowers, sweeping off leaves at graves, she comes to the monument, burns incense and then shouts "Uncles, it's Hiep. It's now cool, please come to the monument to enjoy the incense!"
This way Hiep shows that she considers the martyrs lying as people. She takes care of them and lives with them as she does with the living, her relatives and friends.
Every time she goes along the rows of graves to clean up and check information on the graves, she always talks and asks for permission from the deceased to do these things.
Many visitors to the cemetery are surprised when seeing Hiep talking and joking with the deceased. But they later understand that Hiep just wants the martyrs' loneliness to be eased. And they know that she loves and has strong attachment to the graves for over half of her life.
When the graves were moved from Tan Xuan Cemetery to Hoc Mon district Cemetery, Hiep felt sad and burst into tears.
"I felt that there were some martyrs who still could not go together with their comrades to the new cemetery," she explained.
And her feeling was true. Six more sets of remains were discovered.
Hiep said over many years she has cried many times. She cries as she feels pity for the unknown martyrs. She cries when witnessing the happiness of the families which find their relatives at the cemetery. Most recently, she cried because the relatives of many martyrs could not attend the exhumation before the martyrs' remains were brought to the new cemetery.
Hiep's children, who feel sorry for their mother who has been living and working hard for half a life, have asked her to stop working. However, she doesn't want to stay at home to enjoy a peaceful life with children and grandchildren, but wants to stick to the work of caring for martyrs' graves. 
Nguyen Son

Veteran soldier and writer Dang Vuong Hung has been honoured for his great contribution to publishing for the book series Nhật Ký Thời Chiến Việt Nam (Wartime Diary).

Hundreds of students and teachers of Xam Khoe Secondary have received an education over the last decade, thanks to Ha Minh Thiet's donation of nearly 8,000 sq.m of his family's cemetery land in 2010