Cat lovers are feline fine over pure breed pets

As far as artwork goes, a painting of two cats wearing human clothes standing side-by-side may not be to everyone's taste.
Yet for cat-lover Trinh Quynh Anh, the image that adorns her living room wall means everything.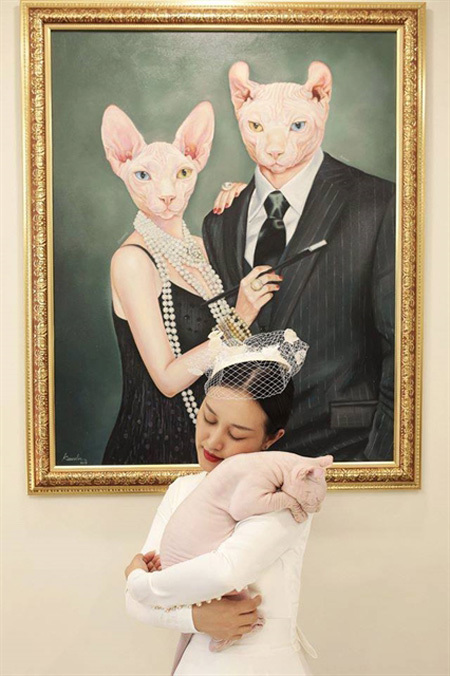 WE ARE FAMILY: Trinh Quynh Anh and her cat Amul pose for a photo with her cat painting at her house in Hanoi. Photo courtesy of Trinh Quynh Anh

It shows two rare Sphynx cats, noticeable because of their lack of fur. These are the animals that convinced Quynh Anh to breed pedigree cats for a living.
"These cats are not just normal cats, they are members of my family," she said.
"I want to create many lovely cats just like them. The breeding aims to make sure that cat's next generation maintains its pure genes from its parents, has good health and is good looking."
Anh is part of a small cat-loving community in Hanoi which breeds pedigree cats.
Last week in the capital, Vietnam's first-ever cat show was held featuring 60 animals.
Organiser Nguyen Xuan Son who owns a British Shorthair, said: "It took us six months to plan and organise the show and call for breeders in Vietnam to participate. It took a lot of time to gather such a large number of participants, and cats from different breeds."
In a country where cat meat is considered a delicacy in some quarters, Son hopes events like this can help cement a love for cats among the younger generation, many of whom frown upon eating the animal.
"What I wanted to do through the show is to change people's thinking from 'cat is food' to 'cat is friend'," he added.
"I also want to build a close-knit cat community in Vietnam so we can have world-class quality cat breeds in the country."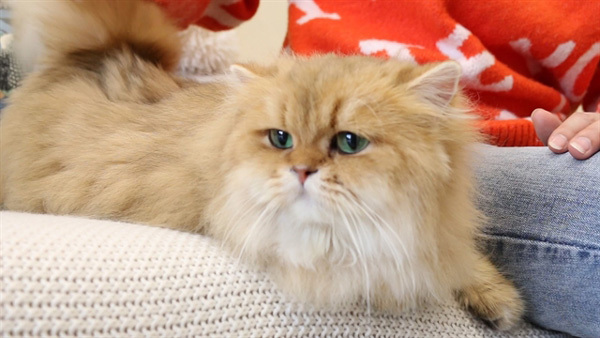 CUTIE PIE: The Highland Straight cat won the adult long hair cat category in the show. VNS Photo Minh Phuong

The show was held under the umbrella of the World Cat Federation. Chairwoman Anneliese Hackman praised the breeders of Vietnam.
"I noticed that there were many beautiful cats in the show," she said.
"With those pure breed cats, Vietnamese breeders definitely have a chance to have world-class quality cat breeds in the country."
Nguyen Quynh Mai, who has a black golden shorthair cat, said as well as seeing many different types of cats, the show was an ideal place to learn about the animal.
"I love watching pageants and beauty shows. I watched a lot of those human beauty shows, and I was curious what a cat beauty show would be like," Mai said.
"Joining the show, I got to meet a lot of friends with cats, and they shared with me knowledge on nutrition, diets, and exercises for cats," she added.
Many prizes were awarded in different categories at the show, with the top prize given to the owner of a Highland Fold cat from Thailand.
TO THE WINNER, THE SPOILS: The Highland Fold cat from Thailand won the overall prize. Photo courtesy of Vietnam Cat Love

Although Anh's Sphynx cat didn't win a prize, her pet was awarded CAC certification, which means her pet qualified for the world standard as a pure breed.
"The comments of judges help me to figure out my cat's good and bad points, so I could make good on it and try to produce the cat's next generation with higher quality," she said.
The next step for Anh and her pet is to attend cat shows abroad.
If successful then maybe she will be commissioning another painting of her beloved family member. VNS
Minh Phuong
A coffee shop in Binh Tan District, HCM City has become a popular destination for animal lovers with various types of animals including alpaca.
A visit to the Central Highlands region of Vietnam offers plenty of incredible tourist experiences, including drinking fresh coffee in the hills and playing with cute puppies.