CBRE: HCMC condo market sees falling supply

HCM City's condominium recorded a significant fall in new launch supply and new pricing levels across the market in 2019, according to CBRE Vietnam's latest report "Property Insight - Residential Market Outlook 2020".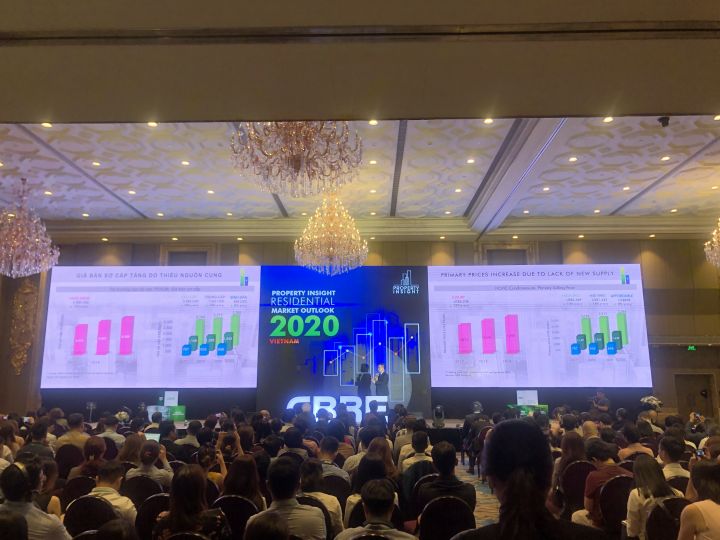 There were many reasons leading to a reduction in new launch supply in the city but the primary issue was the slow licensing process for new and amended projects. Product features and marketing campaigns were used effectively by developers, however, to attract buyers during this period of limited supply.
In terms of segments, the mid-end segment accounted for the highest proportion of new launch units in 2019, at 67 per cent. The high proportion of the segment over the last three years has maintained market balance compared to the 2015-2016 period, when there was large supply in the high-end segment. The high-end segment ranked second last year, with 25 per cent, followed by luxury with 6 per cent.
There has been no new launch supply in the city's affordable segment for the last three quarters. It accounted for 2 per cent of new supply in 2019.
Though new launch supply in the luxury segment has improved over the last two years, with new projects in District 1 and the Thu Thiem area in District 2, the segment accounted for only 3 per cent of total supply. There were only two new projects in 2019 compared to five in 2018.

This segment was led by local developers in the past due to their competitive advantage in securing prime land banks. In recent years, joint ventures with a foreign partner have increased their presence, with strong funding backup and proven track records in developing luxury products.

Luxury residential products, which are mainly located in "golden sites" in the city, are still very attractive to a niche market thanks to their unique offerings. Selling rates of newly-launched projects in this segment in recent quarters have all been above 70 per cent, especially those in the Thu Thiem area, which have posted an absorption rate of up to 100 per cent in a short period after launch.

Luxury products are being chased after by both local and foreign investors. Based on the number successful transactions closed by CBRE in the luxury segment in the last five years, 68 per cent of buyers were local, with many being Millennials. Foreign buyers have been mainly from South Korea, Taiwan (China), Singapore, and China.

Aligning with the condominium market, the selling price in the city's luxury segment has increased significantly over recent years. The average selling price in the fourth quarter of last year was $6,308 per sq m, up 10 per cent year-on-year. This improvement was not only due to the possession of prime locations but also improvements in product quality. Developers in this segment have put a lot of effort into product research and development to incorporate international trends and quality standards, such as green buildings, smart homes, and imported branded materials, etc.

Primary prices will continue to increase due to a lack of supply. The luxury segment is expected to see prices increase by 10 per cent year-on-year. Prices in the high-end and mid-end segments will increase 5 per cent year-on-year, due to new supply and high price levels in 2019.

"The licensing issue and tightening credit continue to be the main challenges for the condominium market in 2020," said Ms. Duong Thuy Dung, Senior Director of the Valuation, Research and Consulting Department at CBRE Vietnam. "Buyers will face difficulties in purchasing a condominium not because of what they can afford but rather what they can't find. On the other side, developers are well-positioned to increase profits thanks to the shortage of existing condos for sale."

In terms of luxury apartment trends, she said the future trend in the segment would mostly concentrate on resident experience. Projects will provide hotel-style services and will allow residents to enjoy a hotel-like and eco-friendly lifestyle on a daily basis. Luxury no longer means spacious, but rather has become a state of mind. VN Economic Times

The supporting industry boosted the development of Việt Nam's industrial real estate market last year, according to CBRE Viet Nam Co, Ltd.

Proptech in Vietnam is developing and expanding on the back of strong momentum in the Vietnamese real estate market, due to its benefits in improving accuracy and speed, as well as cost savings and convenience.