Century-old Dong Ba Market remains true to roots
VietNamNet Bridge – Despite competition from modern supermarkets, Dong Ba Market in Hue City, in the central province of Thua Thien-Hue, remains as bustling as ever.
VietNamNet Bridge – Despite competition from modern supermarkets, Dong Ba Market in Hue City, in the central province of Thua Thien-Hue, remains as bustling as ever.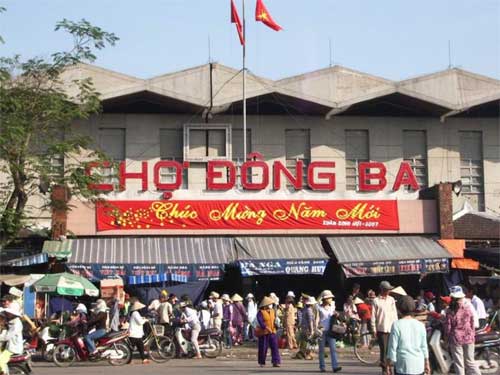 Dong Ba Market in Hue City. – File photo
"I don't feel that anything has changed because of the modern shopping trend. In fact, everything continues to go well," said Ngan Hanh, a conical hat vendor.
The 113-year-old market is a physical reminder of the former imperial capital's glory days. During the reign of Thanh Thai, the fifth king of the Nguyen dynasty (1802-1945), Duoc Market - the biggest market in Hue City - merged with a smaller one near the citadel's Eastern Gate called Dong Ba.
The merger aimed to meet the growing demand of what was then the largest city in Vietnam.
"Hue was the royal capital city with a big population and many different occupations, including royal family members, mandarins, secretaries and soldiers," said cultural researcher Ho Tan Phan.
The market was rebuilt twice, in 1967 and in 1987. Today, it remains a city institution, as famous as Dong Xuan in Hanoi and Ben Thanh in Ho Chi Minh City and a fixture in many traditional songs, poems and paintings.
Visitors can find almost everything they need, from luxury watches imported from Europe to small bunches of cheap local herbs.
For Hue residents who typically buy groceries one day at a time and rarely buy produce that isn't local, the modern supermarkets that cropped up in the early 2000s are no replacement for the bustling wet market.
"Everyone who knows about Hue understands how carefully the locals, especially the older generations, select ingredients for a meal," said Nguyen Khoa Hoai Huong, chairwoman of the market's management board. "Dong Ba still meets their needs, so we're confident that the market can remain open and prosper."
Many Hue natives consider Dong Ba the best place to taste local specialties such as "bun bo Hue" (Hue beef noodle soup), "beo nam loc" (rice flour cakes) and "bun thit nuong" (vermicelli with grilled pork and herbs). The market also offers "che", a traditional dessert that can be made with anything from lotus seeds to sweet corn, taro and pomelo.
When school begins, children prepare for the new academic year by buying notebooks, new shoes and clothes at Dong Ba, while families and groups buy food for banquets and death anniversaries. During Lunar New Year, city residents and people from surrounding rural areas head to Dong Ba to buy their holiday items.
Tourists can find specialties and handicrafts from all over the province, including Tinh Tam lake lotus seeds, Hue sesame candy, Hue grapefruit, Hien Luong village scissors, Ke Mon jewellery, Sinh village paper and Thanh Tien Village paper flowers.
In 2008 and 2009, local authorities allotted half of its land to large supermarkets. But Dong Ba remains home to 2,700 stands, although the market's management board has made some changes to lure shoppers and tourists.
"We succeeded in getting sellers at Dong Ba to fix their price for each item. No more bargaining and price cheating here," Huong said.
Sellers are also required to have clear information on the origin of goods. The board has also invested in giving the market a local character. During special occasions like national holidays or the biennial Hue Festival, female vendors don traditional ao dai.
"It was my idea and it has really worked," Huong said. "Ladies told me that wearing +ao dai+ makes them act more elegantly and communicate in a more gentle way, which gives a nice impression to tourists."
Source: Vietnam Plus