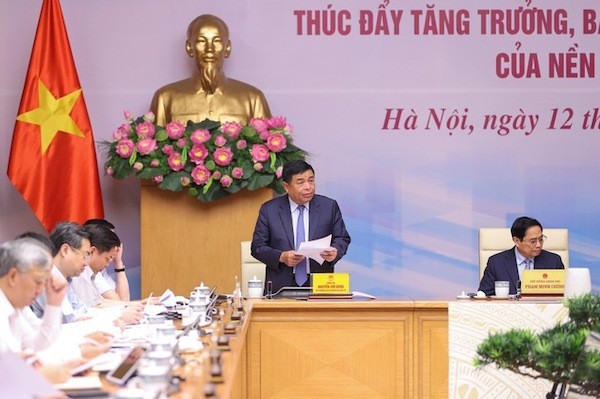 Swimming against the current
In a recent interview, Chairman of the European Parliament's Committee on International Trade Bernd Lange said Vietnam was controlling inflation well, while its gross domestic product (GDP) grew by nearly 7 percent and the economy is recovering.
European Union Ambassador to Vietnam Giorgio Aliberti said that Vietnam has a self-reliant food supply thanks to favorable natural conditions.
The International Monetary Fund (IMF) raised its Vietnam's forecasted growth rate in 2022 to 7 percent, one percentage point up compared with three months ago.
IMF Chief Representative François Painchaud said that Vietnam is the only Asian economy with an increased forecast growth rate.
Under the most cautious scenario, Vietnam's growth rate this year would be over 7 percent, while inflation would be below 4 percent. Total export turnover would be $175 billion, twice as much as GDP.
Business operations and people's daily activities are back to normal.
Vietnam is a bright spot in the world, which is struggling with inflation, high interest rates, disruption of food and fuel supply chains, and recession.
National Assembly Chairman Vuong Dinh Hue told the 2022 Vietnam Socio-economic Forum that Vietnam appears to be "swimming against the world current". While many economies have low growth rates and high inflation rates, that is not true for Vietnam.
More challenges
However, amid the strained world economy, many conferences and seminars have been held recently to find solutions to maintain economic growth.
The Politburo and Party Committee Secretariat, considering the plan to step up industrialization and modernization to 2030, with a vision to 2045, commented: "There are still shortcoming and limitations; for example, economic growth cannot reach the strategic goal, the growth rate tends to decrease, while the risk of lagging behind and falling into the middle-income trap is visible if Vietnam doesn't drastically renovate thinking and action in implementing industrialization and modernization."
Vietnam's GDP growth has fallen to its lowest point since the renovation period (doi moi) after two years of the pandemic. Even if the growth rates this year and the next years are high, it will be difficult to offset the gaps the economy has experienced since the pandemic broke out in early 2020.
It is estimated that the growth rate may fall to 5-5.5 percent in this period, the lowest among the 5-year socio-economic development periods since renovation.
In January-August 2022, over 104,000 businesses left the market, up by 22 percent year on year.
Meanwhile, monetary and fiscal policies have not caught up with the demands of the economy.
The disbursement of the VND350 trillion economic stimulus package was only at 16 percent after eight months, while the disbursement of public investments was 40 percent.
It is difficult to disburse funds for many public projects because of problems in site clearance, unit price increases, and complex administrative procedures.
Meanwhile, monetary policy is wavering. The State Bank of Vietnam (SBV) is still pursuing a tightened monetary policy, while many experts have proposed a 2 percent increase in credit growth limit as credit room is running out.
Minister of Planning and Investment Nguyen Chi Dung said the challenges in the last months of 2022 and in 2023 are "increasingly high", and the risks for macroeconomic instability are "very high".
Tu Giang