Lộc, 56, and his wife can earn VNĐ350,000 (US$15) per night from renting out a room, excluding food, motorbike and boat rent, or a local guide.
"My income from fishing had been unstable for 20 years, so I turned to tourism services as I needed to retire from fishing," Lộc said.
"I was born a fisherman, and now I use that experience from the traditional trade to serve tourists," he said.
The islander's education and communication of protecting the marine environment and cleaning the ocean help the local community improve their awareness of protection.
"I can earn $15 per night and VNĐ70,000 ($3) for food from each tourist," Lộc said.
"Boat trips and motorbike rentals add to my income as many tourists have been flocking to the islands in recent years. My knowledge of marine species and the ocean help me act as a local guide for tourists as well," he said.
Marine protection
The Chàm Islands-Hội An World Biosphere Reserve, which covers over 33,000ha including the ancient town of Hội An, has 1,500ha of tropical forests and 6,700ha of sea featuring a wide range of fauna and flora.
The islands, which include eight islets with 2,400 inhabitants, have been one of the most popular destinations in Quảng Nam Province since UNESCO recognised Hội An ancient town and the Mỹ Sơn Sanctuary as World Heritage Sites.  
A report has revealed that more than 80 per cent of the population have switched from fishing to the eco-tourism sector and doubled the income per capita to VNĐ42 million (US$1,800).
The islands are the only location in Việt Nam promoting the non-use of plastic bags and the '3Rs' (reduce, reuse and recycle) programmes since 2011, as well as fighting over-fishing for decades.
The 2,400 inhabitants earned US$3.6 million per year, 65 per cent of which is from tourism and service.
Trần Hoàn, a 53-year-old fisherman, initially protested the non-use plastic bag campaign in the Chàm Islands Marine Protected Area (MPA) in 2011.
But he then voluntarily joined a community-based team to prevent illegal and over-fishing activities.
"At first, we protested the ban on plastic bags because they were seen as the most convenient way of transporting food every day," Hoàn recalled.
"Now we all know that plastic bags have killed the coral reefs – a safe shelter for fish and other species. Islanders now use environmentally-friendly packaging or reusable bags for their daily market trips," he said.
The local community is continuing to protect the environment by promoting "Say No to single-use plastic cups and straws".
Dr Chu Mạnh Trinh from the MPA said islanders offered tourists hand-made paper packaging instead of nylon bags.
Fishermen have also set up teams to check for illegal fishing or pollution such as fishing by electric shock and netting small marine species.
Challenges
Director of the MPA Centre Trần Thị Hồng Thúy warned that booming mass tourism would result in over-exploited natural resources in the Chàm Islands.
She said the islands hosted only a mere 17,000 tourists in 2009, but about 400,000 visited in 2018.
"At least 33ha of the seaweed has been destroyed in the past decade due to over-fishing and mass tourism. About 102ha of forest – 10 per cent of the total forest area on the islands – has also been cleared for the construction of roads and buildings," she said.
She said water off the islands docked regularly more than 700 boats in serving for fishing and tourist transport.
Lê Ngọc Thảo, an expert from the MPA pointed out that the Chàm Islands-Hội An biosphere reserve site would be threatened in the near future by fishing using electric shocking, pollution, lack of freshwater and rapid urbanisation in the basin of the Thu Bồn River.
He said 7ha of nipa palms in Hội An itself, the Thu Bồn River basin or in the transition area of the biosphere reserve – was cleared to make way for Cửa Đại Bridge.
"The bridge, which connects Hội An and the districts of Duy Xuyên and Thăng Bình as part of the area's socio-economic development plan, cuts through a 40ha nipa palm forest, just 5km away from ancient town of Hội An," Thảo said, adding the forest remained a safe shelter for marine species and fish reproducing before migrating to waters of the Chàm Islands," he said.  
Solutions
To promote biodiversity protection, the MPA and Hội An will continue to allow only 3,000 tourists to visit the islands per day.
The strict control of mass tourism will help the marine ecological system recover for sustainable development.
Professor Chu Hồi suggested afforestation and replanting nipa palms in the Thu Bồn River basin as well as rejecting mass construction of beach hotels and resorts as well as sound management of waste and water would be key factors in supporting the sustainable development of the Chàm Islands-Hội reserve.
Professor Nguyễn Hoàng Trí from the Man and the Biosphere Programme – an intergovernmental scientific programme launched by UNESCO, said the islands should set a lower limit for the number of tourists to promote the sustainable development of the islands.
He said biodiversity protection and improving awareness among the community about environmental protection will be the key to building the islands into a national brand in the context of a community-based eco-tourism site rich in biodiversity.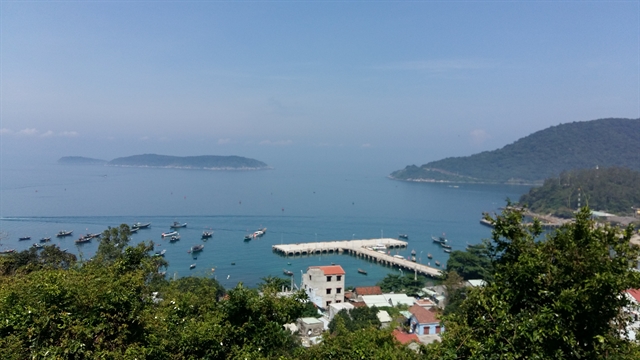 A corner of Chàm Islands, off the coast of Hội An city. The islands are seen as one of the most successful sites in the management of environmental protection and sustainable development. VNS Photo Công Thành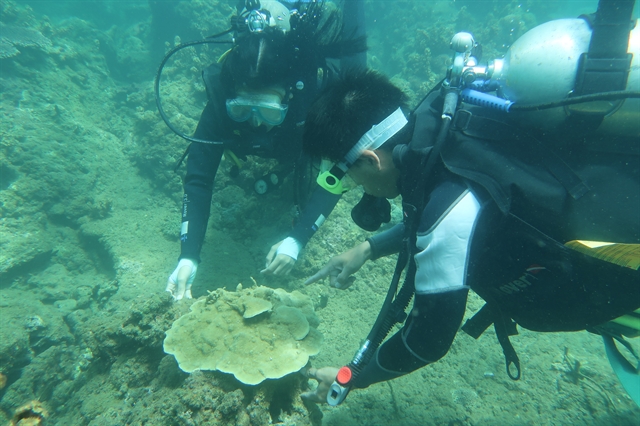 Staff from the Chàm Islands Marine Protected Area Management board check coral reef development in waters off the Islands. The site has been promoting environmental protection and waste management. VNS Photo Lê Xuân Ái
Cong Thanh