Chess master overcomes visual impairment to top region
Nguyen Thi Hong with visual impairment has done a great job, winning chess golds at the recent Southeast Asian ParaGames in Indonesia and being nominated to be one of the year's best athletes in 2022.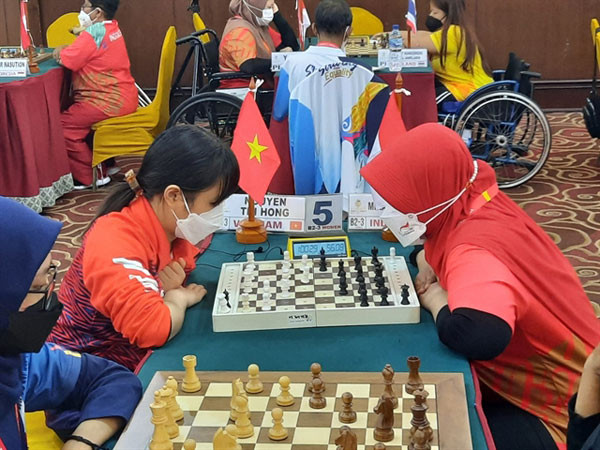 She never imagined being a sportsperson. She did not even have a second to think about it when she topped the podium. But Nguyen Thi Hong with visual impairment has done a great job, winning chess golds at the recent Southeast Asian ParaGames in Indonesia and being nominated to be one of the year's best athletes in 2022.
Hong was born in 1998 into a family with four siblings in Hiep Thuan Commune, Phuc Tho District, a suburb of Hanoi.
She suffered vision loss because of retinitis pigmentosa, and when she was just 7 years old, she was sent to Nguyen Dinh Chieu School, a special school for visually impaired students.
Her father had to rent a room near the school to care for and support her. All of his efforts were to bring a better life for the girl.
Her life started a new chapter when a group of volunteers from the Bac Ninh Sport University of Vietnam came to train students to play chess.
"I joined their class because many of my friends did. It was difficult for me at first," Hong told Việt Nam News.
"I had to get familiar with the pieces. I touched them carefully to distinguish them from each other and learnt how they moved. It took me several weeks to recognize the pieces and their moves.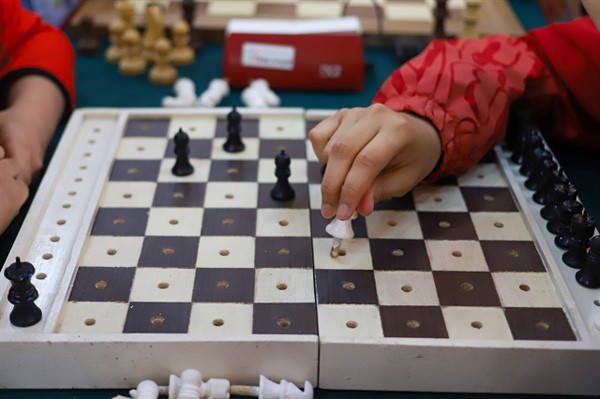 "Later, when I knew how to play, it was a new world for me. The more I played, the more I loved this sport of the mind," she said.
The volunteers found that Hong was good at chess and introduced her to Hanoi's chess club for people with disabilities.
"It was in 2014 when Hong came to us. Her chess knowledge was little, but she showed ability in calculating moves, an iron mind and great determination," said coach Bui Quang Vu, who has been accompanying Hong for many years.
Hong became an official member of the club in 2016. She has participated in many tournaments since and brought home many medals.
"My idols are the world No 1 Magnus Carlsen of Norway and Vietnamese Grandmaster Le Quang Liem. I have learnt a lot from their playing style and tactics," she said.
"I know that in chess, with just a second of loosening my mind, I may lose the game. Therefore, I ask myself to work hard and play hard to earn the best result possible."
In two years of the pandemic, many people's schedules were strongly affected, and Hong also suffered. She could not join her club in person, so had to practise online.
However, Hong did a great job and firmly stepped forward with significant progress.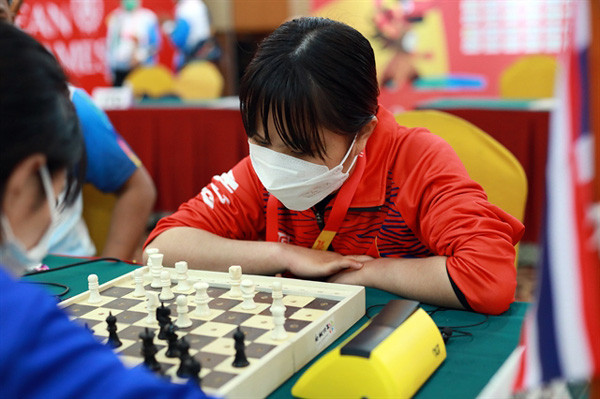 At the National Sport Championships for People with Disabilities in April, Hong successfully grabbed two golds, two silvers and one bronze.
The outstanding performance gave her a berth in the national team for the 11 ASEAN ParaGames in Jakarta in July.
Despite a debut at the regional sports meet, the 24-year-old pocketed five titles, two from individual and three team events.
"I was excited and nervous because it was the first time I competed in a ParaGames," said Hong.
"I had no idea who my rivals were and how strong they were. But after the first games, I knew they were on the same level as me, and I felt no more nervous.
"I played 18 games in three events at the tournament, and luckily I did not lose a single game," Hong said.
"When I first started playing chess, I never thought I would be a pro athlete, but I am. I also did not imagine getting a medal, but I tasted emotional moments on the top podiums and sang the national anthem. I felt so proud and cried because of my happiness at that moment. I contributed my humble labour to Vietnam internationally."
Hong's outstanding results made her the best female chess master of Vietnam and the ParaGames.
"It was an amazing result of an athlete who took part in the international competition for the first time. Her achievement was much better than our coaching board expected," coach Vu said.
"Hong is a golden hope of Vietnam in the coming tournament. She will defend her titles at the 12th Games in Cambodia in 2023."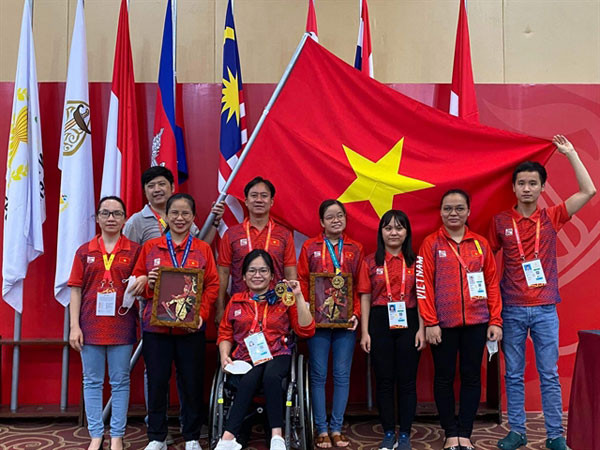 Back home, Hong was honoured as one of 50 excellent youths with disabilities who made achievements, contributed to the community's development, and inspired other young people to work for a better life in 2022 by the Central Committee of the Youth Union in September.
She has also been nominated as a candidate for the Victory Cup, the annual national award for the best athletes of the year. The award ceremony will be held in January.
"I am surprised and happy to be a nominee for such a prestigious award. Winning or not, I am still happy with such an honour," said Hong, who expected to open a chess class of her own to help nurture talented athletes for the future.
Source: Vietnam News