Child labor in Vietnam down 67 percent since 2000: report

"Vietnam has cut child labor by 67 percent since 2000, and more Vietnamese children are better off today than 20 years ago," according to Save the Children's third annual Global Childhood Report 2019, released on July 30.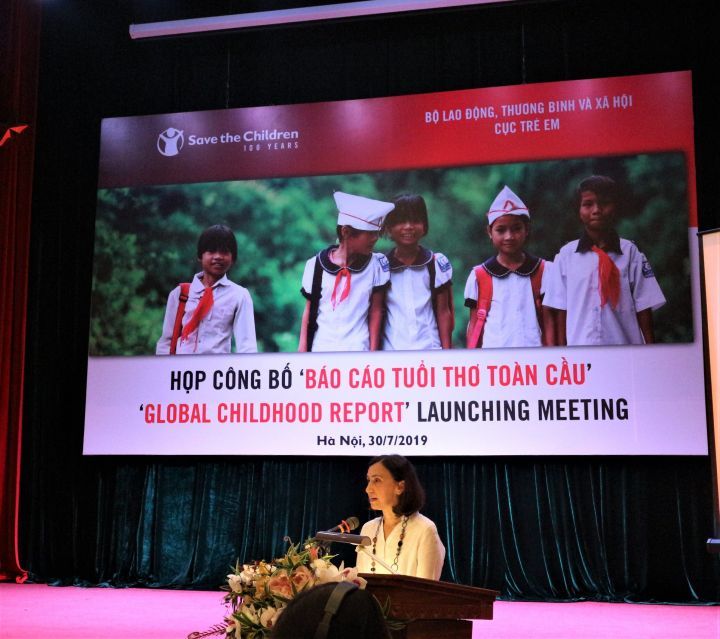 Ms. Dragana Strinic, Country Director of Save the Children in Vietnam
Photo: Save the Children Fund
The Global Childhood report measures the extent to which children in each country experience "childhood enders" - life-changing events like child marriage, early pregnancy, exclusion from education, sickness, malnutrition, and death.
Vietnam ranked 95th this year out of 176 countries, with less than 10 per cent of children aged 5-14 being engaged in child labor and an overall reduction in the stunting rate to 24.6 per cent against 36.5 per cent in 2000.
Speaking at the report's release, Ms. Dragana Strinic, Country Director of Save the Children in Vietnam, said the rate of child labor in Vietnam has achieved impressive reductions, from 28 per cent in 2000 to less than 10 per cent.
Though the rate of stunting malnutrition fell from 23.8 per cent compared to 36.5 per cent in 2000, Save the Children is continuing to coordinate with the government to continue reducing these rates, especially among ethnic minority children living in remote areas.
"To improve the lives of children, especially ethnic minority children living in remote and hard-to-reach locations, it is necessary to increase investment in areas that affect them and take targeted action to ensure children are reached who live in the most difficult circumstances." Ms. Strinic said.
According to Mr. Hoang Viet Dung, Communication Coordinator at Save the Children, the poorest countries in the world saw the biggest achievements for children, such as Sierra Leone, Rwanda, Ethiopia, and Niger.
The report also said that at least 280 million children worldwide have had the opportunity to grow up healthy, go to school, and live in safer ways over the past two decades. Compared to the number of 970 million children who lost their childhood in 2000, there are still 690 million children who have not yet fully enjoyed their childhood. And now, one in four children still loses their childhood.
Mr. Dung said that global progress in the rate of childbearing among adolescents and children killed is still limited. Since 2000, the rate of children who live in areas of violent conflict has not seen any improvement, and the number of children who live in war zones or are forced to leave their homes or habitats has increased rapidly.
Singapore is at the top of the rankings, affirming its position as the world's leading country in child protection and care. The Top 10 countries where childhood is most protected are Singapore, Sweden, Finland, Norway, Slovenia, Germany, Ireland, Italy, South Korea, and Belgium.

Traveling to the northernmost land of Ha Giang, visitors will be impressed not only by the overwhelming majestic beauty of Dong Van stone plateau but also by the homely and lovely local children.

Modern educators advise parents not to teach kids to read and write before they begin going to school.