Chinese capital continues to flow to Vietnam

Chinese investors are pouring money ino Vietnam as a shelter from the US-China trade war.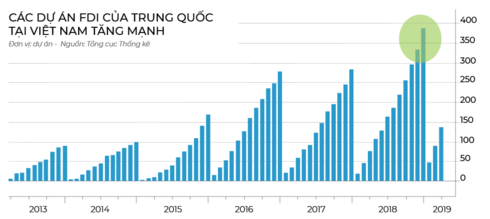 Chinese investment in Vietnam in 2013-2019
Analysts say that Chinese investors have recently injected billions of dollars into their projects overseas, including Vietnam.
However, unlike the 'previous-generation investment wave', in addition to the 'traditional business fields' such as textile and garment and farm produce processing, they are interested in real estate, industrial zones, electronics, hi-tech products and integrated resorts as well.
The Van Don Economic Zone Management Board last week received high ranking executives from Jusda Vietnam, a subsidiary of Foxconn Group, who came to survey locations for assembling line and logistics center. The project will not only serve the operation of Foxconn, but also other enterprises.
With the newly opened Van Don International Airport, the border province of Quang Ninh has become attractive to Chinese investors.
IZ development has become a favorite business for many investors who anticipate a wave of foreign investors relocating their factories from China to Vietnam.
The US-based TTI Group is planning to set up a solar panel factory and an R&D center in the south of Vietnam. The project is expected to bring more foreign investors, who are vendors of TTI, including Chinese.
"The international investors like TTI are creating driving force for the development of the industrial real estate market in Vietnam," commented Michael Chan from BW, a joint venture set up by Warburg Pincus and Becamex IDC. 
The company developed 230 hectares of landin 2018 and is planning another 170 hectares in 2019.
The housing market is also attracting Chinese investors. According to Stephen Wyatt, CEO of JLL Vietnam, the prices in the market are more competitive than Hong Kong, Japan, Singapore, South Korea and Taiwan. 
A high-end project of Sun Wah on Nguyen Huu Canh street of Binh Thanh district, HCMC, has no more room for foreigners because of the high demand from Chinese investors.
"The opportunities in Vietnam are very attractive. A high-end apartment in the city is priced at $5,000 per square meter, but it would be four times more expensive in Hong Kong," said Nguyen Khanh Duy from Savills.
In the field of entertainment real estate, Suncity Group is developing Hoiana (the old name was Nam Hoi An), a casino on a very advantageous position – near Hoi An old residential quarters and just a 30 minute drive away from the Da Nang International Airport.
Vietnam has also become an attractive destination for technology firms. Eddie Thai, director of 500 Startups Vietnam, commented that Chinese, Singaporean and Indonesian, who several years ago only showed interest in the Indonesian market, are now eyeing Vietnam.

Chinese companies are accelerating investment in Vietnam – but some local businesses are voicing concerns.  

China's investment has soared since 2018. It is now the biggest foreign investor in Vietnam in the number of projects.

Chinese companies are accelerating investment in Vietnam – but some local businesses are voicing concerns.