Chinese phone parts with fake Vietnamese origin labels intercepted

Haiphong City Customs has seized a shipping container with thousands of cellphone accessories imported from China but bearing "Made in Vietnam" labels, reported Nguoi Lao Dong newspaper.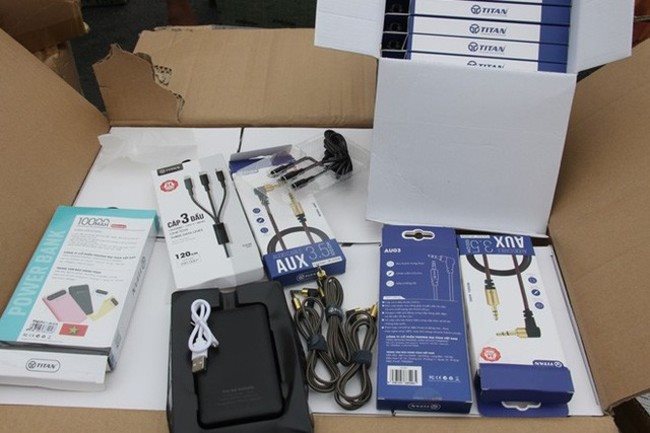 Chinese cellphone accessories bearing Made-in-Vietnam labels are seized by Haiphong City customs – PHOTO: NLDO
According to the city's Customs Department, Hoang Bao Phat IMEX Co., Ltd, which is based in the northern province of Lang Son, was authorized by a Hanoi-based firm to import the phone parts.
Hoang Bao Phat IMEX, when completing customs procedures, had presented the ASEAN-China Free Trade Agreement (ACFTA) Preferential Tariff Certificate of Origin Form E, or C/O Form E, to customs
authorities. The C/O Form E is accepted as evidence of origin by member countries of the ACFTA, including China and ASEAN nations.
Although the shipment had a Chinese C/O, customs officers inspected the container and discovered the cellphone parts had packaging and labels featuring the name, address and service center details of
TITAN, a local company.
Many products had Made-in-Vietnam labels and Vietnamese barcode numbers, with the prefix 893. The container of the goods was reportedly worth VND1 billion.
By presenting C/O Form E, the shipment of phone parts had enjoyed a preferential import tariff rate of 0%. Moreover, since the goods were labeled "Made in Vietnam," if they were all sold, the company would be refunded 10% of the value added tax.
A representative of the provincial customs department was quoted by the paper as saying that if the department had not intercepted the container, the company would have benefited from hundreds of millions of Vietnamese dong in unpaid taxes. SGT