Chu Xa mural painting village: A new destination for visitors to Hanoi

Fifteen newly-finished paintings on the walls of villagers' homes in Chu Xa, Van Duc Commune, in Hanoi's outskirt district of Gia Lam, have opened up a new direction for creating more attractive destinations in Hanoi's tourism.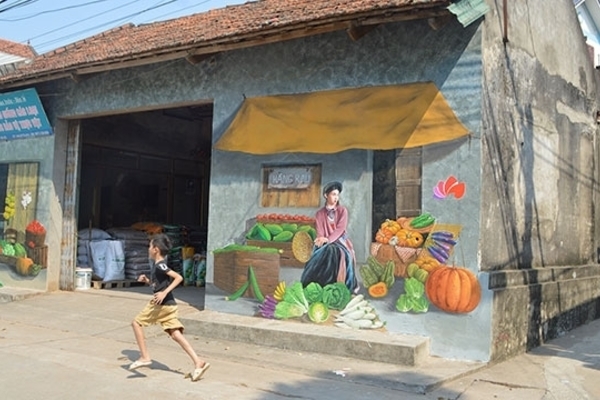 The first mural painting village in Hanoi
Dazzling and colourful mural paintings in Chu Xa Village have become popular check-in destination among young travellers over the past weeks. The paintings were debuted in late September under the 'Clean agriculture – Green city' project which was initiated by the Arts Build Communities. After two-month of hard work, young artists have transformed old, mossy walls into beautiful frescos.
With each mural covering a total area from 6 s.q.m to 30 s.q.m, the artworks depict popular topics in the daily life of farmers in Chu Xa Village, including animal breeding, vegetable growing, and fishing.
In the coming time, an additional 15 frescos will be debuted in the village.
According to Tran Xuan Dieu, Chairman of Van Duc commune People's Committee, it took six and a half months to complete the project, from asking for permission and designing to painting the murals.
The paintings are expected to add a new tourist destination for visitors to Chu Xa, he said.
Located in the vicinity of Hanoi, Chu Xa has maintained a clean and quiet living space which provides favourable conditions for tourism development. Following the mural paintings debut, the village has lured a large number of visitors. The paintings have succeeding in creating a new visual effect making Chu Xa livelier in the eyes of tourists.
Tran Van Tuan, the owner of a house that has a wall decorated with a mural painting under the project, said with excitement that he immediately gave a nod to the project's members when they asked for his permission to draw on his house wall.
With a line of longan trees in the foreground and a vivid painting on the wall, Tuan's house is now an ideal stop for visitors during their excursion to the village.
Tuan said that although it is quite soon to measure the project's success, he is just happy to see his village is now known by many people.
A new way for daily tours to Hanoi
It's a fact that despite being the capital city of Vietnam, Hanoi has been seen as a place in transit for foreigners during their trip to iconic tourist sites in the northern region, such as Ha Long Bay, Ninh Binh Province, and Sapa Town.
In addition, most of Hanoi's tourist activities are developed based on traditional city tours and available strength of the sites, rather than creating new destinations for holiday-makers.
According to a survey conducted by municipal agencies in 2018, the average stay of domestic travellers in Hanoi was 2.32 days, and that of foreign tourists was 3.67 days, which is rather lower than other cities in the Southeast Asian region, including Singapore (5.5 days), Phnom Penh (4.5 days), and Bangkok (6.5 days).
A foreign traveller staying overnight in the city spent an average of VND 2.6 million (US$ 113.5) a day in 2018.
That Chu Xa villagers joining hands to promote their hometown can be seen as a new direction to create more attractive destinations for Hanoi's tourism.
According to Chairman Dieu, the commune's authorities submitted a tourism development project to Gia Lam District's leaders. Once the project is approved, Van Duc Commune and Chu Xa Village in particular will welcome their first foreign visitors in November.
Several travel agencies have committed to help the locality plan a half day tour from Hanoi to Chu Xa, which provides visitors an opportunity to go sightseeing around the village and experience farming life there as Chu Xa is famous for growing safe vegetables.
Several frescos seen in Chu Xa Village: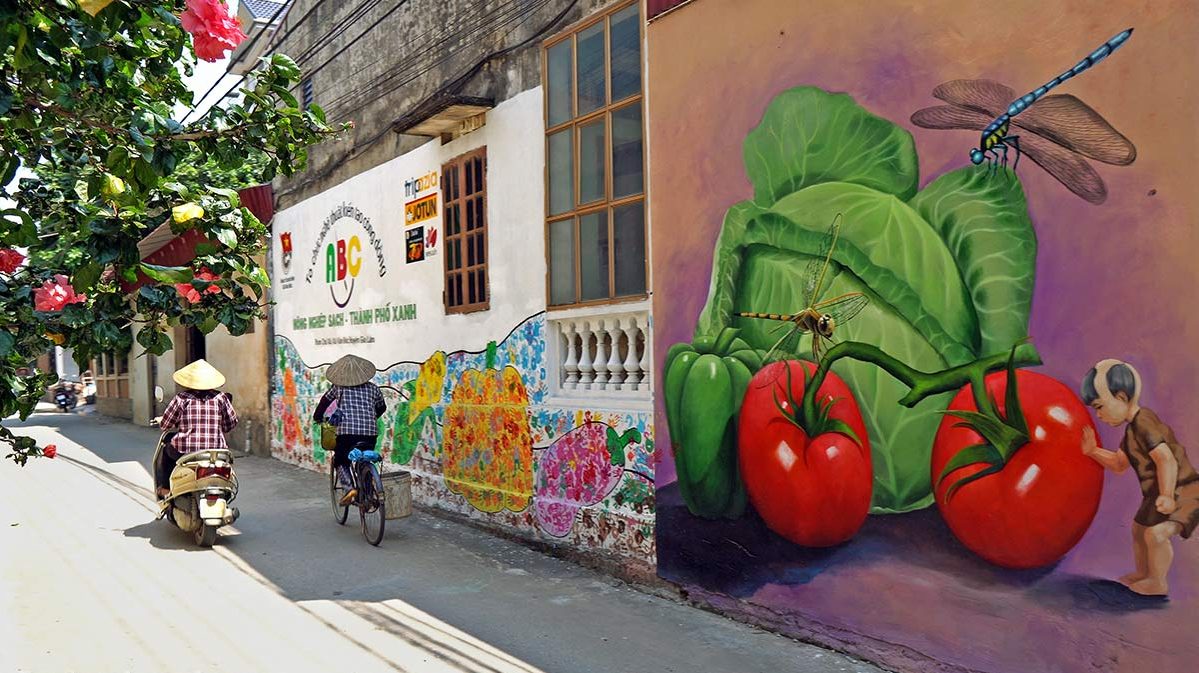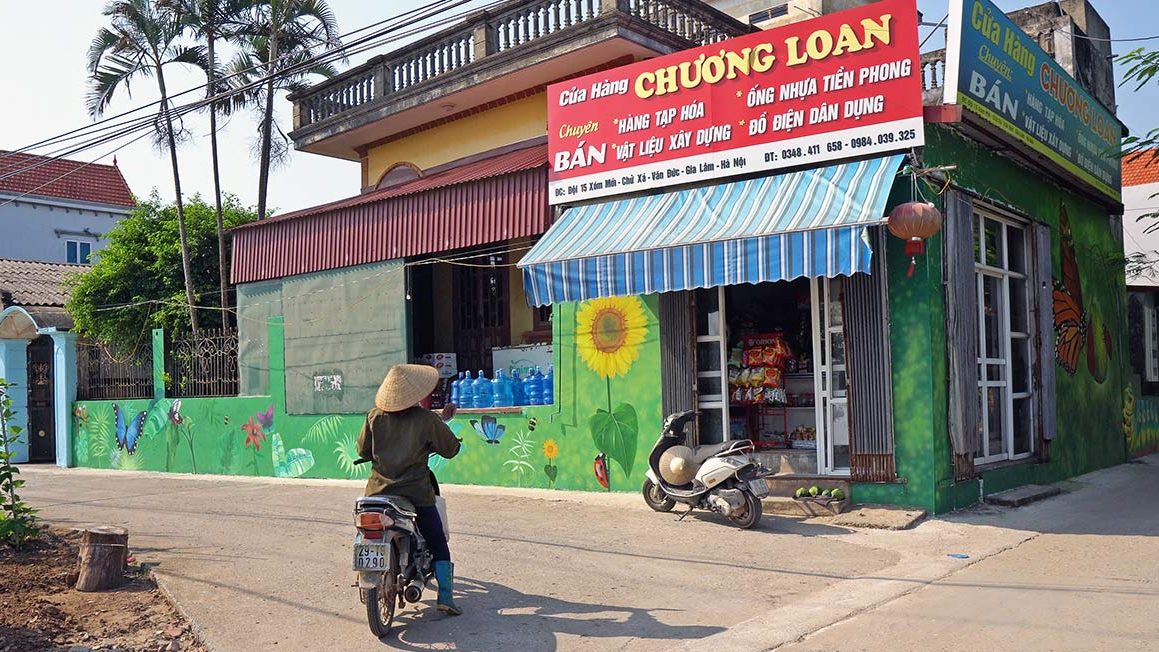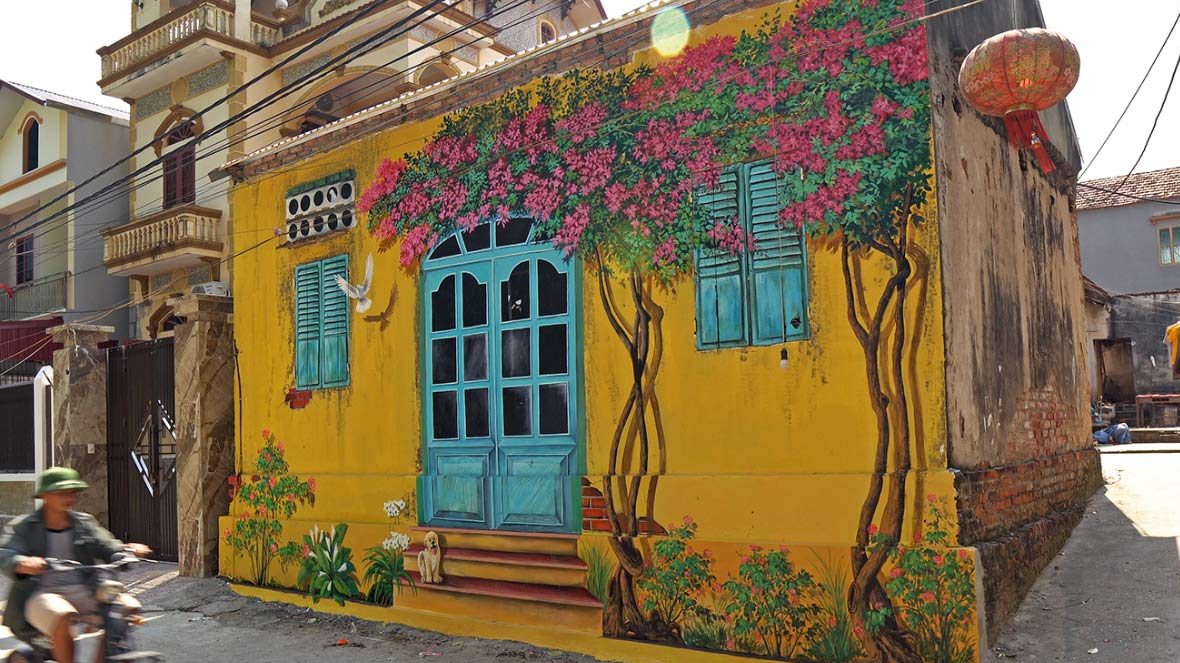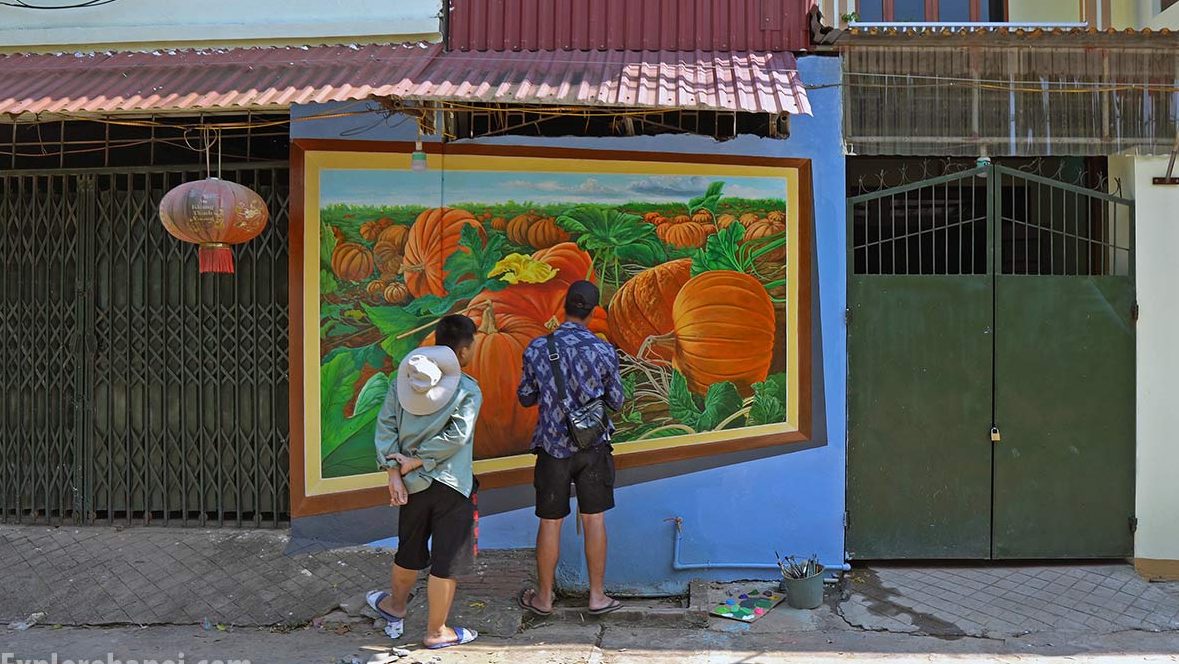 Nhan Dan/explorehanoi.com

A group of young volunteers have transformed the plain walls of homes throughout Chu Xa village in Van Duc commune of Gia Lam district in Hanoi into beautiful mural paintings which showcase both nature and daily life.

More than 20 murals have been painted in a village in Hanoi's Gia Lam District, featuring local cultural and historical identities.

Only 20km away from Hanoi capital city, there is a village the walls of which are blanked with vivid mural paintings. The art works are part of a project to beautify agricultural production area.