Cleaning service blamed for helping worsen Hanoi's air quality

New cleaning machines are being blamed for Hanoi's air pollution after the local authorities stopped watering the streets three years ago.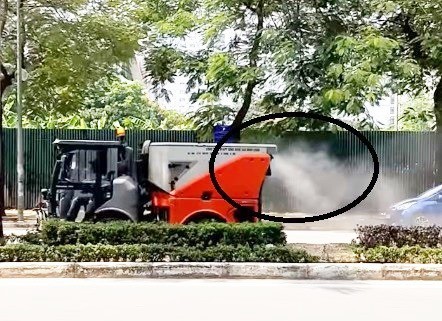 Street cleaning machine
The air quality in Hanoi got better after the rain. However, two days later, it returned to an alarming level. The residents in Minh Khai Street have to live with the dust after the recent ground clearance and street expansion activities. It is worst during hot and dry days.
Hanoi Chairman Nguyen Duc Chung said the city had spent about VND70bn (USD3m) on street watering every year.
In order to save the budget and make the work more efficient, the city imported over 100 street cleaning machines from Germany that costs VND1bn each.
Each machine can gather around 1.5 cubic metres of litter and dust per day. It can clean 12 kilometres of street every shift, equal to the work by 12 street cleaners and helps save VND70bn annually (USD3.18m).
However, when operating, the machines have shown many problems. A local on Le Duc Tho Street took a photo of the machine in which it vacuumed the dust in front but then released the dust out in the back.
Hanh, a local in Thanh Luong Ward, said whenever those machines passed by her place, they would actually blow up the dust. "Restaurant customers hurriedly ran indoors whenever the machines passed by," she said.
A sanitation worker said the effects depended on the terrain and the skills of the operator. The machines can't work in small alleys or pavements and street sections that have many parking vehicles.
The operators have to avoid several objects like chopsticks or nylon bags. If the machine vacuums those objects, it will release dust in the back.
Tien Phong/Dtinews