CNN: Vietnamese coffee wakes up the world

The US Cable News Network (CNN) published an article on March 17, explaining why the world is waking up to Vietnamese coffee.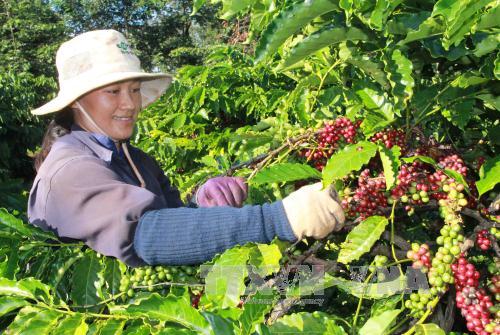 Coffee cherries are harvested -- usually by hand -- between November and February. (Photo: CNN)
According to the network, Rob Atthill, a pioneer of the Vietnamese street food scene in London, said that he was "smitten" by Vietnamese coffee the first time he visited the nation, in 2004.
Atthill started importing Vietnamese coffee, grown in the Central Highlands and roasted in Ho Chi Minh City, two years later.
He said that the sales of his company Ca Phe VN have tripled in the last five years.
Vietnam is the world's second largest exporter of coffee, after Brazil.

CNN also highlighted that for the Vietnamese, coffee provides much more than just a shot of energy; it's a way of life. Coffee outlet locations range from sidewalks to sleek and contemporary restaurants.

Will Frith, who owns a co-roasting enterprise in Ho Chi Minh City, says Vietnamese coffee drinkers usually gather in their favourite coffee shops, which operate as "a third space" outside of the home and workplace.

Additionally, "nearly every Vietnamese household makes coffee at home", he said.

Frith also noted that a new generation of entrepreneurs are focusing on quality. Accordingly, they pay attention to terroir, discuss cultivation methods with farmers and adopt best practice when it comes to processing techniques.

CNN honoured Vietnam as a source of quality coffee in addition to the size of its export sales, and its vibrant local coffee culture.

Vietnam is also famous for creative ideas to make diverse and unforgettable flavours with coffee, such as egg and coconut coffee. Nhan Dan

Coffee prices have fallen dramatically, and some farmers are giving up because of problems because of price fluctuations and supply-demand imbalances.

Highlands Coffee has been expanding its chain at a lightening speed, while Trung Nguyen has opened E-Coffee and Cong is exporting products.