Co-working operators see Vietnam a hot market

UK based Workthere, a website listing platform and brokerage services, has entered the Vietnamese market to help businesses find flexible, co-working and serviced office spaces in a country where co-working has expanded rapidly.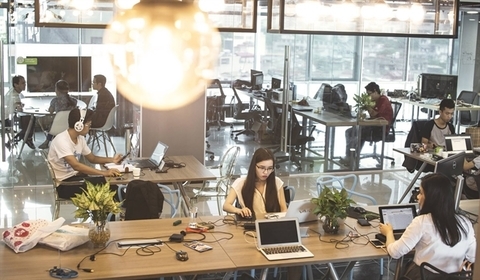 A coworking space in the capital's HanoiHub. Between 2018 and 2019, the supply of co-working space in Viet Nam increased by 64 per cent. — Photo reatimes.vn
Like many others, Workthere sees the potential of the market. Last year, there were about 60 co-working spaces in Viet Nam. Between 2018 and 2019, realty firm Savills reported the supply of co-working space increased by 64 per cent.
The rise in the number of co-working locations across Viet Nam has been driven by the growth of start-ups. As more than 30 per cent of the population are under 34 years old in Viet Nam, co-working spaces offering a unique work environment can help attract talent to join organisations.
Nguyen Hoai An, director of Consultancy Services at CBRE Viet Nam, told Viet Nam News that as millenials account for 91 per cent of clients in local co-working spaces, much higher than the global average of 67 per cent, more firms are bound to join the market to meet demand.
It also meets the need for cost-effective spaces of small- to medium-sized (SMEs), which account for more than 90 per cent of local enterprises.
According to the National Agency for Business Registration, in the first nine months of this year, more than 100,000 new businesses were registered in Viet Nam, a 5.9 per cent year-on-year increase.
Co-working will undoubtedly continue to evolve to match the economic and business cycle and respond to changes in the way millennials work, said Bui Trung Kien, Associate Director of Commercial Leasing Savills Ha Noi.
Yann Deschamps, head of Workthere Asia Pacific told Viet Nam News: "Demand for flexible office space in Viet Nam will continue to be driven by freelancers, local and international start-ups, and small corporates. International start-ups, digital nomads and freelancers seeking affordable workplaces could also consider relocating to Viet Nam to grow their businesses."
The growing market includes local names like Toong, Up, and Dreamplex, CoGo as well as foreign operators like Regus (UK), Hive (Hong Kong), CEO Suite (South Korea), and Klouds (Singapore) and WeWork (US).
Expanding to Asia, last year WeWork, as the hottest name in the co-working market, opened its first facilities in HCM City and plans to open 10 nationwide. A WeWork insider declined to tell Viet Nam News any more detail about current extension.
However, on her Facebook, she posted an image of an ongoing construction with the WeWork logo and a caption "new kid on the block".
Savills experts said in this year, other co-working spaces opened more than 10 facilities in Viet Nam, adding that if WeWork missed the current time of development, it would be left behind.
Local expanding to the region
With more foreign footprints in the Vietnamese industry, local start-ups see opportunities in regional countries.
Together with the facilities in Ha Noi, HCM City and Nha Trang, Indochina Capital-backed Toong has run a co-working space in Vientiane, Laos since June and plans another for Cambodia.
Hoai Pham, marketing director of Toong told Viet Nam News they definitely expanded to the region because of its huge potential. They already received booking order even as the construction work there had not yet finished.
According to Hoai, Laos and Cambodia have a smaller start-up community than in other markets, so most of the customers are foreign companies.
Local co-working space company UPGen with the backing of South Korea-based Northstar Group expanded in the region with new locations in Bangkok, Thailand and Kuala Lumpur in Malaysia, said Dang Phuong Linh, marketing head of UPGen, adding that the firm prepared to enter Hong Kong and Singapore "soon".
Currently, UPGen operates 80,000 sq.m of spaces in 21 facilities including 18 in Viet Nam, with top Vietnamese tech companies like Tiki, BE Group and Yeah1, and Standard Chartered as its tenants.
Linh told Viet Nam News: "We see the opportunities in fast developing markets like Jakarta, Manila and Myanmar."
The company is also a strategic partner of commercial lender VPBank. — VNS

Co-working spaces have become the choice of many startups and small and medium sized businesses.