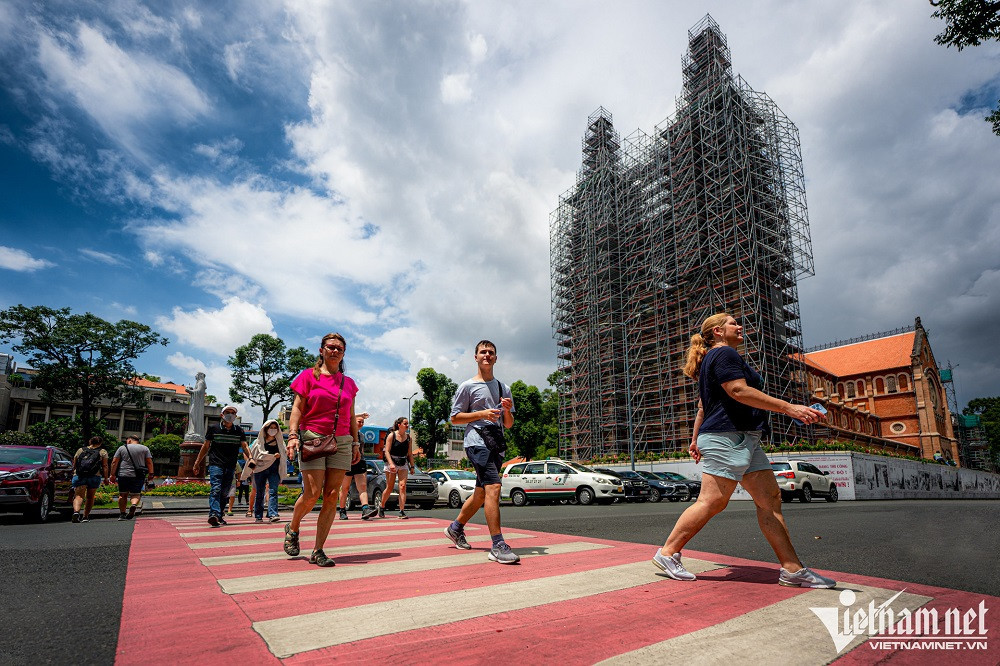 N.V.V. is a broker who is seeking buyers for a 5-star hotel on the expensive coastal road of Da Nang.
The hotel has a total area of 900 sqm and floor area of 18,000 sqm with 27 stories, 2 basements and 164 rooms, including 3 conference rooms, one gym room, one massage, restaurant, entertainment area, and infinity swimming pool. The hotel which was built three years ago is offered at VND950 billion.
According to V, the hotel has been operating well with monthly revenue of VND8 billion a month. The hotel room rate has fallen by 30 percent compared with the pre-pandemic period. Because of Covid-19, the owner has to sell the hotel to pay bank debt.
He admitted that it was difficult to sell the hotel because of its high value.
Ngan, a well-known real estate broker in Da Nang, noted that many hotels in Hanoi have been put up for sale after Covid-19. Her brokerage firm is now selling 20 hotels, mostly in the districts of Son Tra and Ngu Hanh Son. Most recently, the firm arranged the sale of a 4-star coastal hotel on Vo Nguyen Giap street in Son Tra district at VND200 billion.
"The hotel was owned by a group of investors from Hanoi. They had to sell the hotel because of the debt. The buyer was a big businessman in Da Nang," she told VietNamNet.
On real estate websites, numerous 2-5-star hotels are offered for sale, but the names, images and addresses are not shown. According to V, the transactions are made quietly to avoid impact on hotel reputations.
The director of a coastal hotel in Da Nang said that though foreign travelers have returned to the city, the hotel room occupancy rate is just 40 percent, not high enough to cover expenses, so the business is still stagnant.
The fixed cost of a 3-star hotel is on average VND250 million a month, while it is VND500 million for a 4-star hotel. Many hotels are still closed because they cannot make a profit.
Hotels need to have an occupancy rate of 30-40 percent to have enough money to cover operating expenses, if they don't borrow money from banks. Meanwhile, hotels with bank loans need to have an occupancy rate of 60-70 percent.
"It is even difficult to obtain an occupancy rate of 50 percent, let alone 70 percent. As hotels cannot attract guests, they have to slash room rates. Four-star rooms are selling at rates of 3-star rooms," the director said.
"Previously, investors thought Da Nang was a fertile market, so they rushed to pour money into the city. But this was a wrong strategic move," he said, adding that a 4-star hotel that was initially quoted at VND300 billion has just been sold for VND180 billion.
Trinh Bang Co, deputy chair of the Da Nang Tourism Association, said that more than 150 hotels, 1-5-star, are on sale in the city.
These include 12 2–5-star hotels on Vo Nguyen Giap Road. The lowest price is VND35 billion, while the highest is VND1.1 trillion. There are five 2-5-star hotels on Bach Dang Road priced from VND55 billion to VND165 billion.
"There have been so many hotels on sale though the high tourism season is nearing," Co said, adding that it is difficult to sell hotels because people dare not make investments now.
"The investors who built hotels 10-15 years ago may have taken back the investment capital and paid their debts, so they don't bear any pressure. Meanwhile, new investors who have been running hotels for the last 2-3 years will have to sell their hotels to pay debts," he said.
China reopened its tourism market on March 15, but group tourists mostly book tours to Nha Trang, while the number of travelers to Da Nang remains modest.
In HCM City, the total number of 1-5-star accommodation facilities has decreased by 1,342 compared with 2019, according to the HCM City Tourism Department. Many hotels have shut down or shifted to selling alcohol.
The department's deputy director Bui Thi Ngoc Hieu said that the city has 3,227 hotels and inns, totaling 65,000 rooms.
Regarding room occupancy rate, in 2022, the rate was 75 percent for 4-5 stars hotels and it was much lower for 0-3-star hotels.
Cong Sang - Tran Chung