Coffee chains, foreign and local, keep expanding
Since entering Vietnam last October, Thailand's leading beverages chain Café Amazon has opened an outlet each in Ben Tre, Tien Giang and Tra Vinh provinces and HCM City, and has plans to expand across the country.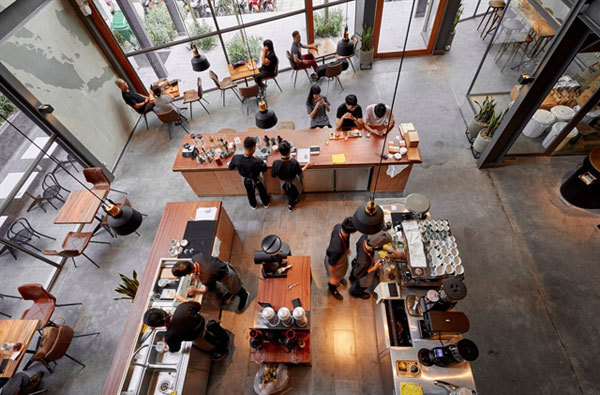 A The Coffee House Signature in HCM City. Foreign and local coffee chains plan to open more stores across the country. — Photo courtesy of The Coffee House
It has said Vietnam is one of its 10 important markets and it plans to spend a large amount of money in the next five years to expand in the country.
The US's Starbucks is another chain that plans to expand after opening six new stores last year despite the pandemic.
Trung Nguyen's E-Coffee, a small coffee franchise targeted at takeaway customers, plans to open 16 more stores nationwide.
The Coffee House, which opened 24 stores in the first quarter of this year, plans to open at least another 50 this year to increase its total number to nearly 230, and 1,000 by 2025.
King Coffee plans to have 105 stores this year, including 50 franchised outlets, from the current number of 40 stores.
Other brands such as Phuc Long, Ong Bau and Highlands Coffee have also announced expansion plans.
Phuc Long has said it will open stores all over the country though with a focus on downtown HCM City, Da Lat, Bao Loc, Vung Tau, Bien Hoa, Nha Trang, and Da Nang.
After recently opening the third The Bunny coffee shop in HCM City's District 3, Nguyen Dinh Tung, chairman and general director of Vina T&T Group, which owns the chain, said, "In the mid-priced segment and above, there are only a few brands, and so the epidemic period opens an opportunity for new investors because premises for opening coffee stores in prime locations have never been so easy to find or cheap.
"It is also easier to hire skilled human resources than before. Customers are now different from before, they need high-class cafes."
Launched amid the epidemic, The Bunny has been attracting a lot of customers, and revenues have been very good, he added. 
Huge potential market
According to Euromonitor Worldwide, the middle class is growing in Vietnam, whose coffee and tea retail market is worth more than US$1 billion.
According to the Vietnam Coffee and Cocoa Association, the rapid increase in the number of coffee chains has boosted their consumption to over 10 per cent of the country's coffee output.
But the per capita coffee consumption in the country is only a third of the global average, which makes it a very attractive market for both domestic and foreign businesses, it said.
Another factor is the country's young population, Dinh Anh Quan, chairman of The Coffee House, said, adding that Gen Z (people born between 1997 and 2005) is becoming a large customer base since it always wants to try new and different things.
In the past, a number of foreign brands like NYDC - New York Dessert Café, Gloria Jean's Coffee, Caffe Bene, and the Kafe have pulled out of the country.
According to experts, there is fierce competition in the cafe chain market, and only brands that make methodical investments, differentiate in their products and are knowledgeable about Vietnamese coffee tastes and create unique customer experiences can attract and retain customers.
In addition to investing in expansion and making a difference in terms of products and services, many coffee chains are also stepping up co-operation with delivery platforms for online sales.  
VNS

Investors have rushed to open coffee shops as retail premises rent has become very reasonable and the market is returning to a "new normal" status.

Social distancing and compulsory lockdowns are throwing a wrench in beverage chains' market expansion plans this year adding insult to injury for these already unhealthy firms.