Owning 262 shops and leading the market in the middle and high-end segment, Highlands Coffee surprised everyone when it began selling coffee on the streets.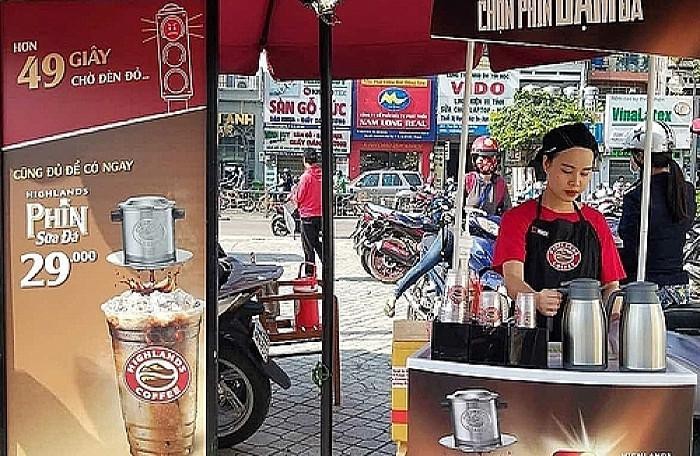 Along with cafes in many districts in HCM City, Highlands Coffee now has vending shops that sell take-away coffee as well.

A seller at a coffee stall on Nguyen Oanh street said the stall has been running for the last two months and she sells from 7 am to 9 am every day. Though the stalls open for only two hours a day, tens of coffee cups are sold. The price of each take-away cup is VND29,000.

"We opened the shop on pavements because we want to serve customers on the street. Instead of having to go to a shop and buy coffee, they can drop into the stall, buy coffee and take it away," the seller said.

Highlands Coffee, Vinacafe and Passio all have been selling coffee in vending machines and at new coffee stalls in places with heavy traffic.
At present, there are 4-5 coffee stalls in front of the shop, while more stalls will be set in places with heavy traffic.

Being purely a coffee producer and not a café chain, Vinacafe has 'gone to the streets' to advertise its products and promote sales.

Vincafe's 'vending shop' on a vehicle on Tran Huy Lieu street is Phu Nhuan district is always very crowded in the morning. The prices of coffee there are very reasonable, between VND12,000 and VND14,000. The manager of the shop said he serves 50 customers every morning.

Analysts say that selling coffee this way is a reasonable strategy, because it doesn't require high investment while the risk is low. This also helps in branding and marketing products.

Currently, the company has two such vending shops, in Phu Nhuan and Binh Thanh districts, and the number of shops is expected to increase rapidly in the time to come. The company is willing to franchise the model.

In an effort to attract more customers, Passio has cut coffee selling prices and sent staff to streets to introduce take-away products. The price of take-away coffee is very reasonable, VND19,000.

An officer of the coffee chain said that in 2014-2015, Passio shops were always full of customers. However, the chain now has to compete fiercely with other chains, so it has to try other ways to lure customers.

Trung Nguyen Legend has set up franchised E-Coffee shops with the area of 4-40 square meters. The coffee chain targets busy, low- to mid-end customers.
Mai Lan 

With Vietnamese football teams busy playing in various regional and international tournaments, here are some suggestions of well-known coffee shops located around Hanoi in which football fans can visit to catch up on the latest action.

Agoda, one of the world's fastest growing online travel booking platforms, has offered a list of some of the top destinations around the world for tasting coffee, including Vietnam.