Coffee exports, consumption drop due to COVID-19
Viet Nam's coffee exports and consumption in the 2019 – 2020 period have taken a hit compared to the same period last year due to the impact of COVID-19, according to the Viet Nam Coffee – Cocoa Association.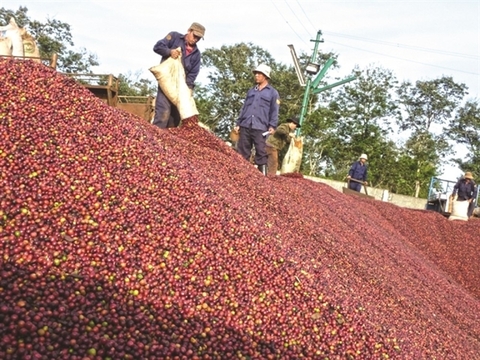 Coffee exports and consumption in Viet Nam in 2019 – 2020 saw a drop year-on-year due to COVID-19 hindering coffee sales activities. – Photo thoibaonganhang.vn
Nguyen Viet Hai, deputy standing chairman of the association, said during a recent conference reviewing last year's industry's activities that during the 2019 - 2020 coffee year (which started October, 2019) coffee exports reached 1.61 million tonnes and turnover of US$2.8 billion.
Both export output and turnover were down by around 5 per cent year-on-year. Export turnover of processed coffee products also dropped by 8.7 per cent.
Due to unstable coffee prices, the amount of coffee beans purchased from farmers for the 2020 – 2021 coffee year was a lot less than the same period last year.
Coffee production has also been affected by heavy storms, climate change and aging crops.
Luong Van Tu, chairman of the association, said the coffee market would recover in the near future rather slowly due to COVID-19 and lack of foreign tourism.
"Due to social distancing, many cafes could not operate during the outbreak. Foreign tourism is also closed, and tourists play a big part in Viet Nam's coffee consumption, so domestic consumption saw a drop."
Current shortages of shipping containers for exports are also affecting coffee exports. Businesses have been urged to look into exporting by railways, but they are not used to using a different export method.
The association will continue its focus on renewing coffee crops and helping businesses with exporting opportunities via the EU - Viet Nam Free Trade Agreement and the Comprehensive and Progressive Agreement for Trans-Pacific Partnership.
It will also increase exports of high-value processed coffee products such as roasted and ground coffee, and carry out a programme to stimulate domestic consumption of coffee.
Thai Nhu Hiep, director of Vinh Hiep Coffee Company, said that decline in coffee consumption had occurred around the world, not just in Viet Nam, and that Viet Nam has many opportunities to increase market share in large markets such as the EU, Japan and South Korea.
The coffee industry needed to standardise its procedures for farming, harvesting and processing, and made sure that EU standards on quality, crop protection agents, and food safety were met, Hiep said.
Viet Nam also has to pay more attention to traceability and change its harvesting and processing methods.
To improve domestic consumption, the association and authorities should publish coffee quality standards to set coffee apart from other products that mix coffee with other ingredients, which would help create fairer competition. — VNS

The export of coffee declined in both volume and value last year due to certain difficulties that are forecast to linger on for the time to come, insiders have said.

Coffee farmers in the Central Highlands of Vietnam are entering the harvest season anxiously as the prices of coffee are still kept at a low level, whereas the production costs are increasing.