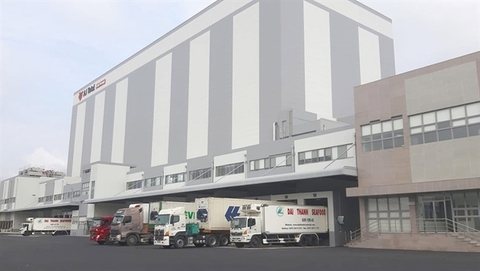 AJ Total Viet Nam starts operating the largest cold storage service with the capacity of 30,000 pallets storage capacity, Long Hau Ward, Can Giuoc District, Long An Province in July. — Photo courtesy of the firm
Supply is relatively scarce in most of the Asia-Pacific region, said experts, adding developed markets like Japan or Australia have relatively few cold storage facilities, with a lower total supply than markets like the US or Western European countries.
Factory-scale cold storage is a service that can provide freezers and refrigeration equipment to preserve frozen or fresh goods. Most food items are stored in cold storage, but cold storage can also be used to store pharmaceuticals, chemicals or wine. Tenants can be third parties, such as logistics companies, cold storage logistics units or supermarket chains.
According to Michael Fenton, Industrial and Logistics Director at Savills Australia, the investment cost of cold storage is of many times higher than the construction of conventional buildings, adding cold storage service providers will often have to lease the construction area from ten to 20 years.
Fenton said that cold storage is intrinsically related to the current issues of food security and essential retail spending because, no matter the state of the economy, consumers will still spend money on food. Essentially, cold storage facilities are at the heart of the food supply chain.
Fenton said due to an explosion in food delivery services during the pandemic, demand for cold storage continues to increase.
According to Savills, with online food delivery on the rise, some cold storage centres in China are seeing rent increases. The rapid development of fresh food distribution has also increased the demand for warehousing real estate, especially frozen storage.
The realty research firm also said that cold storage assets in Seoul, Korea, are becoming more valuable as demand for fresh food has increased. However, getting permits for new cold storage centres is not easy according to the provisions of the law in the country.
Savills also recognises the potential of cold storage investment in Viet Nam. Troy Griffiths, Vice General Director of Savills Viet Nam, said, "The pandemic has strengthened the value of the supply chain, adding further viability to the segment."
Savills Viet Nam recognises a lot of interest from foreign investors in developing cold storage facilities in Viet Nam. With major infrastructure investment and development, such as Long Thanh International Airport, supply routes will be reshaped in the future allowing cold storage facilities to continue to grow in the future, forecasted Troy Griffiths.
Large demand for cold storage in Viet Nam
According to the Ministry of Agriculture and Rural Development, in the first nine months of the year, the export turnover of agricultural, forestry and fishery products was estimated at US$35.5 billion, up 17.7 per cent over the same period last year, despite the pandemic.
Agriculture experts said while the export of agricultural products and seafood has increased, the supply of cold storage can not currently meet demand. During the peak of the COVID-19 pandemic in the last three months, about 50 per cent of seafood export orders were cancelled, leading to escalating inventories and cold storage having to operate at maximum capacity.
Truong Dinh Hoe, General Secretary of the Viet Nam Association of Seafood Exporters and Producers (VASEP), told Viet Nam News, "To deal with the increased inventory, seafood enterprises have to rent cold storage, but there is a serious shortage of them."
Seafood is not the only strain on cold storage facilities. Major demand also comes from meat, vegetables and retail. In particular, seafood and retail exports are the main driving force behind cold storage space demands in Viet Nam. This demand is the main influence over a number of free trade agreements (FTAs) that Viet Nam has signed during the past years.
According to data, cold storage facilities are mainly concentrated in the southern provinces, of which about 60 per cent are held by foreign investors.
Trang Bui, Senior Director of JLL Viet Nam, told Viet Nam News: "Cold storage markets are mainly distributed in the south with major service providers of Emergent Cold, Minh Phu Gemadept, ABA, Hoang Phi Quan, Lotte, An Viet Cold Storage, Phan Duy, Satra, Meto, Alpha, Transimex, etc."
In July, AJ Total Viet Nam started operating the largest cold storage service with the capacity of 30,000 pallets storage capacity, Long Hau Ward, Can Giuoc District, Long An Province.
However, Trang said that most providers only serve a small part of the market, and have not yet integrated multi-services in cold storage.
The director said not many big names in the field of cold storage investment yet entered the local market, therefore cold storage demand could continue to grow strongly for at least the next five years.
Trang said with the great potential of the market, cold storage is an attractive investment at the moment. She forecast that investors will consider cold storage in Viet Nam. 
The Ministry of Agriculture and Rural Development (MARD) said the country currently has 48 cold storage facilities that provide preservation services for agricultural and aquatic products. They have a capacity of about 700,000 pallets and two million tons of products. MARD also acknowledged that the current facilities do not yet meet the needs of preserving agricultural and aquatic products from the Mekong Delta, let alone the whole country.
Recently, VASEP asked MARD for policies to support companies to build their own cold storage facilities, with a minimum capacity of 5,000 pallets. This plan includes long-term loans without interest for the first two years, a 50 per cent rate cut for the next four, and a 50 per cent cut in corporate income tax for the first two years, for cold storage businesses.
Ken Research, a global publisher of market intelligence, said that Viet Nam's cold chain industry achieved an estimated CAGR of 10.4 per cent in 2016-21, thanks to a growing number of supermarkets and seafood exporters. The market is estimated to grow to $1.8 billion this year.
 Source: VNS