"Recently we installed a cold storage with a large capacity for a customer in HCM City's Thu Duc City, but while carrying out trial operation we found that the voltage there dropped, affecting the storage's performance," Le Khoa Huy, deputy director of Hai Long Industrial Refrigeration Company, said.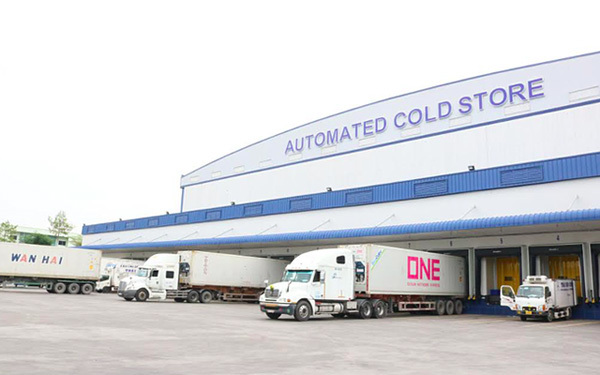 An automated cold store of Hung Vuong Corporation at My Tho Industrial Zone, Tien Giang Province. — Photo hungvuongpanga.com
Stable power supply is only one of several difficult requirements for enterprises to meet if they want to invest in cold storage supply chains, according to Huy.
Analysts concur with Huy, saying cold storage facilities is a highly profitable segment in the logistics industry, but exploiting its potential is not easy for domestic or foreinvestors.
The trend of shoppers going online en masse is driving demand for cold storage facilities in most countries, with Vietnam seemingly among those with a severe short supply.
Forrester forecasts online retail sales in Asia Pacific will grow from US$1.5 trillion in 2019 to $2.5 trillion in 2024, with a compound annual growth rate (CAGR) of 11.3 per cent.
A study by Mercatus and Incisiv published by https://www.bloomberg.com said global online grocery sales would reach $250 billion by 2025, or more than 60 per cent higher than pre-pandemic estimates.
The "eGrocery's New Reality" survey said online would account for 21.5 per cent of total sales.
In Vietnam, nearly half the population has shopped online in recent years.
The 2021 E-commerce White Book released by the Vietnam E-Commerce and Digital Economy Agency says the country has the highest number of people shopping on e-commerce platforms in Southeast Asia, at some 49.3 million.
The e-commerce retail market grew at 18 per cent last year to $11.8 billion.
A report from Google, Temasek and Bain & Company at the beginning of this year said 41 per cent of Vietnamese population use the internet, the highest in the region.
Some 94 per cent of new users plan to continue to use the digital services they used during social distancing after the pandemic ceases to be an issue.
According to an e-commerce development plan approved by the government last year, revenues should reach $35 billion by 2025, or 10 per cent of total sales. The government expects 55 per cent of the population to shop online.
Analysts say all this will create a firm foundation for the development of e-commerce.
Vietnamese consumers have been getting much more interested in online shopping in recent months since localities, especially big cities, severely hit by the COVID pandemic have been forced to apply strict social distancing measures, making it very difficult to physically shop for daily-use consumer products.
Experts have pointed to another reason for the surge in demand for cold storage in Vietnam: the increasing exports of agricultural products, which have always required the industry to have large cold storage capacity.
Of the agricultural exports, seafood tops the list.
Many seafood processing plants do have cold storage facilities but their capacity is very small and so they only partly meet demand, with the rest having to be outsourced.
Many import and export enterprises complained that the pandemic had worsened the shortage of cold storage space since goods had piled up due to supply chain and logistics disruption.
They said goods could not be exported or sold because of limited spending by consumers due to lockdown and social distancing in many countries including Vietnam.
Trang Bui, senior director of markets, JLL Vietnam, said during the peak COVID period, 30-50 per cent of seafood export orders were cancelled.
This resulted in a sharp increase in inventories, which required more storage space including refrigerated warehousing, she said. 
Hard-to-meet conditions
Obviously, the domestic logistics industry is facing a serious shortage of cold storage space, which has encouraged the development of the cold storage segment.
To exploit this profitable segment, some large corporations have in recent years pumped in hundreds of billions of dong in large cold storage properties.
In 2019, Vietnam Holding Limited invested VND139.8 billion ($6 million) to become the sole holder of convertible bonds issued by Mekong Capital-backed logistics company ABA Cooltrans, which is the provider of services and solutions in the field of cold storage supply chain, and wants to expand its cold chain logistics solution in Vietnam.
In June 2020 THACO Group set up a 4,800sq.m fruit cold storage plant with a capacity of 2,400 tonnes at Chu Lai Port in the central province of Quang Nam.
Hung Vuong Joint Stock Company recently installed a VND1.3 trillion cold storage system at the Tan Tao Industrial Park in HCM City with a capacity of 60,000-70,000 tonnes.
Some international funds have invested in this segment, including FinExpro in cold storage projects in the Cuu Long (Mekong) River Delta and the International Finance Corporation granting a $70 million loan to ITL Corp to build a cold storage system in HCM City.
Analysts say however only such giant companies with deep pockets could enter the segment.
Trang of JLL said supply was lacking in the global and domestic markets because it would need much more time and money to build cold storage facilities than other types of logistics properties.
Some industry insiders agree with her, saying it takes at least six months to build a storage facility while the construction costs are sometimes two or three times higher than that of a conventional warehouse. But the ground lease usually lasts only 15-20 years.
There are also other difficulties in building cold storage properties.
They say investors are required to have comprehensive understanding of cold chains and know how to operate them.
Besides, they need land with long-term lease and in a location where large vehicles like container trucks can ply, and power supply with voltage stability.
On top of all this, certain cold storage facilities - like those used for seafood products - need to be situated at no more than 50 kilometres from ports, while those used for fruit and vegetable products should be near urban areas.
Storage properties require staff with great expertise in temperature maintenance since each fruit, vegetable, meat, and fish has its own requirements, they point out.
These disadvantages keep investors out and explain why only a few of the thousands of companies operating in the logistics sector are able to set up cold chains, they say.
A majority of domestic logistics companies are small or medium-sized with limited resources, meaning cold storages are out of their reach and they have to depend on the leasing market. 
Rental
Cold storage leasing prices have increased rapidly since the beginning of 2020, and now stand at VND1.2-2 million ($52-87) per tonne.
Consequently, many exporters of agricultural products have had to turn down new orders.
Analysts say cold storage demand will continue to grow strongly for at least the next half decade as global consumers change their shopping behaviours and due to the rapid development of digital technology.
As a result, real estate for cold storage will continue to attract the attention of both local and overseas investors, venture capital funds and lenders.
Meanwhile, logistics industry insiders have called for policies that would encourage investment in this segment.
Source: Vietnam News

Amid challenging times for exports of Vietnamese produce and an increase in e-commerce, the flaws of the inconsistent cold storage supply become more obvious.

The trend of shoppers going online en masse is driving demand for cold storage facilities, something that is in severe short supply in Vietnam.