The Nha Trang Sea Festival will take place in central coastal Khanh Hoa province from June 10-13 this year, expected to lure about 150,000 visitors to participate in a host of activities.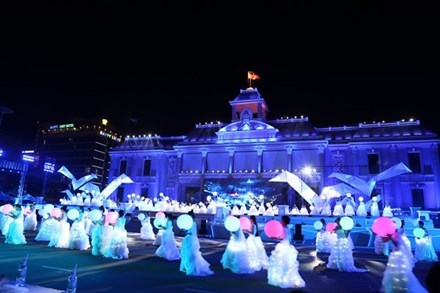 Art performance at the Nha Trang Sea Festival in 2015
According to Chairman of the provincial People's Committee Le Duc Vinh, the festival will feature a wide range of events, from colourful street carnivals, fairs, workshops, exhibitions to dynamic sport contests, concerts and cuisine events in a bid to highlight the unique culture of the coastal locality.
The traditional festival of swallow, whale worshipping festival, and street festival of unicorn – lion – dragon dances will be held alongside a fishing contest and a lifeguard competition.
A cuisine competition will also be introduced for the first time which features local traditional dishes and provides visitors with free foods and drinks while a team from the Nha Trang Tourism College will cook a huge pot of seafood soup in the hope of setting a new Guinness Record of Vietnam.
Many exciting sport events will be organised along the beautiful beach of Nha Trang, including volleyball, football and swimming together with a number of folk games.
The province is inviting entries for a contest to design an official logo for the Nha Trang Sea Festival 2017, the 8th of kind.
The festival has been held biennially since its debut in 2003.
VNA