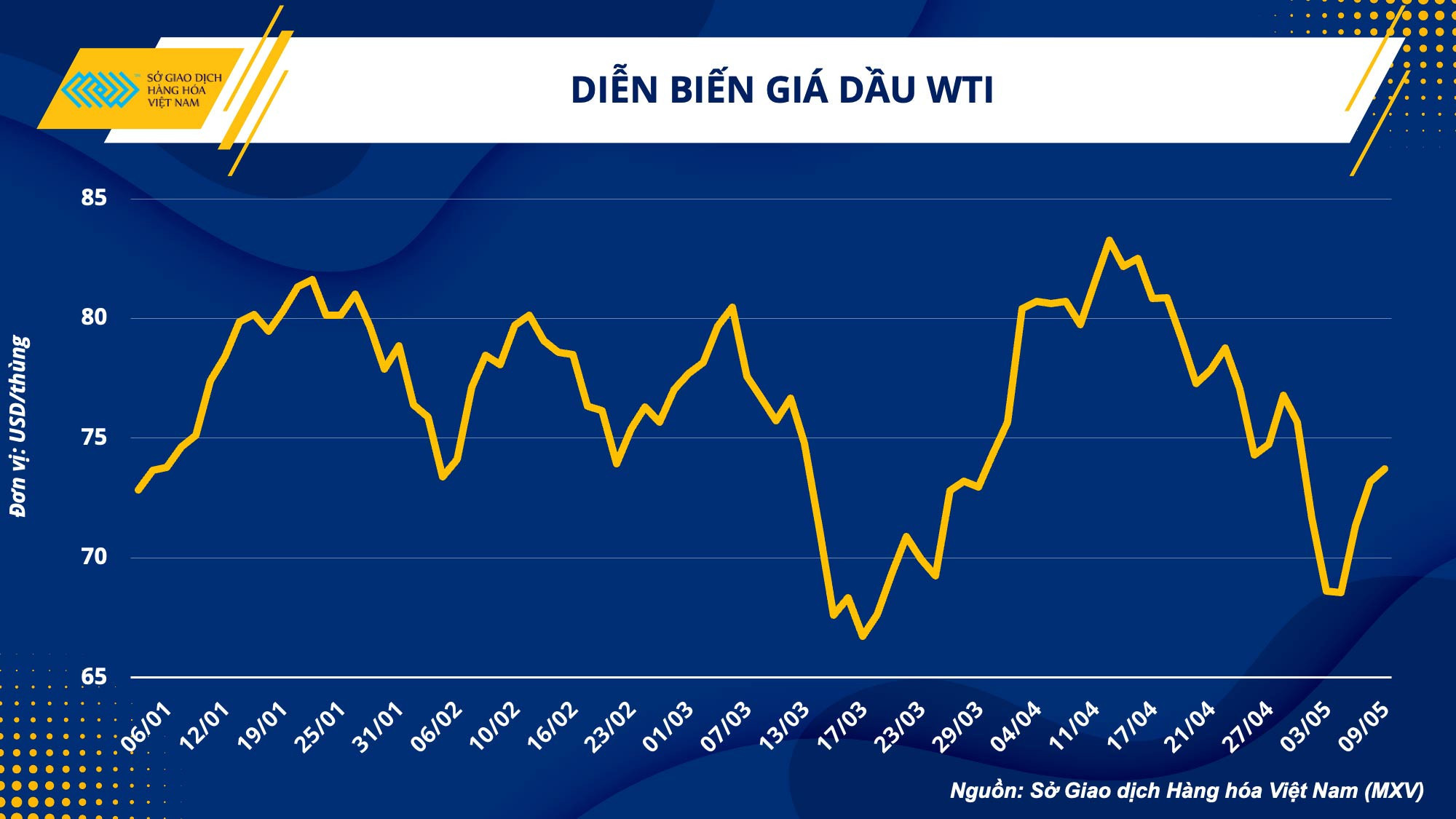 According to Mercantile Exchange of Vietnam (MXV), the MXV-Index closed on May 9, 2023 at 2,231 points, down by 9 percent compared with the beginning of the year. The index reflects the fluctuations of 31 commodities being traded across exchanges around the world.
The biggest contributors to the decreases were farm produce and energy, with 13 percent and 17 percent decreases, respectively, compared with late 2022.
WTI oil remained the product with the biggest trading volume in the world and in Vietnam in the first four months of the year.
The WTI price at NYMEX closed on May 9 at $73.7 per barrel, an inconsiderable change compared with late 2022.
However, oil prices have fluctuated a lot over the last four months. After hitting the bottom at $64.36 per barrel on March 20, 2023, the WTI price soared by 30 percent to $83.38 per barrel on April 12, 2023, the highest level so far this year.
After that, the oil price fell to a new bottom in 2023 at $64.57 per barrel on May 4, or a 23 percent decrease from its peak.
While the prices of many important commodities have decreased, Robusta coffee prices soared by 35 percent compared with late 2022, now trading at $2,465 per ton.
Pham Quang Anh, director of the Vietnam Commodity News Center, said that information about crops and supply sources has not been beneficial since the beginning of 2023, especially in key production areas such as Vietnam, Brazil and Indonesia. Therefore, the prices of Robusta coffee with spot delivery and the prices at the ICE have increased rapidly.
The performance of material prices in the first four months of the year created favorable conditions for import-export companies in Vietnam.
Animal feed producers, for example, have earned big benefits thanks to the farm produce price decreases at the Chicago Exchange and shipping fee decreases.
The maize prices at Cai Lan and Cai Mep Ports have dropped to below $270 per ton, much lower than the $330 per ton earlier this year.
According to the General Department of Customs, Vietnam exported 281 million tons of maize in the first four months of 2023, up 9.3 percent year on year, while imports of wheat and soybean increased 6.7 and 1.6 percent, respectively.
Coffee exporters have also earned high benefits as Robusta coffee prices has increased continuously at the ICE. While the export volume in the first four months of 2023 decreased by 3 percent, the export value was nearly the same ($1.6 billion) thanks to high export prices.
Hanh Nguyen