Con Dao Park listed in IOSEA turtle conservation network

Con Dao National Park on Con Dao Islands lying off the coast of Ba Ria-Vung Tau Province has been recognised as an official member of the Indian Ocean-Southeast Asia (IOSEA), becoming the 11th member of the marine turtles conservation network.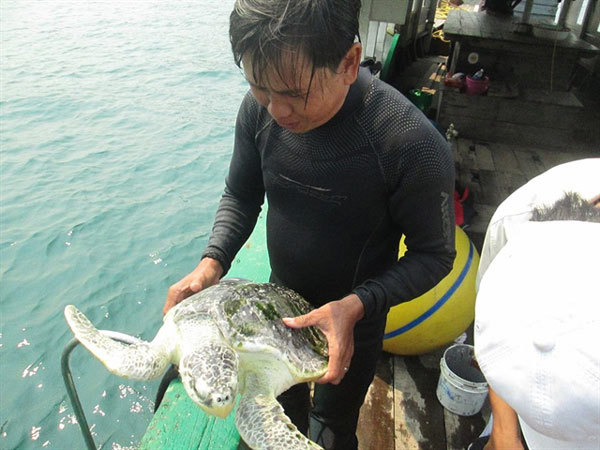 A sea turtle is released by the rescue team of a marine protected area in Vietnam. Con Dao National Park, off the coast of Ba Ria-Vung Tau Province, has been recognised as an official member of the Indian Ocean-Southeast Asia (IOSEA) in the marine turtles conservation network. 
Le Hong Son, head of biodiversity conservation and the science research section at the Con Dao National Park, confirmed the news to Việt Nam News on Wednesday, stressing that the park is first site in Vietnam to get the recognition from IOSEA.
He said the IOSEA member status would help boost international co-operation and information sharing as well as raising funds and technical assistance from worldwide organisations and individuals in conservation of the marine turtle species.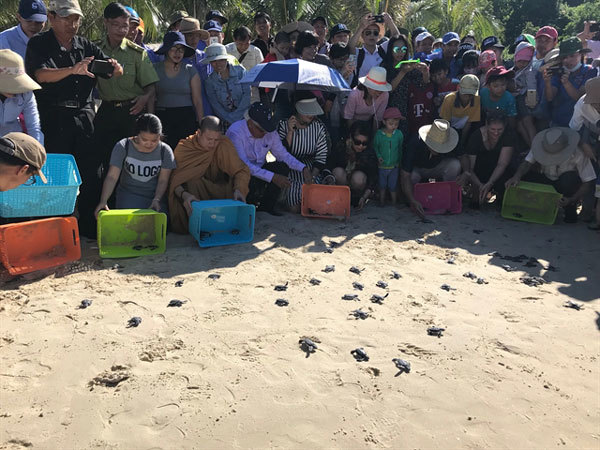 Islanders of Cham Islands help baby turtles leave their hatching nests to the ocean. —VNS Photo Hai Pham

According to the park, at least 500 turtles used the protected beaches on Con Dao Islands to lay their eggs each year, and the park was seen as the best shelter for marine turtles in Vietnam.
More than 1,600 turtle (Cheloniidae) eggs were moved to the Cham Islands from Con Dao Island National Park 1,000 kilometres away for artificial hatching between 2017-19, and 1,200 baby turtles were released into the sea.
Chu The Cuong, an expert from the wildlife trade monitoring network (TRAFFIC), said the park has reserved 10 safe areas – 50 per cent of the country's total turtle conservation – for turtles laying and hatching eggs.
Cuong also warned that 85 per cent of egg laying sites on beaches of Vietnam would disappear due to rising sea levels, and 70,000 fishing boats would catch sea turtles during their fishing trips.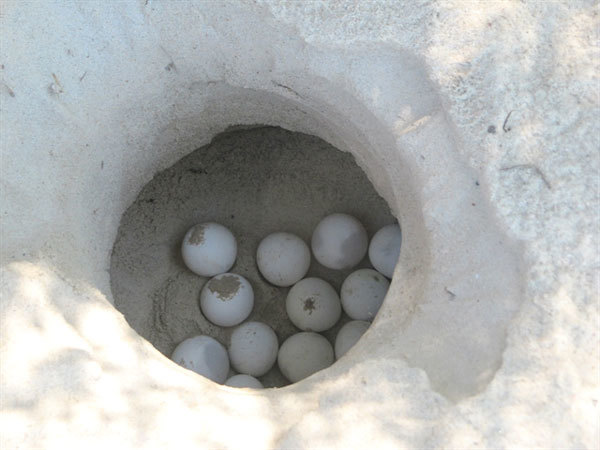 Sea turtle eggs at a nest on a beach of Vietnam. About 20 beaches were recognised as hatching areas for turtles. —VNS Photo Cong Thanh

According to the World Wildlife Fund for Nature (WWF), 1,000 sea turtles were believed to have been caught by hooks from offshore tuna fishing vessels in Vietnam.
WWF said 165 fishing boats were supplied with 25,000 ring hooks (or C hook) – a less risky tool for sea turtles – since 2014.
The International Union for Conservation of Nature (IUCN) has launched a plastic waste monitoring programme at 11 marine protected areas (MPA) in Việt Nam as an urgent action to save the ocean and sea turtle species from extinction.
Old fishing nets that were cut or dropped by fishermen at sea are a major reason behind the deaths of sea turtles as they confuse the waste for food. — VNS

Sea turtles lay about 100 eggs a few times each year, but the survival rate of the species is approximately 1 out of 1,000.

The Vietnamese Government has engaged in various international commitments to enhance management and preserve vulnerable and endangered marine turtles, said Director General of the Directorate of Fisheries Tran Dinh Luan on October 21.

Baby turtles (Cheloniidae) hatched from eggs that had been moved to a beach in the Cham Islands' Marine Protected Area (MPA) were released into the ocean last weekend by the MPA's management board.