VietNamNet Bridge – The Vietnam Football Federation (VFF) has proposed five players to play in the special match on May 11 to raise funds for victims of the storm Haiyan, including Vietnam's top striker Le Cong Vinh.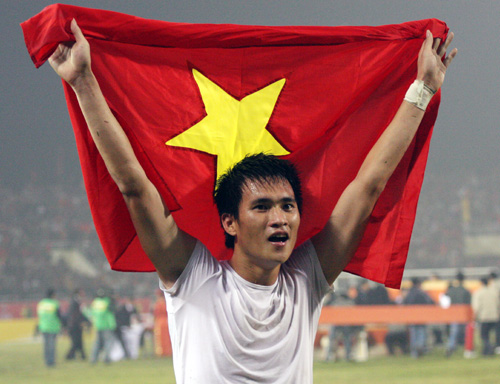 Le Cong Vinh.

The idea of organizing this game was initiated by the Southeast Asia Football Federation (AFF) in its latest meeting and it has received an enthusiastic response from the member states.
Under the plan, the match will take place at the Gelora Bung Karno Stadium in Jakarta, Indonesia, between the national squad of Indonesia and the all-star team of Southeast Asia. The Southeast Asia all-star team will consist of players from all member states of the Association of Southeast Asian Nations (ASEAN), including two from Vietnam.
On that basis, the VFF has nominated five players: striker Le Cong Vinh of Song Lam Nghe An FC, striker Nguyen Anh Duc from Binh Duong, midfielder Nguyen Van Quyet of Ha Noi T&T, midfielder Nguyen Minh Chau of Hai Phong and defender Truong Dinh Luat of Binh Duong.
The VFF chooses players based on their performance in the 2014 V-League as well as their contribution to the national team. From these nominees, the coach of the Southeast all-star team, Mr. Piyapong Pue-on of Thailand, will select two players.
Piyapong Pue-on, born in 1954, is a famous striker of Thailand. He is the only striker of Southeast Asia that played in the Korean League, and earned a good record in the jersey of the Lucky-Goldstar Hwangso FC.
In the nomination list of the VFF, Cong Vinh is the most well-known player in the region.
The selected players will gather in Jakarta on May 8 and they will have two days to prepare for the match.
The entire proceeds from the match will be donated to the victims of the storm Haiyan in the Philippines last November.
Nam Nguyen