VietNamNet Bridge – The Vietnamese striker spoke Japanese at the first press conference with his club on August 6.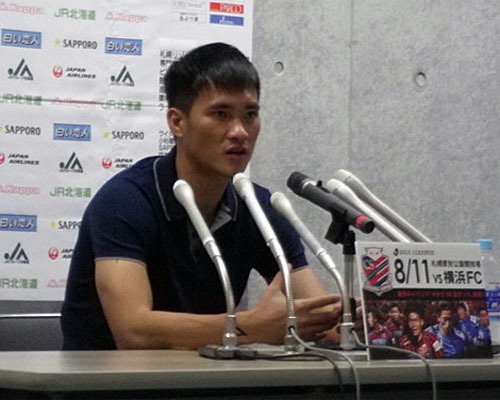 Cong Vinh at the press conference.

The press conference to introduce the Vietnamese striker Le Cong Vinh to the local media took place at the headquarters of Consadole Sapporo FC, with the participation of at least five TV stations and dozens of journalists, who raised many interesting questions to Cong Vinh.
Opening the press conference, Vinh spoke quite like the Japanese style: "Hello to all of you. I'm Cong Vinh, from Vietnam. I'm a rookie of Sapporo. I know that a lot of challenges are ahead but I'll try my best."
When reporters questioned how would Cong Vinh overcome the barrier of language, the Vietnamese striker spoke some words in Japanese, such as "thank you", "hello", "how are you"…
Cong Vinh said: "In competitions and training, I will try to use English and body language in the initial time to convey my message. During the game, I will speak a common language of football with my teammates. I will try to learn as much as Japanese to be able to communicate with my team-mates soon."
About the reason to join Sapporo, Cong Vinh said: "I want to try in the professional and highly developed football environment in Japan. In my opinion, this is the No. 1 football in Asia today."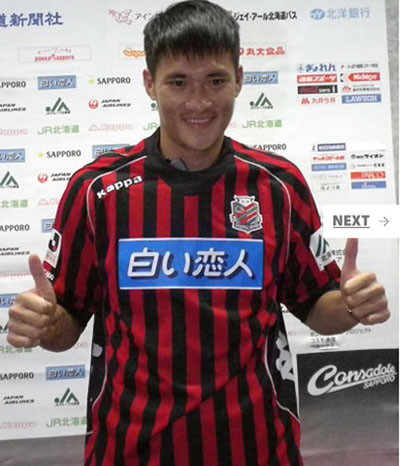 Cong Vinh also revealed that his immediate goal is to try to contribute as much as possible to the performance of the team, rather than scoring goals early.
Vinh's open and professionally answers was welcomed by the Japanese media and he also received a lot of praise for his communication skills.
Also on August 6, Cong Vinh passed the health check to officially enter the first training session today. If he performs well on the training ground, Cong Vinh will have the opportunity to play this weekend with his new team.
Nam Nguyen