VietNamNet Bridge – Japanese football club Consadole Sapporo wanted to sign a one-year contract with Vietnamese top striker Le Cong Vinh, but Vinh said he would join Song Lam Nghe An FC in the next season, not staying in Japan.
Cong Vinh to play for Consadole Sapporo until November 2013
Cong Vinh presents himself before Japanese media
Cong Vinh has good start in Japan
Cong Vinh scores for Consadole Sapporo
Japanese fan present gifts for Vietnamese striker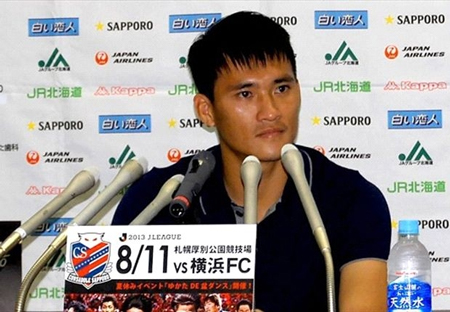 Cong Vinh at a press conference in Japan.

Consadole Sapporo wanted to keep Cong Vinh because the Vietnamese striker has become familiar with the new environment and well integrated into the new team. Since joining Consadole Sapporo, Vinh has scored many goals in unofficial tournaments and especially the single goal to help Consadole Sapporo win in round 34 of J - League 2.
In addition, the FC will also benefit from the good image of the Vietnamese striker. Reportedly, Consadole Sapporo has sold a lot of jerseys with portrait of Vinh, other souvenirs and even Vietnamese food. Furthermore, the one-year loan contract is not very costly for it.
After Consadole Sapporo gave the offer, Cong Vinh expressed his gladness to get the trust of the club but said he would return to Vietnam to play for Song Lam Nghe An the next football season.
In fact, Cong Vinh cannot make decision about his stay in Japan or not since his contract with Song Lam Nghe An is still valid for one year. After a series of key players have left, Song Lam Nghe An will surely do everything to keep Vinh as a symbol.
After his five-month loan contract with Consadole Sapporo ends in late November, Vinh will return home to join Song Lam Nghe An to prepar for the 2014 V-League.
Nam Nguyen