Cong Vinh scores for Consadole Sapporo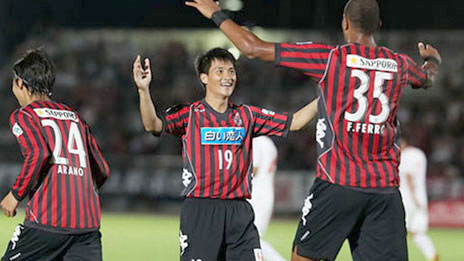 Vietnamese striker Le Cong Vinh has made a spectacular debut before Japanese football fans with a goal in the second round Emperor Cup match between Consadole Sapporo and Hokkaido University on September 7.
Cong Vinh converted a 14th minute penalty opportunity to equalise the match at 1-1 after Hokkaido University leaped out to an early lead.
Consadole Sapporo harnessed the resulting momentum to score three more goals in quick succession and eventually claim the match 5-1.
Cong Vinh had also scored two goals in a training match between Consadole Sapporo and Nihon Kogakuin.
Consadole Sapporo is currently ranked eighth out of the J-League 2's 22 teams. It will face FC Tochigi in the J-League 2's 33rd round on September 15.
Vietnam earns third place at women's volleyball qualifiers
Vietnam ranked third in the 2014 Women's Volleyball World Championships Asian and Oceania qualification zone after winning two round matches and losing two.
With a strong 3-0 win (25-17, 25-10, 25-21), the Vietnamese female team defeated the Taiwan (China) team in the final match in Pool A of the tournament held in Japan on September 8.
With such results, the Vietnamese team clinched third place with six points in the Pool A (including five teams) after winning two games over Australia and Taiwan and losing two games over Japan and Thailand.
However, the female team has not secured a place to attend the final round of the 2014 Women's Volleyball World Championships held in Italy. Thai and Japanese teams in Pool A both secured places to join the event.
Vietnamese martial artists compete in S. Korea
Vietnamese athletes are participating at the World Martial Arts Festival taking place in Chung-ju City, South Korea.
During the seven-day event, 12 martial artists of traditional Vietnamese Vovinam and Vo Co Truyen took part in 10 rounds against 37 other international teams.— Photo vovinamvvd
During the five-day event, 12 martial artists of traditional Vietnamese Vovinam and Vo Co Truyen took part in 10 rounds against 37 other international teams.
The winners will receive around VND193million (US$9,200) in prize money.
Last year Viet Nam brought home the silver medal and VND4 million in prize money.
The festival will finish tomorrow, Sept 10.
VN to play Thailand in first championship match
Viet Nam will start defending its title at the the ASEAN Women's Football Championship today at Thuwunna Stadium in Yangon, Myanmar.
The former champions will face off against Thailand in a crucial decider that will have important consequences for the championship draw.
Viet Nam arguably competes in the toughest section of the draw which includes competitors Australia, Thailand, Malaysia and Jordan.
While pundits have Australia pegged to gain a ticket to the next round, Viet Nam will likely face off with Jordan and Thailand to battle for the remaining spot.
Viet Nam took out the title last year after overcoming Myanmar 4-3 in a tight penalty shootout at the final in HCM City.
Tennis players to start Davis Cup next week
The national tennis team yesterday left for the UAE to take part in the Davis Cup's Asia/Oceania Zone Group III after two weeks of intensive training.
The group, which also includes Iran, Cambodia, Hong Kong, Oman, Malaysia, Pacific, Malaysia and the host, will be divided into two pools.
The draw is to be organised tomorrow, while the matches are expected to start on Wednesday.
The top two nations in each pool will be promoted to Asia/Oceania Zone Group II for 2014, while the bottom two nations will be relegated to Group IV. Viet Nam's five athletes and their coach, Michael Baroch – the former trainer of previous world No 1 Maria Sharapova – are targeting maintaining their current position.
Song Lam Nghe An to lose top players to Binh Duong
Song Lam Nghe An (SLNA) will part ways with Au Van Hoan, Nguyen Trong Hoang and Hoang Van Binh on September 15, when the stars' contracts end.
Although SLNA was planning to retain the lineup after the season finished, the club was outbid by huge offers from Becamex Binh Duong.
"We tried as much as we could to keep them but budget limitations mean we cannot outbid Binh Duong. Unfortunately, we have to let them leave," said Nguyen Hong Thanh, general director of SLNA Football Joinstock Company.
Binh Duong will reportedly pay up to VND7 billion (about US$350,000) to Hoang for the next three seasons, while Hoan and Binh will receive around VND5 billion each. The contracts are expected to be signed early next month, with all three players having disclosed their lucrative salaries.
The announcement follows news of midfielder, Hughtun Hector, also leaving SLNA to join Ha Noi T&T.
National swimming and diving championships kick off
Hundreds of male and female athletes from across the country are taking part in the 2013 National Swimming and Diving Championships that officially opened in Hanoi on September 8.
The athletes compete for sets of medals in diving events including 50m, 100m, 200m, 400m, 800m, 1,500m, 4x100m and 4x200m relay diving and speed diving as well as diving with gears, twin propeller and hose. The events are scheduled to run through September 11.
The swimming categories, including 50m, 100m, 200m, 400m, 800, 1,500m, 4x100m, 4x200m freestyle, breaststroke, backstroke, butterfly, medley, relay and medley relay, are being held from September 12-16.
The competition offers a good opportunity for divers and swimmers to gain more experience and provides a chance for local coaches to select outstanding athletes for the national team in preparation for upcoming regional and international tournaments.
National team petanque championships kick off
The 2013 National Team Petanque Championships officially opened on September 7 in the Mekong Delta province of Soc Trang.
The tournament drew the participation of more than 130 players from 14 teams, including Hanoi, Ho Chi Minh City, Can Tho, Nghe An, Khanh Hoa, Ba Ria – Vung Tau, Binh Duong, Dong Nai, Dong Thap, Vinh Long, Tra Vinh, Bac Lieu, Soc Trang and Military Zone 9.
The athletes compete in teams of three, with men's, women's and mixed events.
The competition, which runs until September 16, offers a good opportunity for players from across the country to sharpen their skills and exchange experience. It also provides a chance for coaches to select outstanding athletes for the national team.
VNS/VNA/Nhan Dan/VOV