VietNamNet Bridge - After one week for the "extra" poll, Goal.com officially announced the result of the vote for the Best player of Southeast Asia on August 1,1 and Vietnamese striker Le Cong Vinh still ranked first with 42 percent of the total votes.
Cong Vinh not yet recognized as the best player in Southeast Asia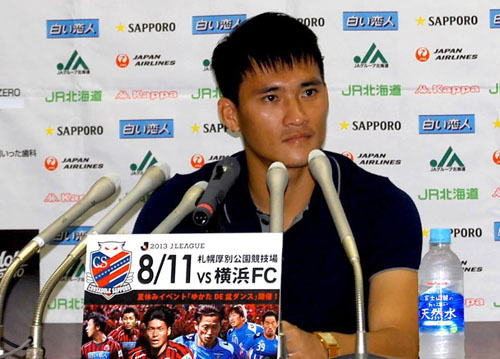 Cong Vinh at a press conference in Japan last week.
Earlier, Cong Vinh appeared to be the winner in the poll when he topped the list of 20 best players. However, the organizers unexpectedly announced to organize an "extra" poll for the top 10 players.
According to goal.com, in the first poll, the result was not really fair as many leading players of the region had very low percentage of the vote, while players who are not very well-known had the most votes. In the early days of the poll, Lao striker Visay Phapouvanin suddenly took the lead with over 92 percent of the vote. Then the organizers detected fraud and canceled the entire result.
For the case of Cong Vinh, the organizers said that the Vietnamese striker urged his fans for vote on Facebook so he received so many votes.
Although Cong Vinh said his never called for the vote from fans on his Facebook, the organizers still held an extra poll for the top ten players from the 20-member list, including Khim Borey (Cambodia), Kyi Lin (Myanmar), Le Cong Vinh (Vietnam), Stephan Schrock (Philippines), Theeraton Bumnathan (Thailand), Teerasil Dangda (Thailand), Shahril Ishak (Singapore), Phil Younghusband (Philippines), Visay Phaphouvanin (PDR) and Javier Patino (Philippines).
The voting period started at 9:30 am on August 6 and closed at 0h00 on August 12. According to the organizer's announcement on August 12, Cong Vinh again came first with 42 percent of vote, followed by Teerasil Dangda (Thailand, 28.9 percent) and Javier Patino (Philippines, 26.9 percent). The remaining players had very few votes. Even Myanmar's striker Kyi Lin had zero votes.
Cong Vinh continued to win in the second poll but the organizer has not announced that Vinh wins the title Best player of Southeast Asia.
Nam Nguyen