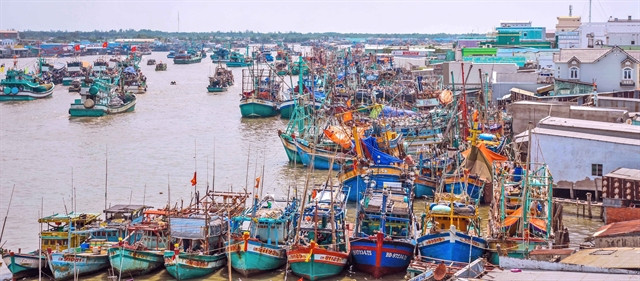 Offshore fishing vessels docked at the port of Song Doc Town in the southern Ca Mau Province. — VNA/VNS Photo Huynh Anh
Five years after the European Commission (EC) issued a "yellow card" against Vietnam's seafood products for illegal, unreported, and unregulated (IUU) fishing, numerous efforts have been made to lift the restrictions as the commission is scheduled to visit in October.
This will be the EC's fourth inspection of Vietnam's fishery sector.
An action plan against IUU fishing has been implemented in accordance with the Prime Minister's Decision No. 81/QD-TTg, which was issued in February this year.
IUU fishing is considered a threat to marine ecosystems and biodiversity, while also creating negative impacts on the sustainable livelihoods of the coastal communities as well as the global economy and food security in the long term.
In the fishing season in autumn, the coastal south-central province of Khanh Hoa is bustling with vessels bringing tonnes of sea catches back to the shore in the early morning.
Huynh Van Bi, who has been working at the dock for years, said he and his fellow workers sort out over 20 types of fish every day.
"The seaport also supervises the amount of catches as they are unloaded at the shore," he said.
Nguyen Moc, a fishing vessel owner and former fisherman, said: "Aquaculture resources are on the decrease, so seafood prices and costs are rising.
"A fishing trip usually lasts more than 10 days, but if the catches are not as expected, then the crew will have to stay at sea longer.
"When ships in the same RV trade union set sail together, they will be a great help to each other at these times."
Fisheries trade unions also play an important role in communication activities against IUU fishing.
Nguyen Duc Thang, chairman of Vinh Phuoc Ward hostel trade union, which has a total of 23 vessels and 250 sailors, said that regular meetings and close bonds between the union members help circulate new information and regulations in the fishing industry.
Vessel owners are also better aware of the importance of removing the IUU fishing "yellow card", which will increase the price of their catches and therefore their income.
Thang said: "Since regulations against IUU fishing are put in place, none of our union's vessels commit violations.
"All shipowners are committed to strictly comply with procedures for departure, docking, inspection, registration and regulations for fishing at sea, especially in regard to IUU fishing."
Khanh Hoa Province now has nine grounds grounds trade unions, with a total of 227 member vessels and 915 crew members.
The provincial Union of Agriculture and Rural Development is taking measures for similar unions to be established, with specific guidelines that suit the circumstances of their job.
These include capacity building, raising awareness of the laws and legal assistance for better productivity and business operations, in addition to protecting the national aquaculture resources as well as security and sovereignty.
The national fisheries society has also issued a handbook on laws related to the sea and islands, which also encourages sailors and shipowners to fight against IUU fishing.
According to vice chairman of Vietnam Union of Agriculture and Rural Development Do Tien Dung, most of the service trade union members are offshore fishing vessels with a majority of their catches used for exports to foreign markets such as the EU.
Therefore, they witnessed a significant impact from the "yellow card".
Dung recommends authorities strengthen inspection and take measures to protect and support fishermen during operations and in terms of supply chain, while also powerful strict sanctions on violating vessels, especially those that venture out to the waters of neighboring countries.
Action taken
Following the third inspection in October last year, the EC continues to recommend Vietnam focus on addressing four main groups of issues, including legal frameworks, management and supervision of fishing vessels, origin traceability and law enforcement.
In addition to the promotion of policies against IUU fishing and for a sustainable and responsible fishery industry, the Ministry of Agriculture and Rural Development (MARD) has also reduced the number of fishing vessels and their capacity in accordance with the EC's recommendations.
Data on fishing vessels are also updated in the national reserve database VNFishbase, while the number of ships measuring 15 meters or above is also limited.
The vessel monitoring system (VMS) is also installed on 97.86 per cent of vessels with a length of 15 meters or longer.
According to authorities, the remaining ships are being listed for monitoring, with most of them out of operation.
The navy and coast guards as well as patrol teams on reserves have also been coordinated in key areas to prevent vessels from violating foreign waters.
Minister of Agriculture and Rural Development Le Minh Hoan said that while Vietnam has been making progress in revival, challenges still remain.
A report from the MARD revealed that currently, the country has only been able to control half of the vessels entering seaports for origin traceability.
Meanwhile, since the beginning of the year, 39 vessels and 252 fishermen from Binh Dinh, Khanh Hoa, Binh Thuan, Ben Tre, Bac Lieu, Tien Giang, Ca Mau and Kien Giang provinces were arrested by foreign authorities for their violations in other countries 'water.
Meanwhile, there are still cases where the VMS devices were removed and transferred to other ships to avoid law enforcers.
Presiding over a meeting on measures against IUU fishing with coastal provinces' authorities on August 29, Deputy Prime Minister Tran Luu Quang said that ministries, sectors and localities must be more responsible and take drastic measures with the goal to remove the EC's "yellow card" .
The MARD is in charge of a plan that details priority tasks in preparations for the EC's inspection in October, while the Ministry of National Defense (MND) and the Ministry of Public Security (MPS) will work on preventing violations in foreign waters.
Agriculture and rural development minister Hoan said that the immediate focus is to manage and monitor fishing vessels.
He added that the ministry will also make adjustments to regulations on administrative fines and monitoring devices that will address IUU fishing.
Infrastructure will also be upgraded to manage ships entering seaports, the amount of catches as well as origin traceability.
Chairman of Vietnam Fisheries Society (VINAFIS) Nguyen Viet Thang said that in the long run, it is necessary to improve the sector to be more responsible, ensure stability and sustainability and follow fishing plans in each locality and maritime region.
Assessment must be conducted on aquacultural resources in different sea zones with prompt and accurate predictions for catching seasons, alongside capacity building for fishermen, he added.
EC's recommendations
According to the EC's Directorate-General for Maritime Affairs and Fisheries (DG-MARE), Vietnam has to take more stringent measures in preventing IUU fishing and foreign violations with 100 per cent of the cases investigated and handled, including those of vessels arrested at foreign sea and ships that do not maintain monitoring devices according to regulations.
The European Union (EU) is one of the top export markets for Vietnamese seafood, placing only behind the US and Chinese markets.
The European market contributed approximately US$1.3 billion in Vietnam's total seafood export turnover of $11 billion in 2022.
The delay in implementing EC inspection team's recommendations on combatting IUU fishing could also turn the "yellow card" into a "red card" warning.
The Vietnam Association of Seafood Exporters and Producers (VASEP) estimates that if given a "red card", Vietnam could be banned from exporting inventory products to EU, which is worth nearly $500 million per year.
In this case, other markets such as the US could also impose similar regulations on Vietnam's seafood exports for IUU fishing, in addition to the EU.
The EU has regulations on certifying the origin of imported seafood, thus classifying countries exporting fishery products with the green, yellow and red cards, or a trade ban at the most critical level.
With a yellow card, 100 per cent of Vietnam's seafood exports to the EU are subjected to inspection, which reduces the export volume, increases the costs and delivery time.
European Commissioner for the Environment Virginijus Sinkevičius said that the EC's "yellow card" can also encourage Vietnam to reduce excessive fishing and ensure fairness for law-abiding fishermen.
According to the EC, countermeasures for IUU fishing have been prioritized by the Vietnamese Government and have returned positive results.
The commission also believed in Vietnam's commitment when the country deployed the "180-day action plan to combat IUU fishing", while also taking into consideration the EC's recommendations when drafting the Law on Fisheries.
As a country with a long coastline and a large fleet of offshore fishing vessels, Vietnam accounts for 5 per cent of the global fishery production.
In 2022, the total volume of Vietnam's fish catches reached over 3.86 million tonnes.
IUU fishing will not only lead to a decline in exports but also reduce Vietnam's credibility with its partners in international trade relations. — VNS