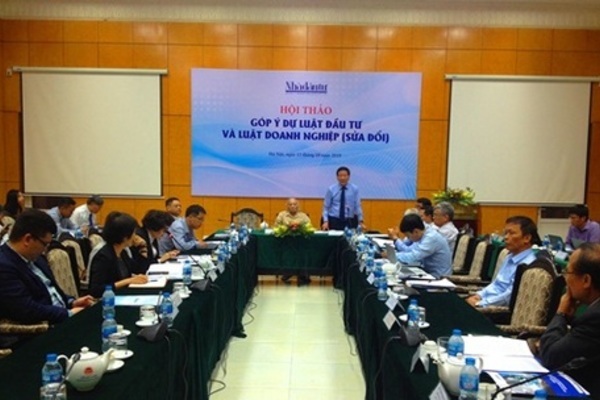 Participants at the seminar held on Tuesday to discuss the amendments to the laws of Enterprises and Investment. — Photo thoibaotaichinhvietnam.vn
The stability of the regulatory system is key to luring foreign investment into Viet Nam and the rights and benefits of foreign investors must be assured even when policies are changed, officials and executives have said.
They urged that government agencies must acknowledge this when making amendments to the laws of Enterprises and Investment.
Though many countries and territories have entered Viet Nam, the presence of high-tech enterprises was limited, vice chairman of the Vietnam Association of Foreign Investment Enterprises (VAFIE) Nguyen Van Toan said.
European and American investors were concerned by the lack of rigid policies on corporate transparency and intellectual protection, he told a seminar on Tuesday.
In addition, regulations had been changed constantly, making it harder for them to invest in Vietnamese assets, he said.
According to Nguyen Ngoc My, chairman of Vabis Group, Viet Nam's regulations confuse investors as they change constantly and have a negative impact on business plans whenever they change.
VAFIE chairman Nguyen Mai said there must be a way to protect the rights and benefits of foreign investors.
"The rights and benefits of foreign investors are protected under Article 13 of the Law on Investment, however, only in the case of changed investment policies are investors asking for more," he said.
"They want to be assured of their ownership over local assets and of the security of assets and profits when being transferred to overseas markets. In addition, they want their projects preserved if policies are changed."
There should be a programme to make sure demands of foreign investors are met, Mai added.
Banking specialist and economist Can Van Luc said foreign investors were often worried about how business licences are granted in Viet Nam and whether their cash could be transferred to a third-party territory.
Those issues were urgent as the Government wanted to make Viet Nam a financial hub and HCM City a financial centre of the region, he said.
The policy system was not transparent and consistent and it would become an issue if the Government wanted to make the business environment more open, he said.
According to Dau Anh Tuan, director of the legal department at the Vietnam Chamber of Commerce and Industry (VCCI), the Prime Minister has recently asked VCCI to review the regulatory system.
He said the regulations often overlapped and there were problems with ongoing projects in local areas, especially real estate, as investors had to meet different requirements and qualifications set by both local and central authorities.
The issue will lead to consequences as investors and businesses have to fulfil similar administrative works, costing them time, money and efforts and interrupting business operation.
The Government, ministries and agencies need to revise all laws and regulations comprehensively. An independent organisation must be set up to help the Government review the revised policies.
VAFIE chairman Mai proposed the Government and ministries consider an approach which does not change the right and benefit of investors based on revised laws and regulations. Companies that have benefited from former policies should not be viewed as "outlaws".
The seminar was organised by Nha Dau Tu (The Investors) magazine, drawing the presence of specialists, government officials and business executives to discuss the amendment to the laws of Enterprises and Investment. – VNS

The Vietnamese government is trying to lure investors to the country's infrastructure development projects amid limited public funding and experts believe the investors will come if the government can create a sound legal and regulatory environment.

Vietnam is expected to attract more investors as its economy is developing at a stable rate, with GDP growth of 7 percent.