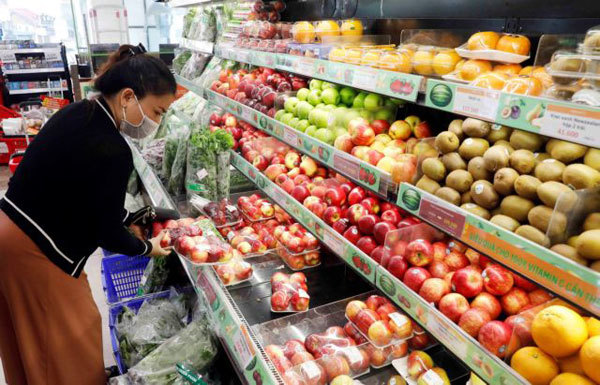 A woman shops for fruit at a store in Hanoi. — VNA/VNS Photo Tran Viet
"Our monthly household expenses are nearly VND30 million (US$1,288) and we now depend on my husband's income. That has affected our family's financial plan in the long-term," Van told Việt Nam News.
"Fortunately, my husband's salary has not been cut, but we have to be very frugal with our family budget," Van said, adding that almost all spending on shopping, eating out and drinking coffee has been stopped. 
"We do not dare to inject our money in risky investments as we did in the pre-pandemic period," Van told Việt Nam News. 
For Thu Hang, who is working at a private bank in Hanoi, the pandemic and prolonged social distancing period have negatively impacted her personal finance. 
"I had to work from home for two or three days each week. As the social distancing period fell on hot days of the summer, the cost of utilities skyrocketed. The electricity bill alone cost me more than VND3 million a month, even though I used electricity very sparingly," Hang told Việt Nam News. 
She added working remotely did not help limit her spending, as most of her spending was still on food and utilities. 
Hang, who also owns a coffee shop in the city, said she still needed to pay about VND1 million each month for the shop's electricity and internet, even though it was closed following the orders of the city authorities. 
As her cost of living increased by 50 per cent, Hang said she had to use her savings to cover her expenses, and she hasn't bought new stuff for almost half of a year. 
"My financial plan depends on the operation of my coffee shop, which can only survive if the city continues to zone out epidemic areas and isolate infected cases, instead of implementing social distancing measures," Hang said. 
Van and Hang are just two of many Vietnamese people who are now more conservative about their short-term spending habits and more prudent in their long-term financial plans, due to the pandemic. 
According to new data from YouGov Việt Nam, Vietnamese confidence in the improvement of the COVID-19 situation has shot up since lockdowns ended in Vietnam, with optimism rising from around 30 per cent in September to almost pre-pandemic levels of 80 per cent in October.
However, despite the positive outlook for the 'new normal', families are still dealing with the impact of COVID-19 on their personal finances, which have seen a significant hit compared to previous outbreaks.
Just under half of all people (48 per cent) have seen their income fall in 2021. More than a quarter (28 per cent) reported a slight decrease of between 10-20 per cent. Meanwhile, one-fifth (20 per cent) saw an even sharper fall of at least 20 per cent.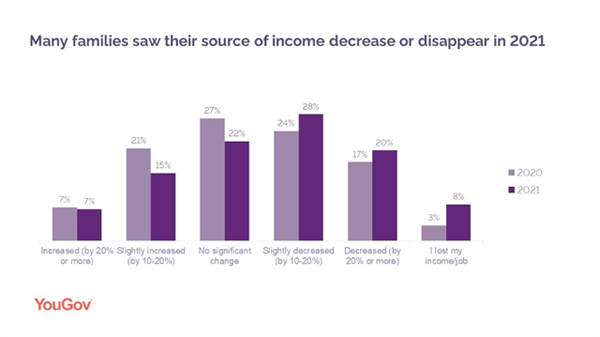 A chart shows families' sources of income in 2021. — Photo courtesy of YouGov Việt Nam
On a positive note, over one-third of Vietnamese (38 per cent) were able to increase their savings during the pandemic, with work-from-home mandates leading to reduced spending on non-essential items such as travel, leisure, and eating out. This is the highest rate in the region, just ahead of Hong Kong and far ahead of Singapore.
However, others were less fortunate, with more than a third (34 per cent) of Vietnamese dipping into their savings and a fifth (21 per cent) borrowing cash to get through the outbreak.
This has caused consumers to re-evaluate their current spending habits and re-assess their long-term financial plans. Over half (53 per cent) of Vietnamese cut down on non-essential spending in the last six months. Meanwhile, more than four-fifths (81 per cent) plan to do so in the future.
Vietnamese consumers are now some of the most prudent in the world. Two-thirds (67 per cent) are more careful with their personal finances than before the pandemic. Meanwhile, a third (34 per cent) prioritise protecting their household finances in case of emergencies. That is almost 10 per cent higher than the global average. Vietnamese are also keener to invest and reduce their debts than the average consumer elsewhere in the world.
"However, while we are becoming more conservative in what we spend, we are also becoming more modern in how we spend it. E-commerce grew even more popular in 2021, while cashless transactions saw a boost during lockdown and e-wallets continue to gain traction. Consumers have become more confident managing their finances online and this digital financial trend is set to continue post-pandemic," YouGov Việt Nam said. 
Thue Quist Thomasen, CEO of YouGov Việt Nam, said: "Our data shows that confidence is returning. This is essential for Vietnam to rebound and recover. However, it also shows that Vietnamese consumers have become more conservative in their approach to personal finance, with the recent crisis highlighting the need for prudent and long-term financial planning.
"This opens up new opportunities for financial service companies offering products which cater to these trends. Vietnamese want to save, invest, and protect their families from financial difficulties. And consumers are now more comfortable doing this online.
"However, it is a crowded space with more than a dozen companies competing for market share. Therefore, brands need to differentiate themselves and their products through increased advertising and reputation management focused on the profiles and priorities of these potential customers."
Source: Vietnam News

Though there had been a slight increase in spending after the loosening of social restrictions, Vietnamese consumers largely remain careful not to spend too much money too quickly.