Contest launched promoting Vietnamese language teaching for overseas Vietnamese
The Ministry of Education and Training and the Ministry of Foreign Affairs launched a contest on compiling Vietnamese-language books and documents for overseas Vietnamese, at a ceremony in Hanoi on September 16.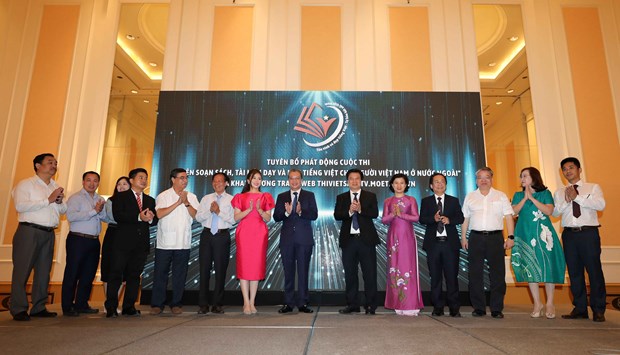 At the contest launching ceremony (Photo: VNA)
The contest aims to push ahead with the teaching and learning of the mother tongue among overseas Vietnamese, preserving and promoting the language and the country's culture abroad.
Deputy Minister of Education and Training Nguyen Huu Do said the contest seeks contributions from scientists, organisations, and individuals at home and abroad.
It will run from September to April, with entries being in the form of written or online books, documents, and drafts. Those using information technology are encouraged.
There will be a first prize of 300 million VND (12,900 USD), two second prizes of 200 million VND each, and three third prizes of 100 million VND each.
Outstanding submissions will be printed or digitalised./.VNA

Vietnamese people, no matter where they live, always turn their heart to the homeland.