Coronavirus epidemic takes its toll on Hanoi's tourism

A tour operator in downtown Hanoi fears her business may have to close due to the ongoing novel coronavirus epidemic.
Nguyen Thi Huyen has been working as a sales manager at The Travel House travel agency for four years.
This time of the year is normally the peak season for the tourism industry. But Huyen is having difficulties making sales as her customers keep cancelling their travel plans.
She told Việt Nam News: "Based on my experience, I think we have lost about 80 per cent of our customers and bookings. It can't be lower than that. It must be even more than 80 per cent.
"Customers who booked tours with us months ago cancelled all their bookings when knowing the coronavirus had spread to Vietnam, which is very near China. This is very sad.
"Normally we also make a lot of sales from walk-in customers, but now we don't have any.
"We are not making money from the tours while the office's rent is very high. So we're worried that if the epidemic is not going to pass soon, we will probably have to close down."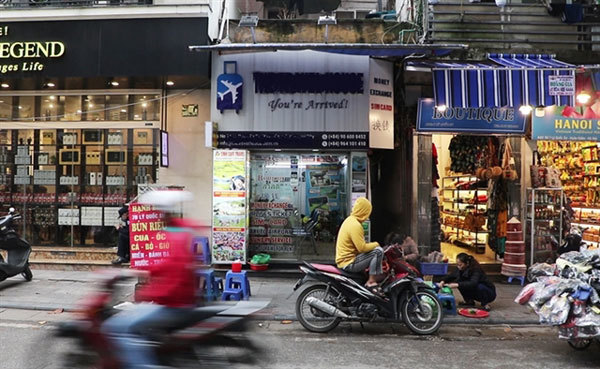 An empty travel agency in downtown Hanoi. Tourism businesses are losing customers due to the ongoing novel coronavirus epidemic. — VNS Photos Alex McNab

Going to work during this time causes Huyen another concern.
"My colleagues, my staff and I are all afraid of getting infected through customers that come from countries where the virus has spread to. But we still come into work, because it's work," she said.
"We use masks and hand sanitisers and other safety measures."
About 3.6 million tourists visited Hanoi in the first two months of the year, a decrease of 25 per cent compared to the same period of last year, according to the city's Department of Tourism. Only 844,000 of them came from other countries.
The city's tourism sector will suffer losses of US$5.9-7 billion in the next three months, according to the department.
Vietnam is at risk of losing foreign customers who are interested in Asian travel, it said.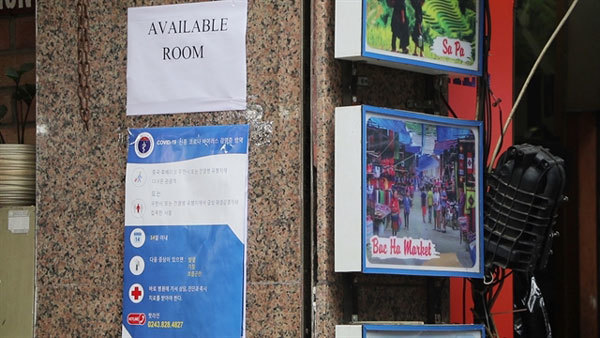 Notes on coronavirus prevention stuck outside a travel agency in Hanoi.

A number of hotels and hostels in Hanoi were reportedly closed due to the lack of customers, a factor that made them unable to afford to maintain operations.
Luckier than others, Nguyen Thi Thu Hien, a manager at Luxury Backpackers hostel, said her business is going on as usual.
She said: "Our hostel was lucky since we got quite high rankings online, so we are able to keep our rooms in operation. I don't think other hostels are that lucky.
"At our hostel everything is going on as usual. We haven't fired anyone, our staff are working normally, 28 days a month. They still get paid the salaries and other benefits, no cuts."
But it's also clear to Hien that it could have been better if it was not for the deadly virus.
"The epidemic has had a major impact on the tourism industry and our business," she said.
"This time of the year is our peak season, and in previous years our rooms were either fully booked or overbooked.
"But now only 60-70 per cent of our rooms are occupied, and a lot of bookings made a long time ago have been cancelled."
In contrast to businesses' worries, COVID-19 seems to have made travel easier and more enjoyable for some tourists in Hanoi.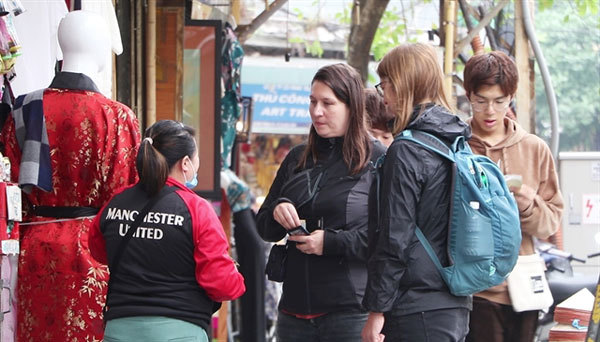 Foreign tourists visit a shop in downtown Hanoi. Only 844,000 out of 3.6 million tourists visiting the city in the first two months of the year come from other countries.

"Sometimes, there are more people with some masks on, but for us, especially as travellers, it's even better," said Norman Fischer, a German tourist.
"We see something, some places where there are not so much people like before the coronavirus, and for this, I think, for us, it's perfect.
"In Germany now in the moment, the coronavirus is getting up. There are more people infected since the last week, and actually maybe, it's there more dangerous in the moment than here in Southeast Asia or in Vietnam."
Chris Clark from Australia said: "Airports and stuff are pretty empty. It actually made it easier to get the flights.
"Things have been a lot easier because there's less tourists around, so there's less queues, less time to wait. It's actually there's more panic in Australia at the moment than in Vietnam." VNS

Ta Hien Street in Hanoi Old Quarter has become crowded again after being quiet for around one month due to coronavirus. 

At some travel firms, a new reception counter has been set up to receive clients who are cancelling tours and want a money refund.