Coronavirus: Iran's deputy health minister tests positive as outbreak worsens
Iraj Harirchi, who has strongly denied any cover-up of a growing outbreak, has self-quarantined.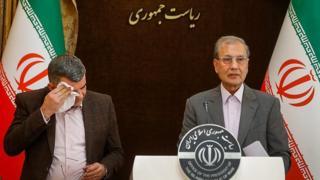 Iraj Harirchi was sweating profusely at a news conference before testing positive for coronavirus disease
Iran's deputy health minister and an MP have both tested positive for the new coronavirus, as it struggles to contain an outbreak that has killed 15.
The country is one of three hot-spots outside China causing concern that the virus could be becoming a pandemic.
The deputy minister, Iraj Harirchi, on Monday denied covering up the scale of the outbreak. He appeared in physical discomfort as he spoke to reporters.
Iran has reported 95 cases, but the actual number is thought to be higher.
The director general of the World Health Organization (WHO) has said the sudden increase in cases in countries outside China is "deeply concerning". 
US Secretary of State Mike Pompeo said on Tuesday that Washington was concerned that Iran may have concealed "vital details" about its outbreak and urged all nations to "tell the truth about the coronavirus".
More people have died in Iran from the virus than anywhere else outside China. The two countries have strong trading links.
The other countries currently in the spotlight are South Korea and Italy, where cases have surged in recent days.
More than 80,000 cases of the Covid-19 respiratory disease have been reported worldwide since it emerged late last year. About 2,700 patients have died - the vast majority in China.
But the situation in Iran - home to holy sites that attract millions every year and in a region where several countries have weak health systems - has caused great concern about a potential mass outbreak in the Middle East.
Of the current hot-spots outside China, Iran is the most concerning because of the lack of an accurate picture of how widespread the outbreak really is, said Dr Nathalie MacDermott, an expert in infectious diseases at King's College London.
Most of the reported cases have been people who are elderly and dying, she said. "It seems like we're hearing about the tip of the iceberg and missing that chunk underneath who may be younger and may not be particularly unwell."
What's happening with the virus globally?
A hotel in Tenerife, in Spain's Canary Islands, is in lockdown after a doctor from Italy visiting the hotel tested positive for the virus
Italy - Europe's worst-affected country - confirmed the deaths of four more elderly people, bringing the total number of fatalities there to 11
The virus has spread to the regions of Tuscany, Sicily and Liguria but Italy's PM said his country remained safe for tourism
Several countries - Austria, Croatia, Switzerland, Algeria - reported their first cases, all involving people who had been to Italy
While Italy's European neighbours have agreed to keep borders open, some are screening arriving travellers
US health authorities warned Americans to brace for the coronavirus to spread and potentially cause severe disruption 
In Iran, a conflict between religion and science
By Rana Rahimpour, BBC Persian
The reports that we are receiving from cities around Iran suggest that the number of cases is actually much higher than the Iranian authorities are giving.
Unlike in Italy, Iranian officials are refusing to impose quarantines in areas affected by the outbreak. They say quarantines are old-fashioned and that they do not believe in them.
The Shia shrines in the cities of Qom and Mashhad are still open, despite Qom being a hotbed of the virus.
There are grand ayatollahs in Qom who believe that its shrine, which attracts millions of pilgrims from around the world, and its important seminary, which hosts many foreign religious students, are the pride of the Shia world.
Shutting them down would be a huge step for the clerics and not one that they would be likely to take unless they come under international pressure.
We can see the clear conflict between religious conservatism and science.
Iran also lacks the medical equipment it needs to help contain the outbreak. It has run out of masks and does not have enough testing kits.
A number of medical workers have also been infected, so there is a worry that they will soon run out of doctors and nurses to attend to those with the disease.
The majority of Iranians are extremely worried.
What happened to the Iranian official?
"I had a fever as of last night and my preliminary test was positive around midnight," Mr Harirchi said in a video released on Tuesday.
"I've isolated myself in a place since... and now I am starting medication.
"We will definitely be victorious against this virus in the next few weeks," the minister added.
Mr Harirchi's positive test for Covid-19 was announced a day after he took part in a news conference, where he coughed occasionally and appeared to sweat heavily.
During the briefing, the minister denied a claim by a member of parliament for Qom - the centre of the outbreak - that the authorities were engaged in a cover-up.
Ahmad Amirabadi-Farahani alleged that Covid-19 had arrived in Qom three weeks ago and that 50 people had died in the city alone.
The death toll was rejected by Mr Harirchi, who vowed to resign if it could be proven that even half that number had died.
Mr Amirabadi-Farahani subsequently refused to retract his claim, saying he had sent a list of 40 people who had died to the minister and awaited his resignation.
The secretary of the Supreme National Security Council of Iran Ali Shamkhani, said on Tuesday that he had asked the prosecutor-general to "check the validity" of the MP's allegation.
Meanwhile, an MP from the Iranian capital Tehran, Mahmoud Sadeghi, said he had also tested positive for the virus
Could cases spread through the Middle East?
Iran is believed to have been the source of the first cases reported by neighbouring Afghanistan, Bahrain, Iraq, Kuwait and Oman, which have now imposed restrictions on travel to and from the Islamic Republic.
However there are fears that the many Muslim Shia pilgrims and migrant workers who will have travelled between Iran and other parts of the region in recent weeks could have already spread the virus.
In countries like war-ravaged Afghanistan - which has so far reported just one case - health authorities will struggle to trace and test contacts of infected people, experts say.
The WHO is sending medical supplies and additional testing kits to Iran and is also planning to send a technical team to the country.
Dubai Airport - a major international transit hub, and home to the airline Emirates - has suspended all passenger and cargo flights to Iran for a week "as a precautionary measure". The United Arab Emirates has reported 13 cases, including an Iranian couple.
Bahrain's health ministry meanwhile raised its number of confirmed cases to 17. It said all of those infected had travelled from Iran via the UAE. BBc